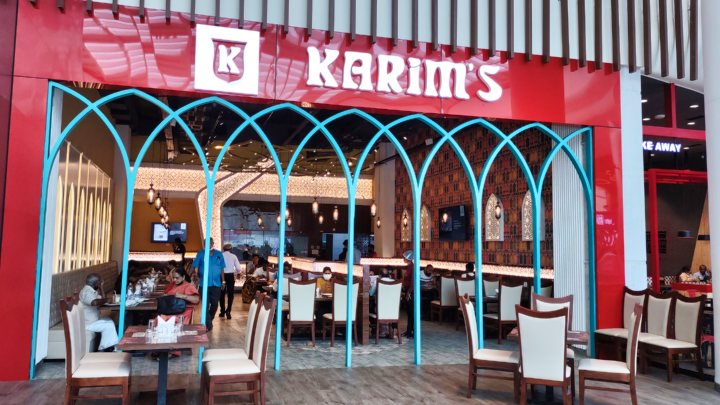 Karim's  is a branch of the celebrated restaurant in Old Delhi's Chandni Chowk. It is a buzzling part of Old Delhi and more than three centuries old. The restaurant serves authentic Mughlai food. This is the first branch of Karim's in Kerala and was opened in June 2022.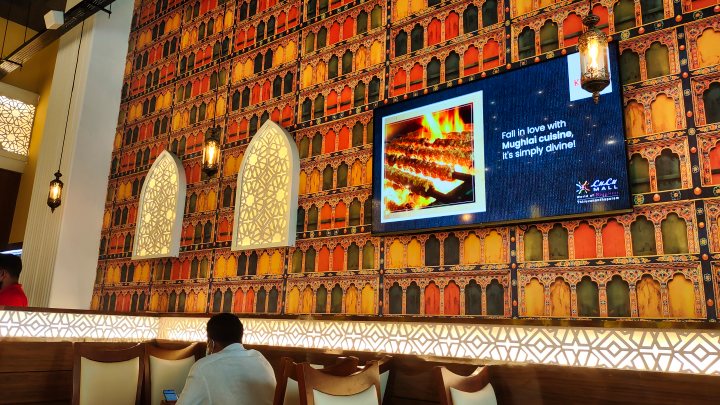 History of Karim's
Zaemuddin Ahmed is a director of Karim's. He joined the business in 1999 and is a fourth generation family member. Zaemuddin is a descendant of Haji Karimuddin who founded Karim's 109 years back. His forefathers were chefs in the royal kitchens of of the last Mughal emperor, Bahadur Shah Zafar. Karimuddin's father, Mohammad Awaiz, escaped from Red Fort during the Indian Rebellion of 1857. He taught all his recipes to Karimuddin and passed on his legacy.  In December 1911, during the Coronation Durbar of King George V in Delhi, Karimuddin returned to the old city and set up a food stall near Jama Masjid.  His venture was a roaring success. Subsequently he established Karim's in Gali Kababiyan, Jama Masjid in 1913.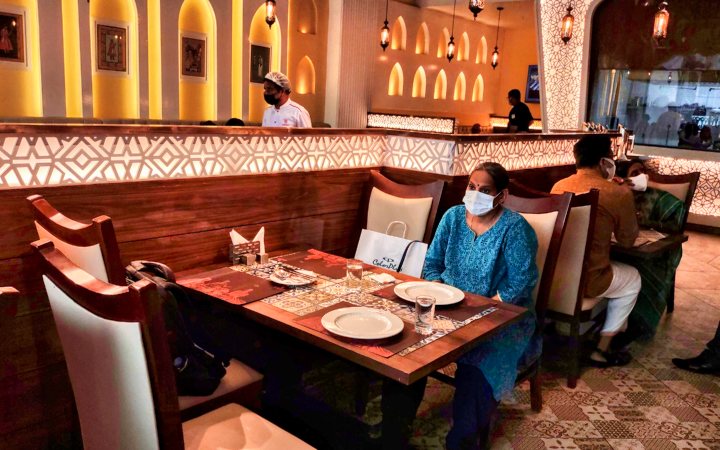 The Food
Karim's food has continues to be popular even today. This has helped it to retain its patrons. Customers who came here with their grandfather, now visit with their grandchildren. The waiters take orders verbally. There is no need of paper or tablet as they know the menu by heart. The restaurant makes its own special spices for their popular dishes such as mutton burra, chicken delicacies and biryani. The taste has remained constant over the years.
The restaurant offers 50 to 60 items on the menu. Out of this, there are five or six signature dishes. This includes mutton seekh kabab, mutton burra, badam pasanda, green curry, chicken jahangiri, sheer maal and kheer. Karim's gets 1,500 to 2,000 customers each day at the Jama Masjid outlet.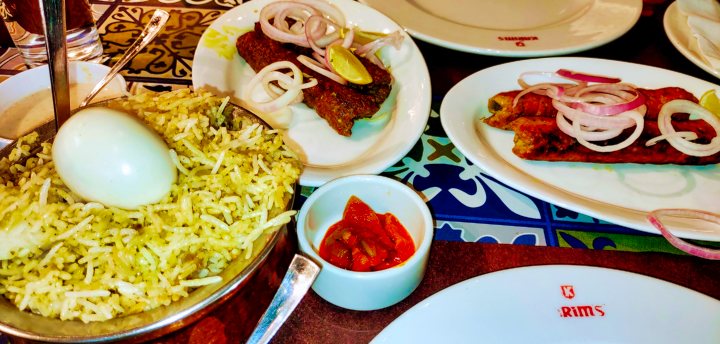 Karim's in Thiruvananthapuram uses practically the same menu as in Old Delhi's outlet. We ordered mutton seekh kabab (Rs220, 2 pc), chicken seekh kabab (Rs220, 2 pc) and Biryani Anarkali (Rs300, half). The seekh kababs were juicy and succulent. I thought that the mutton seekh was a little bit tastier. The Biryani Anarkali was not spicy and served with raita and pickles. The total bill was Rs. 777, paid by credit card.
The service was fast and attentive. Our waitress was from Nagaland and had moved to Thiruvananthapuram in search of work. The chefs who run the kitchen are from Old Delhi. Payments may be made by cash or card.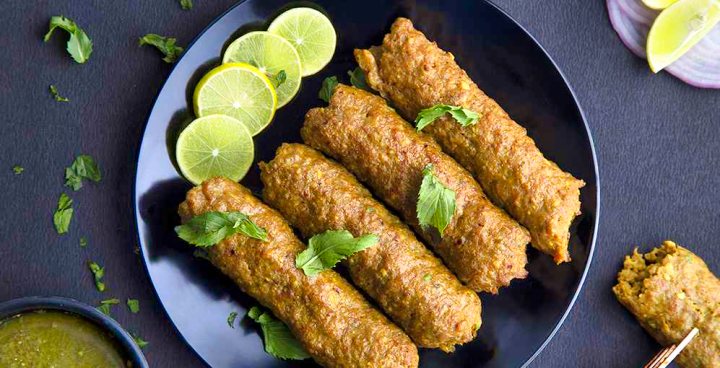 What should you order when you dine at Karim's?
Mutton Burra – Mutton shanks and chops roasted with spices and ghee.
Chicken Jahangiri- A big piece of chicken in rich gravy with onions,  raisins and green chillies.
Butter Chicken- Tender pieces of chicken slow-cooked with creamy taste.
Nahari Special – Mutton broth with bones stewed for long with green chillies and ginger.
Chicken Biryani- A fragrant dish containing saffron and special spices.
Mughlai Cuisine
The Mughal period in India is famous for scrumptious food. Mghlai cuisne has Indian, Persian, Central Asian and Turkish influences. When Babar entered Delhi in 1526, he was fascinated by the quality and variety of spices in India and started innovations in chicken and meat dishes. Humayun loved Khichdi. And it was his Iranian wife Hamida who introduced the lavish use of saffron and dry fruits in the Mughal kitchens.
During Akbar's reign, Mughlai cuisine really began to evolve. He had many marital alliances and his cooks came from all corners of India. They  blended their cooking styles with Persian dishes. This brought about delicious creations such as Navratan Korma and Murgh Musallam.
Jahangir was fond of eating and drinking. During his reign, numerous dishes were added to the Mughal stockpile. Shah Jahan loved wholesome spices and drank moderately. He directed his cooks to add spices such as haldi, jeera and dhania to imperial dishes for their medicinal values.
Aurangzeb liked vegetarian dishes like the Panchmel Dal.  According to Rukat-e-Alamgiri (a book with letters from Aurangzeb to his son), Qubooli was a favourite of Aurangzeb. It is an intricate biryani made with rice, basil, Bengal gram, dried apricot, almond and curd. Bahadur Shah Zafar, last of the Mughal emperors, was keen on deer meat or venison because of his liking for hunting in his younger days. 
The Interior
The interior is open with tables in three rows and two tables outside the arched entrance. The kitchen is visible through a glass panel at the end. The seats are comfortable. The place is centrally air conditioned. The dummy windows are in Mughal style.
Getting There
Karim's is in Lulu Mall, on the food court in second floor. Next to it is a Pizza Hut store. From Trivandrum Central station, the fare by an Ola cab will be typically INR 330. It is a distance of 8 km (21 min). Trivandrum International Airport is a drive of  14 min (6.1 km). College of Engineering Trivandrum (CET) can be reached in 24 min (11.5 km).
Timings: 11:00 am to 11:00 pm
Address: Karim's, Second Floor, Lulu Mall, Thiruvananthapuram 695021.
Service options are dine-in and take away.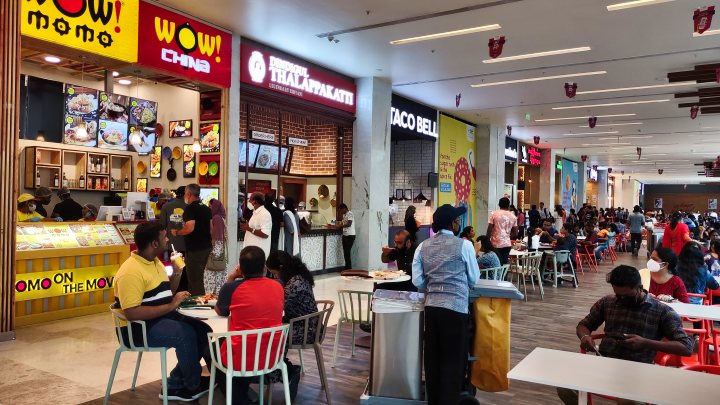 If you liked the post, you could…
Join more than 5,000 fans of UASATISH by liking us on Facebook, or follow us on Twitter and Instagram.
Related posts