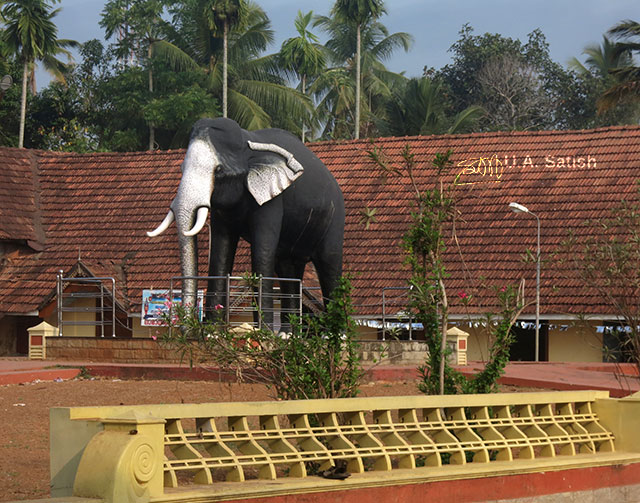 Dating back to the fifteenth century, Ambalapuzha Sree Krishna Temple draws devotees from Kerala and outside. The principal deity is Unnikrishnan (child Krishnan). It is 14 km from Alapuzha. By road, you will reach in 26 minutes. Trains take 12 minutes. Kochi International airport is 96 km from Ambalapuzha (2h30m).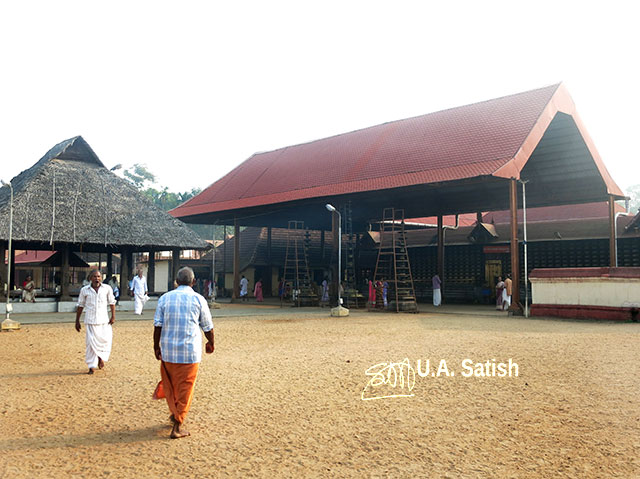 Temple Architecture in Ambalapuzha Sree Krishna Temple
The temple is a model of traditional Kerala architectural style. It has white-washed walls and a sloping copper-clad roof.. The Sreekovil (Sanctum Sanctorum) has no windows and only the priests can enter. The Sreekovil is within the four walls of  the Nalambalam. The outer structure within the temple walls is known as Chuttuambalam. The priests use the well near the temple exclusively for pooja rituals.
Near the temple are many shops selling pooja material and curios.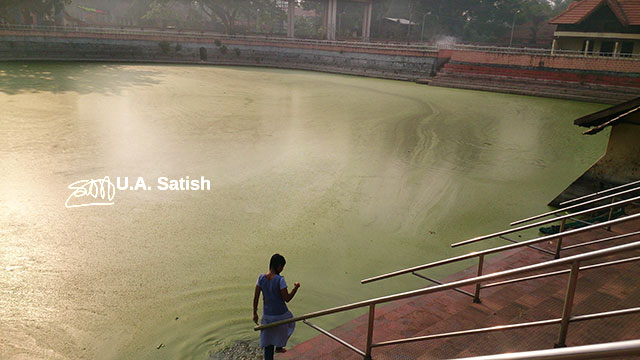 Next to the temple is a big pond. Devotees wash their feet and hands before entering he temple.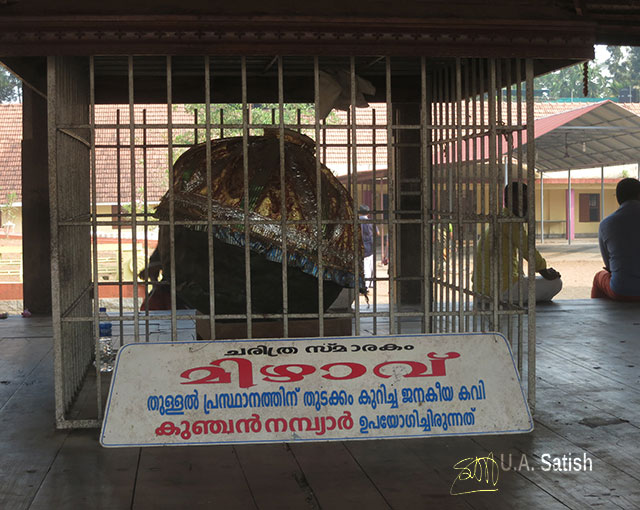 Kunjan Nambiar's Mizhavu
The popular Malayalam poet Kunjan Nambiar created the  art form of Ottam Thullal in the premises of Ambalappuzha Temple. Mizhavu is a big copper drum used as a percussion instrument in performing arts.  Visitors can view Kunjan Nambiar's Mizhavu in an enclosure within the Koothambalam.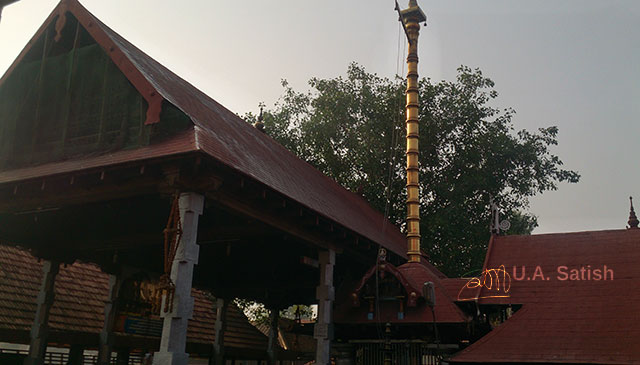 The Kodimaram (flag post) has a core of special teak. Gold foil covers it.  The hoisting of a flag on top of the Kodimaram signals the beginning of temple festivals.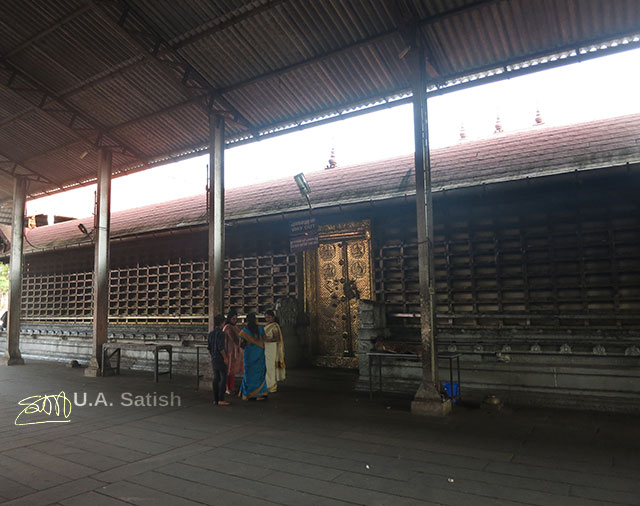 Ambalapuzha Palpayasam
The prasadam of the temple is Palpayasam. It is famous for its distinctive pink colour as well as wonderful taste. The temple's own goshalas supply milk for Ambalapuzha Palpayasam. The taste of Ambalapuzha payasam comes from the well water (manikinar), local cow milk and red rice. The prasadam is available in one-litre containers after the pooja gets over at 12 noon.
Pre-booking of the Palpayasam is possible. Devotees can book the payasam by sending a money order to The Administrator, Ambalapuzha Devaswom, State Highway 12, Ambalapuzha 688561,  Kerala. Phone: +91 477 227 2090.
The outer walls of the Nalambalam have several rows of oil lamps. They are lit up at night on festival days. It is a spectacular sight.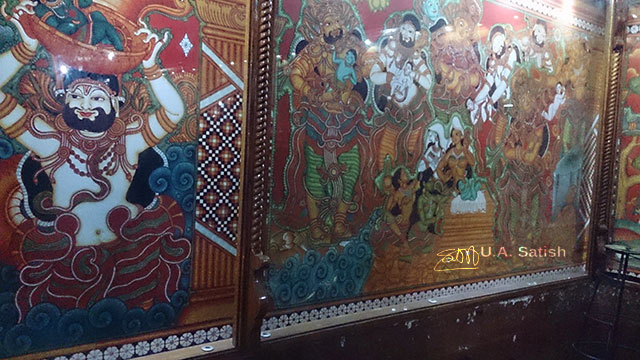 Temple Paintings
You can see paintings of the Dashavatharam (the ten incarnations of Lord Vishnu) on the inner walls of the Nalambalam.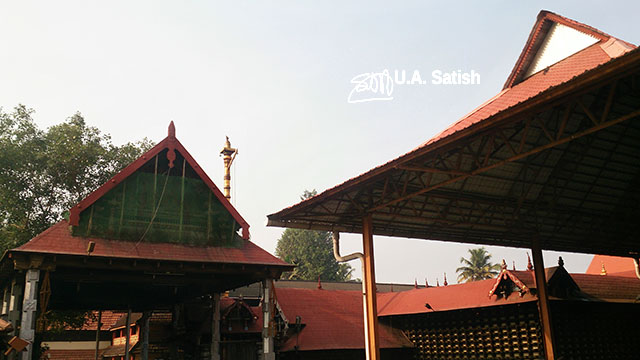 Ambalapuzha Arattu is the main festival at the temple. It is observed for ten days during the Malayalam month of Meenam (March – April). An important feature of the temple festival is the Velakali which is a unique martial dance form.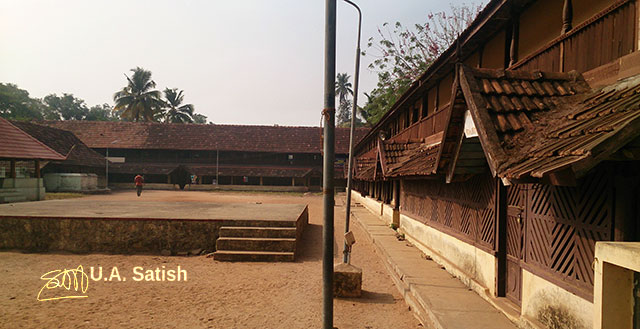 Champakulam Boat Race is held on the Prathista Day (idol installation day) of Ambalapuzha Sree Krishna Temple.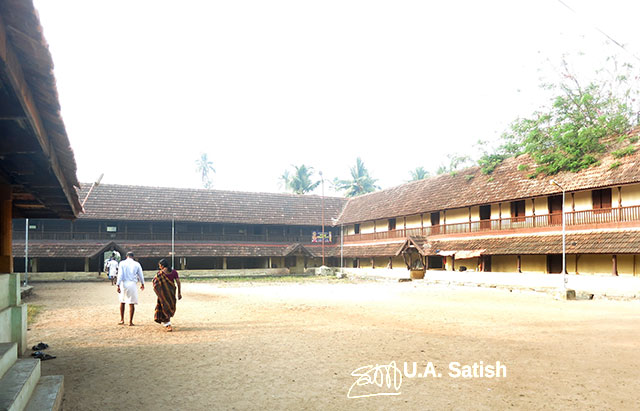 Temple festivals in Kerala are perhaps incomplete without caparisoned elephants. The elephant Ambalapuzha Ramachandran was famous. His sculpture on the temple grounds is magnificent.
Temple timings are 3:00 am to 12:00 noon and 5:00 to 8:00 pm.
You have probably enjoyed reading about Sree Krishna Temple in Ambalapuzha. Join me on Facebook, Instagram and Flickr.