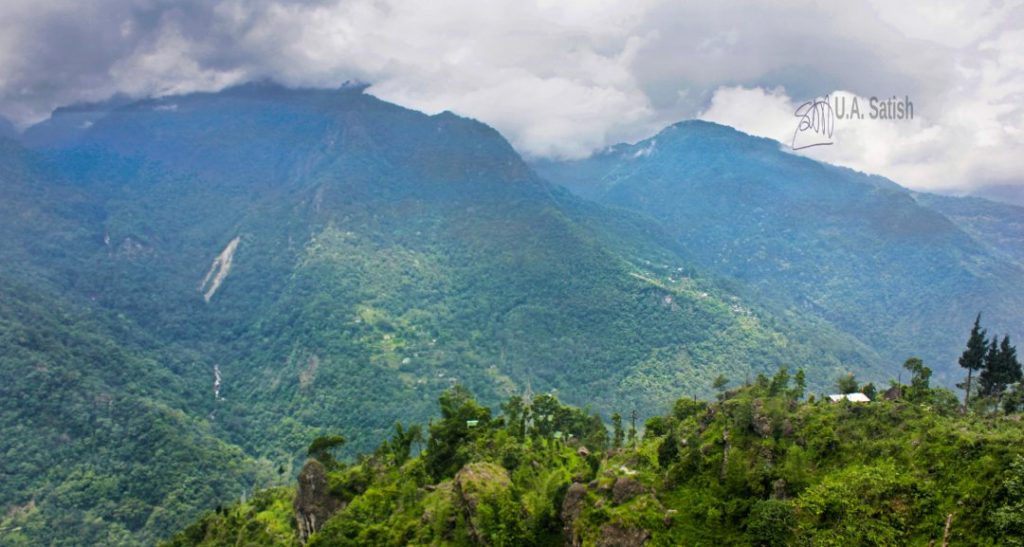 Sikkim is the second smallest state in India. The itinerary for one week in Sikkim takes the stress out of your travel planning.  The state is home to India's tallest mountain, Kangchenjunga (8,586 metres). Sikkim shelters alpine meadows, glaciers and many kinds of wild flowers. It has dramatic Himalayan landscapes. You will also find hilltop Buddhist monasteries such as Rumtek which dates from the mid 1700s.
There are no train lines in the state. The nearest railway station (New Jalpaiguri) is in Siliguri, Bengal . It is 120 km (3 hours 45 minutes) from Gangtok. Nearest airport is Bagdogra which is also in Siliguri.
Day 1 of Your One Week in Sikkim
Gangtok
Sikkim's modern capital is Gangtok. NH 10 connects it to Bagdogra airport and New Jalpaiguri (NJP) station. The road trip takes four hours. Gangtok is on the ridge of a hill, at a height of 5,410 feet. Most of the tour operators in Sikkim have offices in Gangtok. You will have to depend on cars to get around in  Sikkim.
At night, stroll on MG Road and dine in one of the many restaurants there.
Day 2
Excursion from Gangtok to Nathula Pass and Baba Mandir
After breakfast, start on your trip to Nathu La Pass and Baba Mandir. One usually covers this place with a visit to Changu Lake. Only Indian nationals can visit Nathu La. A permit is needed from the military authorities in Gangtok.
Changu Lake is a Himalayan lake at an altitude of 12,400 feet. It is also known as Tsongmo Lake. The lake is full of fish. But fishing is prohibited.  It is a steep climb from Gangtok at an elevation of 5,249 feet to Changu Lake at 12,400 feet. The drive takes two hours.
Nathu La Pass is on the Chinese border with India. It is at an elevation of 14,140 feet. Visitors cannot enter the area on Mondays and Tuesdays.
Baba Mandir has the distinction of being a temple run by soldiers of the Indian Army. It is near Kupup Village in Sikkim. It is at a height of 13,000 feet. There is a cafe here: Cafe 13 Thousand. There are clean washrooms too which are well maintained by the army. Yak Golf Course in Kupup has fairways crosswise over mountain streams and lakes.
Day 3
Gangtok to Lachung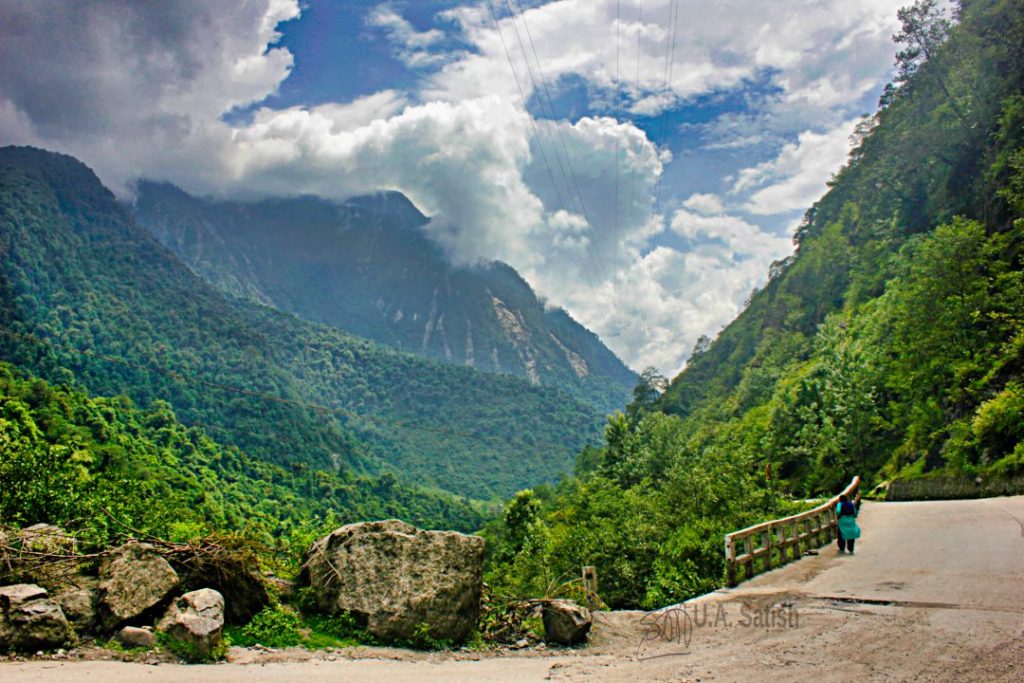 Lachung is 102 km from the state capital Gangtok. The journey takes about 4.5 hours. Most visitors stay overnight at Lachung enroute to the beautiful Yumthang Valley. It is a scenic route with charming villages and waterfalls along the way. Seven Sisters Waterfalla and Bhewma Waterfalls are worth viewing. Visitors climb from Gangtok at 5,118 feet to Lachung at 8,610 feet.
Day 4
Yumthang Valley and Zero Point
Yumthang is a beautiful valley in North Sikkim. It is 26 km from the hill station of Lachung which means the Small Pass. The road trip takes you from Lachung at an elevation of 8,610 feet to Yumthang at 11,693 feet. The journey lasts about an hour and a half.
The valley in North Sikkim has a large meadow which is bordered by mountains. A mountain stream flows through the middle. Snow blankets the area in winter months.Beautiful rhododendron flowers carpet the meadow and surrounding areas during the months of February to May.
Zero Point is 51 km from Lachung. Although the route is scenic, the mountain roads are not in good condition. So the journey may take about three hours. Zero Point is a height of 15,400 feet.
Day 5
Exploring Gangtok
Considered a centre of Buddhist learning and culture, Gangtok has noteworthy Buddhist institutions including Enchey monastery, Do-drul Chorten stupa complex and Rumtek Monastery.
You can shop for souvenirs like Thangka paintings, prayer wheels, traditional dresses, classic jewellery, yak cheese and Sikkim tea.
Day 6
Gangtok to Pelling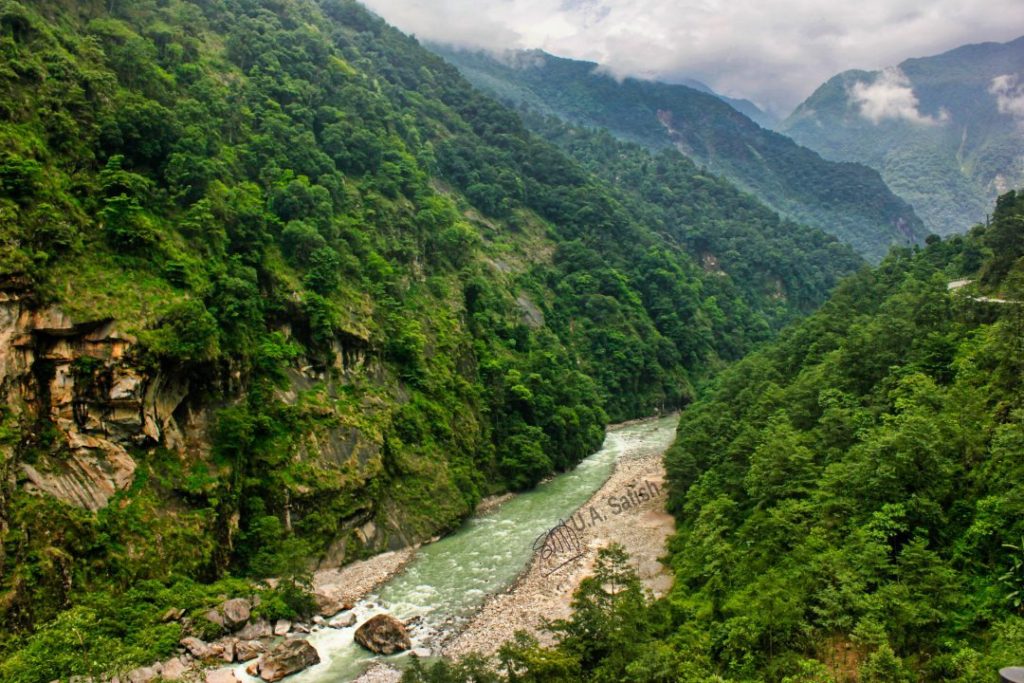 The drive from Gangtok to Pelling took us to Samdruptse Hill and Chardham  in Namchi. The trip is 160 km (5 h 30 min). Road work was in progress at some areas.
Day 7
Pelling 
Pelling is a small hill town at an altitude of 7,200 feet. It is at the foothills of Mount Kanchenjunga. Places to visit in and around Pelling include Pemayangtse Monastery, Khecheopalri Lake and several waterfalls.
At the end of your one week in Sikkim, you may extend the trip to Darjeeling or board the flight back home at Bagdogra airport.
If you liked the post, you could…
Join more than 5,000 fans of UASATISH by liking us on Facebook, or follow us on Twitter and Instagram.
Related posts: