Gangtok to Changu Lake is a drive of 39 km. Changu Lake is one of the highest lakes in the world, at an altitude of 12,400 feet. The distance must be covered in a car since trains do not operate in Sikkim. Northeast Frontier Railway is preparing to build a 44.98 km railway line from Sevooke in West Bengal to Rangpo in Sikkim. Fourteen tunnels have been planned to avoid loss of forests.
Road to Changu Lake
We started from Gangtok at 7:30 in the morning. The roads are narrow. Road widening work was going on in some places. Landslides can occur during rainy season. We climbed from Gangtok at 5,249 feet to Changu Lake at 12,400 feet.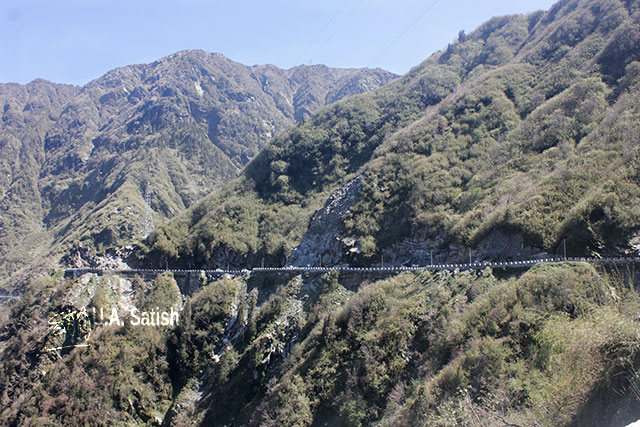 The route is scenic. Because of the mountainous terrain, vehicles like Tata Sumo, Xylo or Innova are generally preferred. The round trip cost ranges from Rs. 2,500 to 3,500. Shared services are also available and cost Rs. 350 to 400 per person.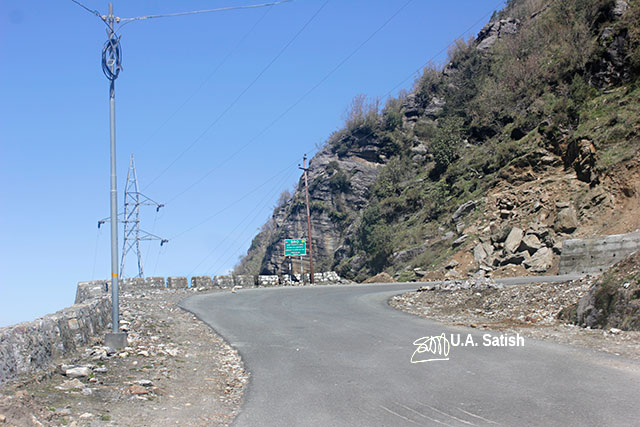 Border Roads Organisation maintains the roads. The area is close to the international border with China. Convoys of army trucks and vehicles could be seen from time to time.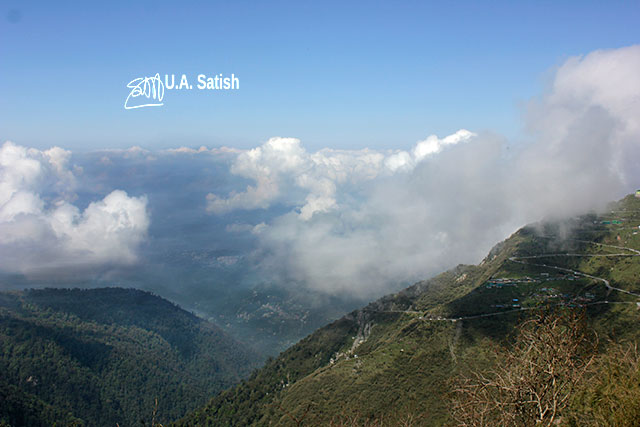 The area has low population and there were few people on the road. Restaurants are hard to find enroute. Small food stalls sell momos and noodles. Travellers should carry provisions of drinking water and snacks.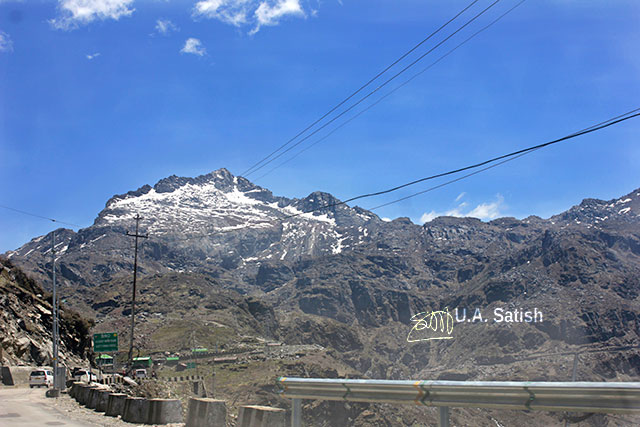 As we climbed up towards Changu Lake, we saw snow-capped mountains. We were there in early June and the snow cover had reduced. In winter, from November to March, roads will be covered with snow. Our driver told us that they have to fit snow chains on the wheels in winter.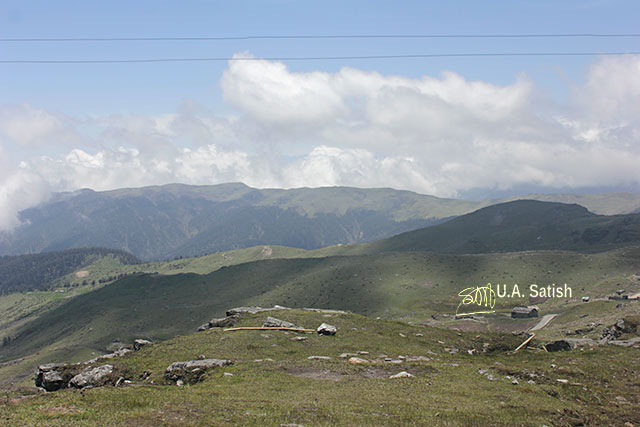 At high elevations, oxygen content in the air is low. Some persons may experience palpitations and breathlessness. This could occur when the tempo of physical activity goes up. Some shopkeepers near Changu Lake provide oxygen cylinders to travellers in distress.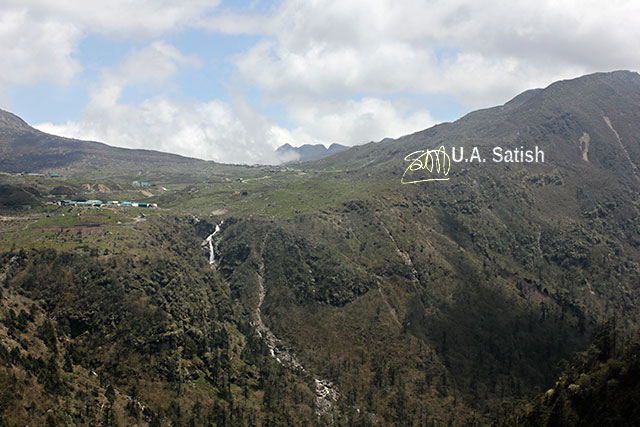 The Lakes
Locals regard Changu Lake as sacred. The lake surface reflects different colours with change of seasons and is held in great reverence by the local people. The lake is out of bounds for visitors. Fishing is forbidden. Snow covers the lake in winter. Birds like the Brahmini ducks take a break at the lake on their way to the plains of India. The duck is a migratory bird, wintering in the Indian subcontinent and breeding in southeastern Europe and central Asia. You will find many colourfully decorated Yaks in the area. The animals carry visitors on rides.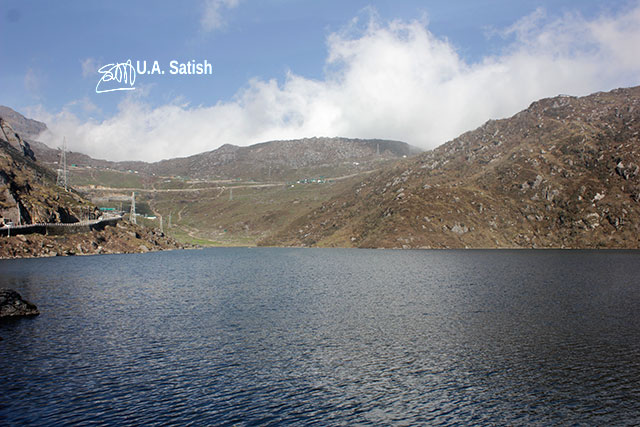 Weather is often unpredictable at Changu Lake. The best time to visit the lake is April to September. During other months, it remains totally or partially frozen. Zero Point is famous for snowfalls that occurs from December to April.
Twenty two kilometres (37 min) from  Changu Lake is the beautiful Kupup Lake. Locally called Bitan Cho, it is one of the most sacred lakes of Sikkim. Owing to its resemblance to an elephant, Kupup Lake also goes by the name of Elephant Lake. The lake is on the way to Jelepla Pass and at an altitude of 13,066 feet. It is close to the border with China. Mountains and valleys surround it.
Kupup village nearby brags of an 18-hole golf course, the Yak golf course. At 13,025 feet (3,970m), it is the world's highest golf course. This is part of an Indian Army base.
On our way back, heavy fog suddenly descended on the road. Visibility was very bad. It caused us some anxious moments as the road had a sheer drop on one side. But our driver was knowledegeble and skillful. He took us to our hotel in Gangtok without trouble.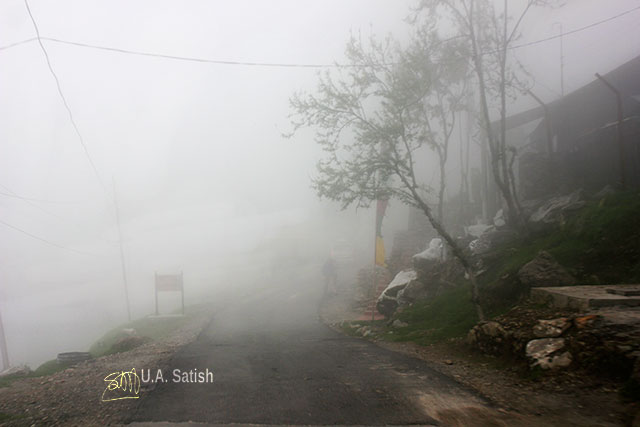 If you liked the post, you could…
Join more than 5,000 fans of UASATISH by liking us on Facebook, or follow us on Twitter and Instagram.
Related posts: