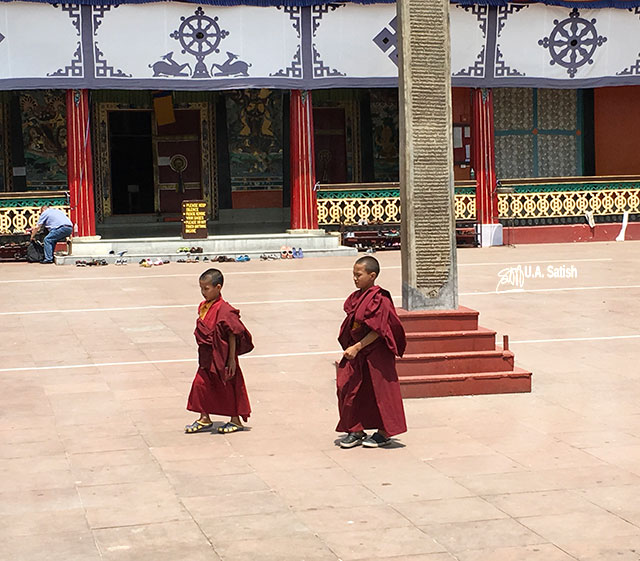 Gangtok is the capital of Sikkim. It is connected to Siliguri via NH 10, a distance of 114 km. The route can be covered in four hours, but may take longer if there is traffic. The nearest airport is Bagdogra. New Jalpaiguri in Siliguri is the closest railway station. Work has started on a broad gauge railway line between Sevoke in West Bengal and Rangpo in Sikkim
Gangtok is located on the ridge of a hill, at a height of 5,410 feet. The Ridge has Raj Bhavan at one end and the King's Palace at the other end. Because of the hilly terrain, buildings in Gangtok stand very close to the roads. Parking space is acutely scarce.

Busy Gangtok Street

Local Transport in the Hill Town

Gangtok has a population of about one lakh. Density of four wheelers is high. Cars are everywhere. Small Maruti cars are employed as taxis. Auto rickshaws are conspicuous by their absence. The population of buses is miniscule. I did not come across any city buses. Locals and tourists depend on shared jeeps and vans for travel outside the town.

Sikkim Manipal University Campus

Growth in the Field of Education

In picturesque surroundings on the bank of River Teesta is Sikkim Manipal University. The state of Sikkim has achieved tremendous growth in the field of education over the last decade. The medium of instruction in schools and colleges is English.

Jat Balwan

Proximity to Chinese Border

As Sikkim is close to the border with China, the Indian army maintains a significant presence in and around Gangtok. This ushers in a population of semi-constant residents who bring wealth into the local economy

Himalayan Peaks in the Distance

Gangtok is nestled among the Himalayan mountains. Mount Kanchenjunga (8,598 metres or 28,208 feet) can be seen to the west of the town. It is the world's third tallest mountain.

Entrance to Raj Bhavan

Gangtok Climate

The area enjoys a mild, temperate climate all year round. Temperatures range from an average maximum of 22 °C (72 °F) in summer to an average minimum of 4 °C (39 °F) in winter. Snowfall is uncommon.

Small Stream

Tourism is the main income generator in Gangtok. Many residents find employment in restaurants and hotels. There is no dearth of private and shared taxi services here.

Gangtok-Nathu La Road

Considered a centre of Buddhist learning and culture, Gangtok has noteworthy Buddhist institutions including Enchey monastery, Do-drul Chorten stupa complex and Rumtek Monastery.

Ganju Lama Dwar

Read more on Sikkim from my earlier posts:

If you are delighted with my post on Gangtok, please feel free to follow me on Instagram, Flickr and Facebook for regular updates.