Muthanga Wildlife Sanctuary was a unique experience. The sanctuary is an hour's drive from Kalpetta (36 km). It is on the National Highway NH766 which connects Kozhikode in Kerala with Kollegal in Karnataka via Mysore.  The place is open from 7:00 to 10:00 in the mornings and 3:00 to 5:00 in the evenings. We started early morning from Kalpetta so that we could get in when the gates opened. The roads are good and there was little traffic at that time.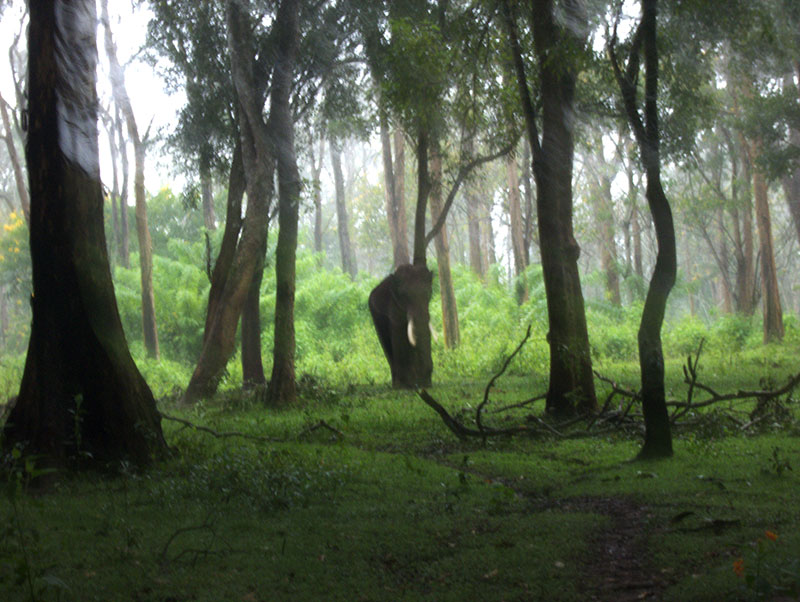 Going Around Muthanga Wildlife Sanctuary
There is an entry fee of Rs. 500 and we went on an hour's drive through the forest in a jeep. Private vehicles are not allowed for safari. The mode of transport is Maruti Gypsy whch the forest department makes available. The first thing we saw was a male elephant and we could see him through the morning mist. I suspect that it was a tame animal.
The ride on the mud roads was bumpy at times. There was a tourist guide with us in the open vehicle and he kept a lookout for wild animals and birds. We were not allowed to get down from the Gypsy. This is dangerous in the elephant habitat.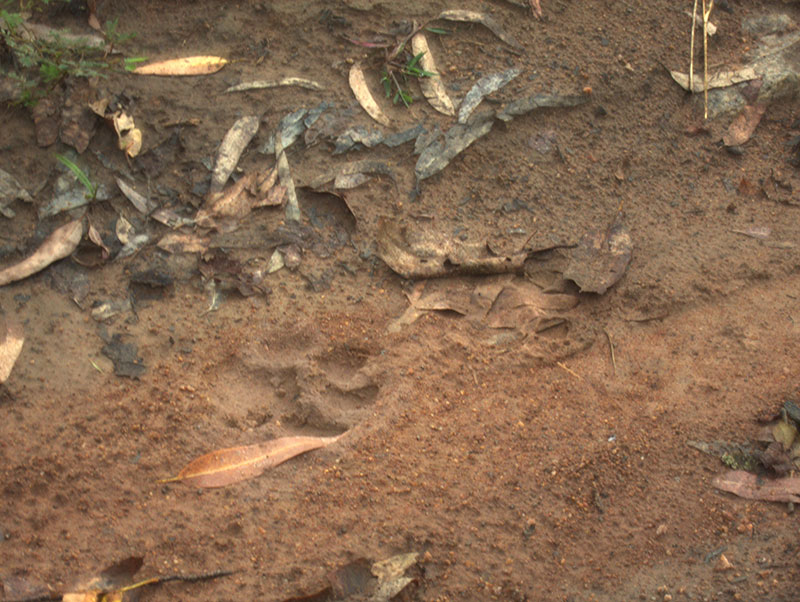 Animals and Birds in the Sanctuary
The area had received good rains in the past few weeks. There was dense vegetation on both sides of the road. Animals were probably lurking behind the bushes and few made their appearances. The guide pointed out fresh pug marks of a tiger. But the tiger himself was not to be seen. India has roughly two-thirds of the world's tiger population. The number of wild tigers in the country had doubled from 1,411 in 2006 to 2,967 in 2019.
At one point, we noticed a tree which had a big population of honeycombs. Forest honey is on sale at the store near entry gate. The store is run by the forest department.
We saw a number of peacocks. Some of them were molting after the recent monsoon season. The male peacock disp;ays about 150 spectacular peacock tail feathers with which we are so familiar with. The birds shed the feathers each year just after the breeding season and regrown the following season.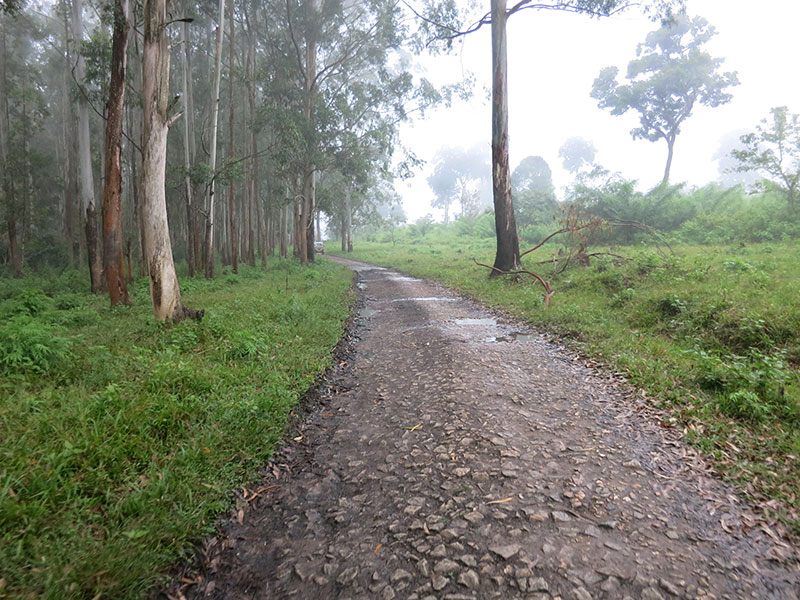 NH 766 goes past Muthanga Wildlife Sanctuary.  We saw herds of deer on both sides of the road. A large number of the  animals venture out at night. Some of them even get injured or killed by speeding vehicles while trying to cross the road. Bright car headlights transfix animals. They will just keep standing there for a minute or two!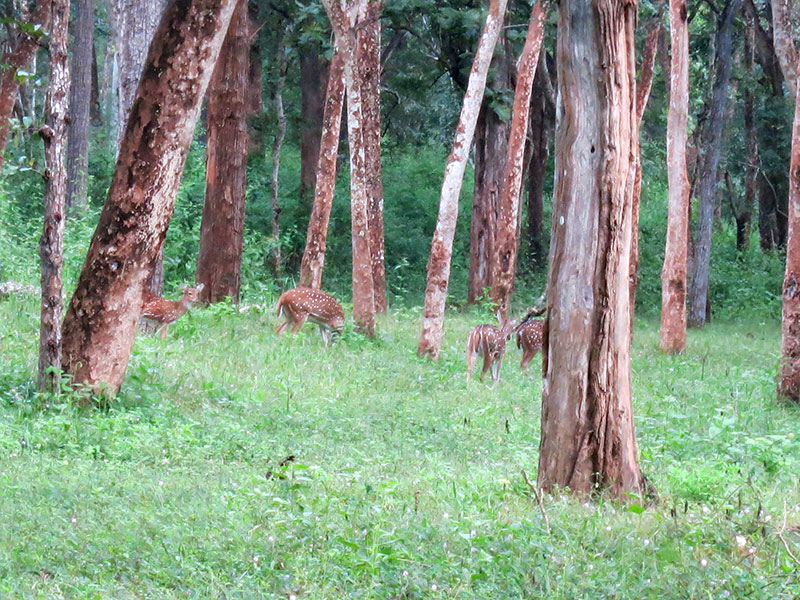 There was a rice field right next to the forested area. Men and animals were existing side by side! I think that intrusions by foraging animals into cultivated areas are a distinct possibility.
The safari ended in 60 minutes. I think that it was too short. Perhaps two hours would have given us a better experience.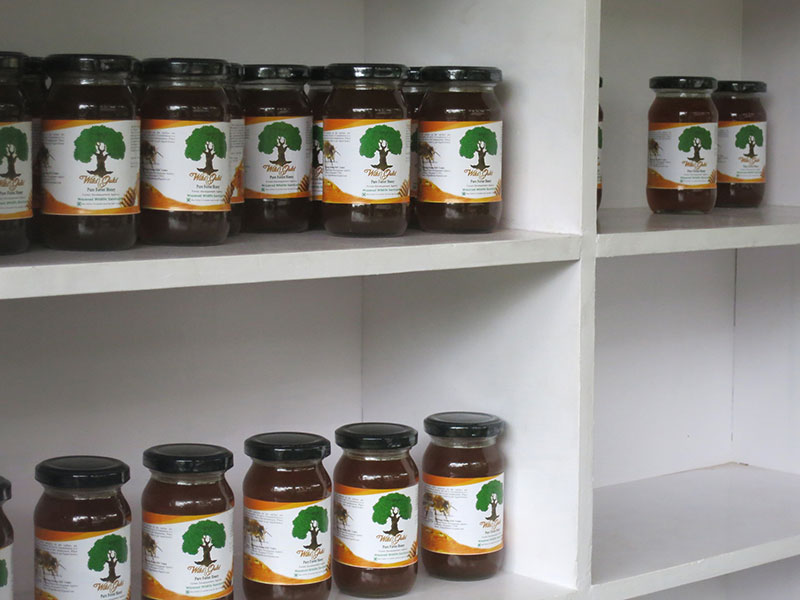 Photo Opportunities
I had clicked most of the photos from a moving Maruti Gypsy. I used a fast shutter speed of 1/320 sec to eliminate shake. The morning was misty at Muthanga. I used multi-segment metering mode on my Canon DSLR.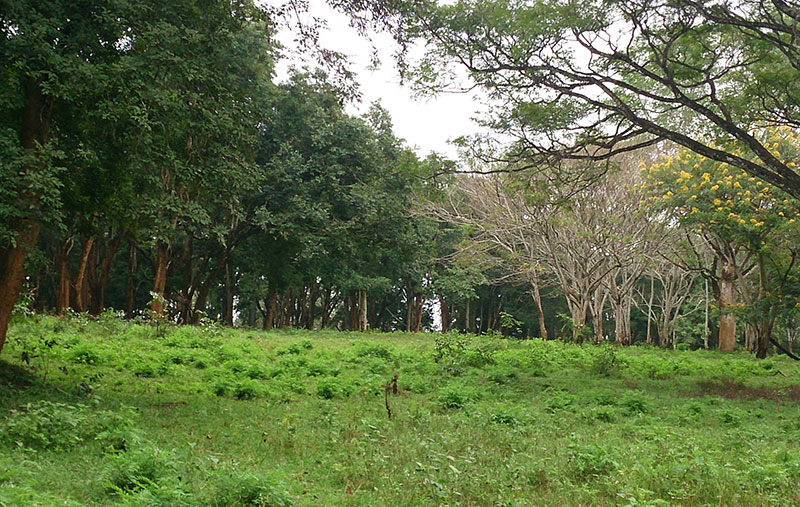 Getting There
The nearest airport is Calicut International Airport at 126 km. Kannur International Airport is a 137 km (3 hr 33 min) drive. Closest railway station is Kozhikode (111 km). A big network of roads provide access to Wayanad from different parts of  Karnataka as well as Kerala. Visitors can board luxury buses that run at frequent intervals from  Kozhikode, Thalassery, Bangalore, Mysore and Kochi. Sulthan Bathery is the favoured destination. It is near the border with Karnataka and the biggest transport hub of Wayanad. From Sultan Bathery, Muthanga is 15.1 km (20 min).
If you liked the post, you could…
Join more than 5,000 fans of UASATISH by liking us on Facebook, or follow us on Twitter and Instagram.
Related posts