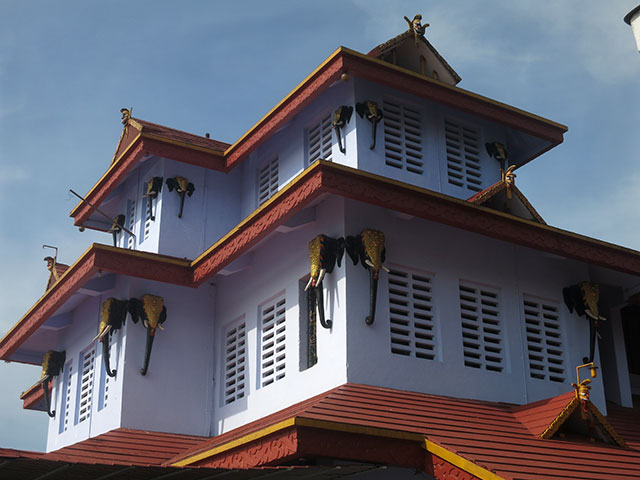 Parassini Muthappan Madappura is a Hindu temple at a scenic location on the bank of Valapattanam River. It is 19.4 km (40 min) from Kannur and 10 km from Taliparamba. Kannur International Airport is  a drive of 31.4 km (52 min) via Mattannur-Iritty road. The main deity is Sree Muthappan who is a manifestation of Lord Shiva.
Pooja and Offerings
Non-Brahmins perform the pooja rituals. Dogs enter the temple and roam around freely. They are Muthappan's companions. Offerings to the deity include toddy and dried fish.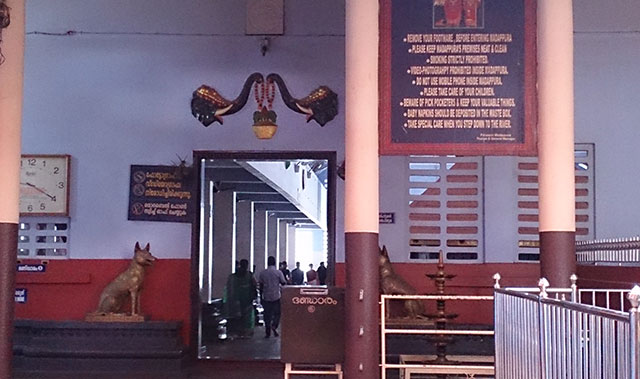 People from all sections of the society, irrespective of religion or caste, visit the temple. It promotes the essence of Vasudaiva Kutumbakam: the whole world is one family. There are no dress restrictions. But devotees wash their feet in the river before entering the temple. They keep their footwear outside the temple.
In August 2019, Valappattanam River overflowed due to heavy rains. Flood waters entered the temple compound and even surrounded the sanctum sanctorum. The temple was open but the pooja rituals had to be suspended temporarily.
Prasadan
Visitors get a prasadam of boiled Vanpayar (red cow peas), coconut slices and tea. Devotees can eat free lunch and dinner in the Oottupura (dining hall). Visitors get prasadam from 7:30 AM to 8:00 PM.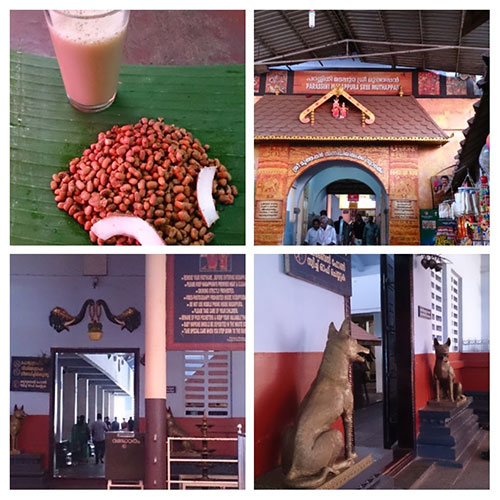 Theyyam
Theyyam is the the ritualistic enactment of Sree Muthappan (as Thiruvappana and Vellattam). It is performed daily in the early morning and in the evening. Men wearing colourful masks and costumes perform this temple art form. It represents the conflict between good and evil, with good ultimately emerging victorious.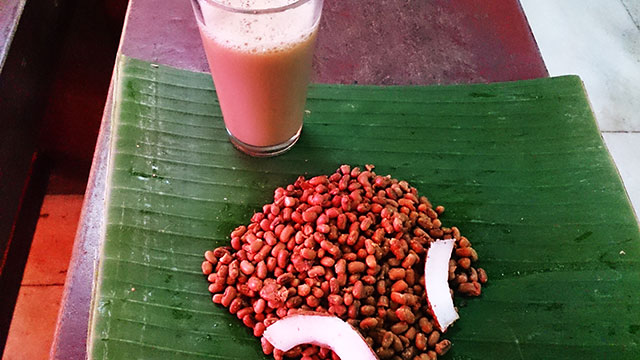 Devotees can see Vellattam and Thiruvappana daily, from 5:45 to 8:00 am. Vellattam is also conducted in the evenings at around 6:30 pm. According to ancient belief, Thiruvappana is Vishnu and Vellattam is Shiva.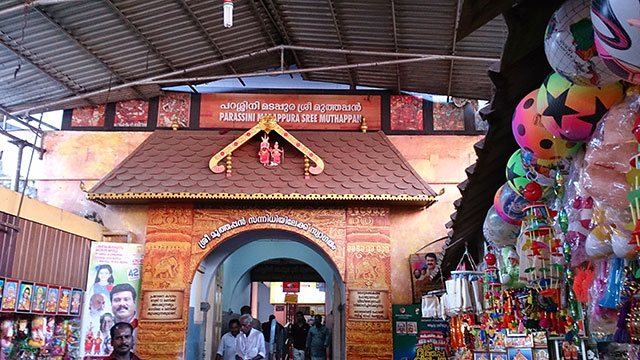 After the theyyam acts, devotees line up in front of Muthappan and tell him of their grievances. He in turn passes some kind remarks which offer solace to the devotees.
It is an unwritten rule here that whatever is collected by way of gifts or offerings should be spent for the benefit of pilgrims. The daily offerings made to Muthappan are also different from that of other temples. It is customary to offer toddy and dried fish as nivedyam to the deity.  
People of all castes and communities, including Muslims and Christians, make liberal contributions as vazhipadu to Muthappam. The annual festival falls on the first of December. It is a special occasion for pilgrims to visit Parassinikkadavu temple.
The path leading to the temple has shops on both sides selling pooja material and devotional videos.
Getting There
Buses shuttle frequently between Kannur and  Sree Muthappan temple. The bus station is at a higher level than the temple. Autorickshaws transport devotees up and down the hill. Free parking is available near the temple. There are a number of hotels in the area.
Address: Parassini Madappura Sree Muthappan, Parassinikkadavu, Kannur 670563, Kerala    Phone: +91 497 2780722
If you liked the post, you could…
Join more than 5,000 fans of UASATISH by liking us on Facebook, or follow us on Twitter and Instagram.
Related posts: