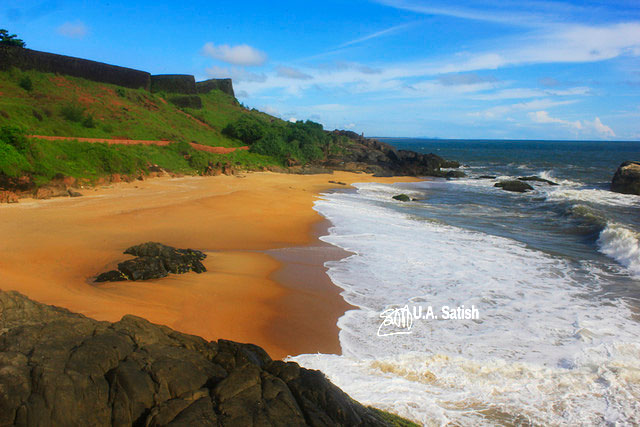 Beaches hold a fascination for many people. Now that summer is upon us, it is perhaps the right time to present some photos of beaches that I have been to. "I love the beach. I love the sea. All my life I live within – in front of the sea." These are the words of  Rafael Nadal, popular tennis star.
Beaches in Goa
Goa is famous for its beaches. Utorda Beach is inSouth Goa. It is a clean beach with white sands that stretch for kilometres. The water is safe for swimming. There are many resorts and food shacks along the beach. It is 30 minutes from Dabolim airport.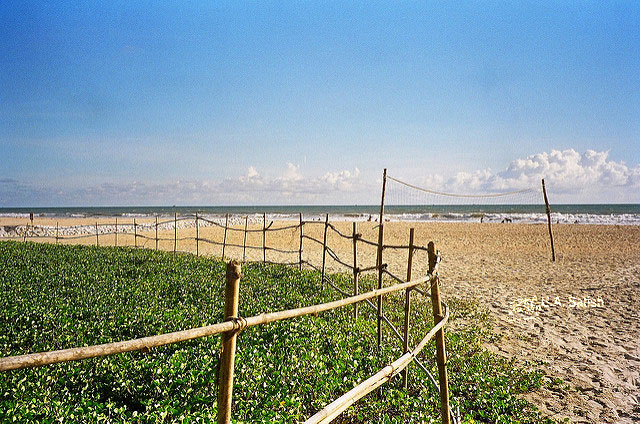 Majorda Beach is about 5 km from Utorda. Clean white sands and pleasant sea with great waves. It is never too hot because of the sea breeze and there are plenty of shacks to eat in. Workers who patrol the area  pick up trash and seaweed to keep the place clean.
Kalamb Beach
The photo above was shot in Kalamb Beach. It is a clean and big beach, 6 km from Nallasopra near Mumbai. The beach is not crowded as it is not a well-known tourist destination. During low tide, the sea recedes a fair distance. The sands are dark in colour, may be because of the presence of minerals.
Suruchi Beach in Vasai
Suruchi Beach is a big beach. It gets its name from the suru (Casuarina) trees which line the beach. The beach is 7.6 km from Vasai Road railway station. Buses go up to Parnaka in Vasai Gaon. From there, it is another 1.6 km to the beach. It is a walk of about 20 minutes. The beach tends to get crowded on weekends.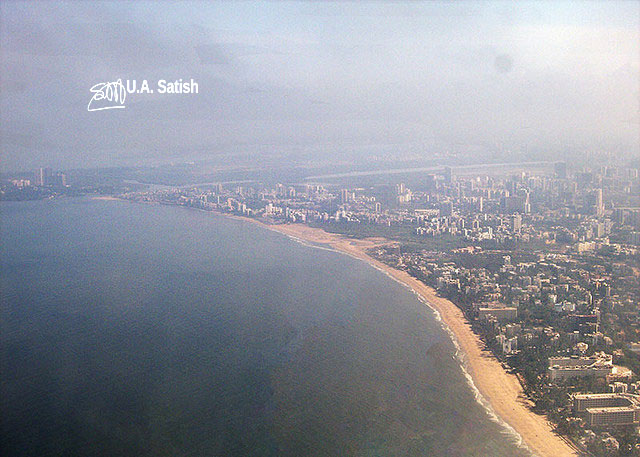 Mumbai Coast
Mumbai is on the west of India and has Arabian Sea along its coast. There are a number of beaches in Mumbai and watching the glorious sunsets from these beaches is a delight. The beaches in Mumbai have served as the location for many Bollywood movies.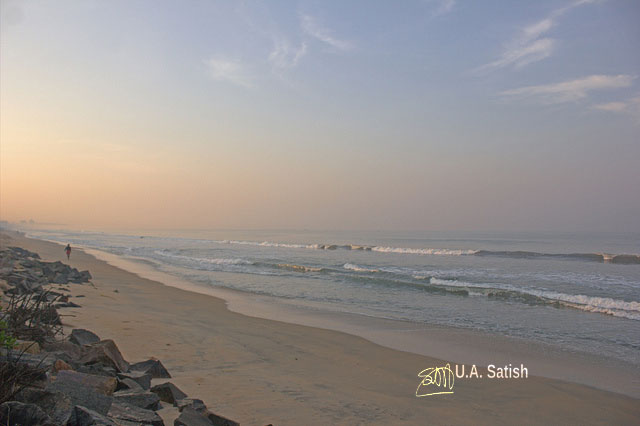 Kannur Beaches
Neerkkadavu Beach is on the Malabar Coast in Kerala. It is a long beach and has lovely soft sands. It is near Azhikkal, about 15 km from Kannur railway station. The beach is not a tourist destination. There are mainly fishermen living in the area.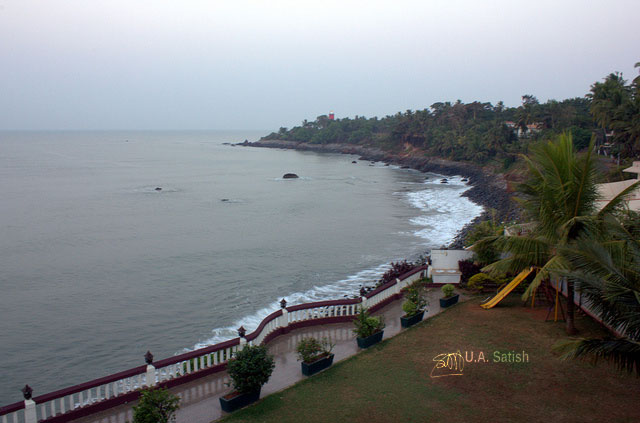 Baby Beach is in the cantonment area of Kannur. There is a cliff right above the beach. One cannot go down to the beach which is rocky and with hardly any sand. The sunsets are spectacular. At night, the lighthouse nearby can be seen sweeping the area with its bright beams of light.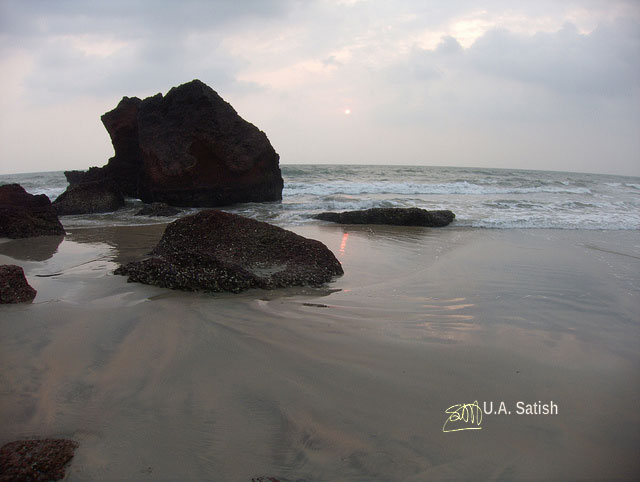 Payyambalam Beach is a popular tourist spot in Kannur. It is a white sandy beach which stretches for four kilometres. From Kannur railway station, it is three kilometres.
The waters are deceptively shallow. It is dangerous to swim here. Lifeguards are present in the evenings. But they do not have equipment to mount any rescue operation.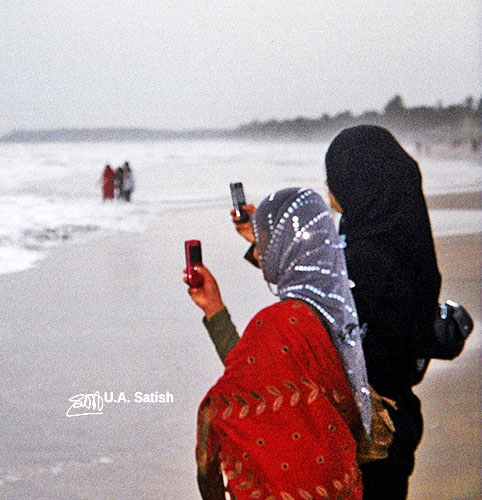 The photo above was shot at Payyambalam Beach. The scene could be considerd a sign of our times.
Bekal Beach in Kerala
Parts of Bekal Beach are below the big fort which overlooks Arabian Sea. I could see many eagles, including the white-bellied sea eagle, hover above the beach. Visitors however cannot enter the sea as the spot is not safe for swimming.
The nearest railway station, for express trains, is Kanhangad (12 km). Bekal Fort (1.8 km) is the closest station for local trains.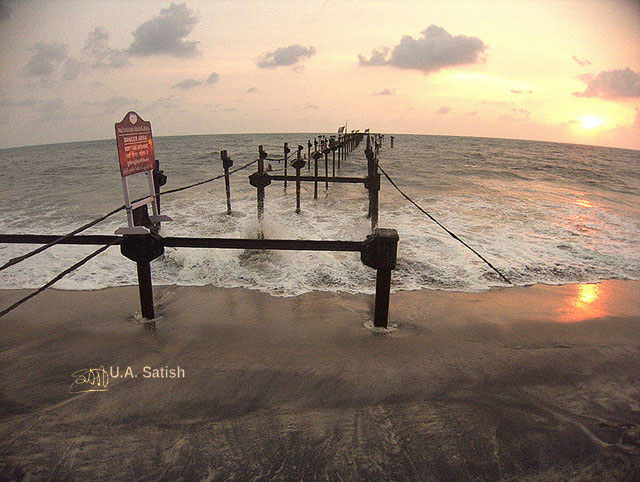 Alappuzha Beach
The old pier in Alappuzha beach has fallen apart after the port was closed many years back. The 137-year-old pier is not operational since 1989. Now only the skeletal remains can be seen. The beach itself was crowded as we were there on a Sunday. Construction work was progressing on a 3.2 km stretch of Alappuzha bypass elevated road which will pass by the beach. Alappuzha Beach is 83 km from Kochi International Airport.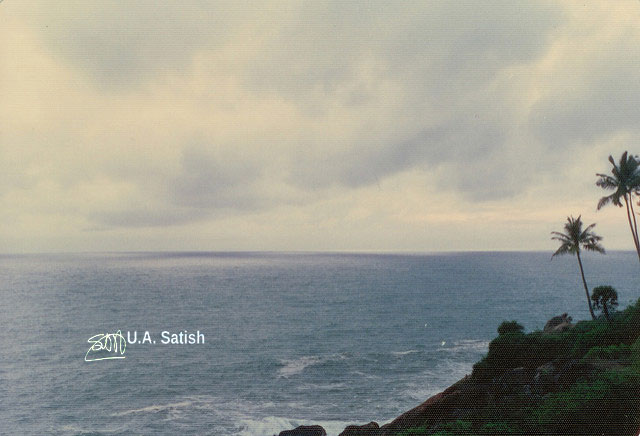 Shanghumugham and Kovalam Beaches
Kovalam Beach is absolutely beautiful and quiet. The sand and waters are clean. It is a delight to paddle around in the sea as it is shallow for some distance from the shore. Plenty of places to eat and drink. It is close to Trivandrum International Airport (13 km).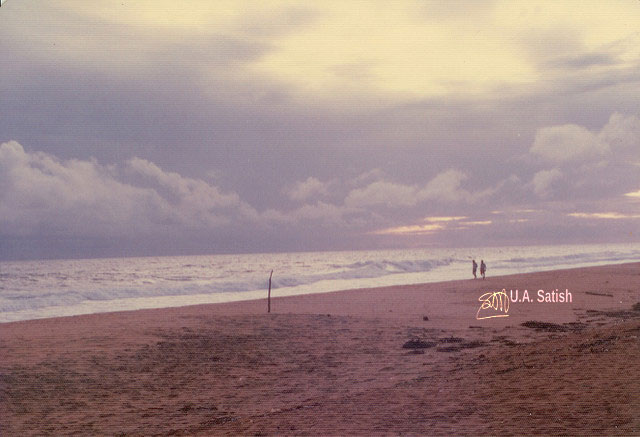 Shangumugham Beach is a 20 minute drive from Statue Junction in Thiruvananthapuram. It is big and clean beach and less crowded than Kovalam Beach.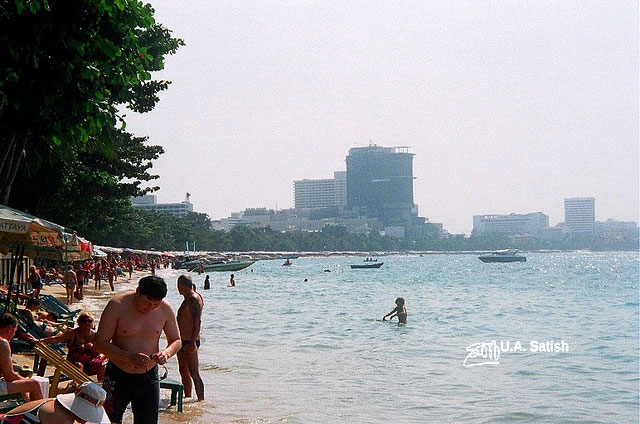 Coral Island and Pattaya Beach
Pattaya Beach in Thailand is on a 4 km crescent which stretches along the coast. Pattaya Beach Road has a number of hotels and restaurants. The beach itself is small and crammed with deck chairs. The place seemed popular with visitors from Eastern Europe.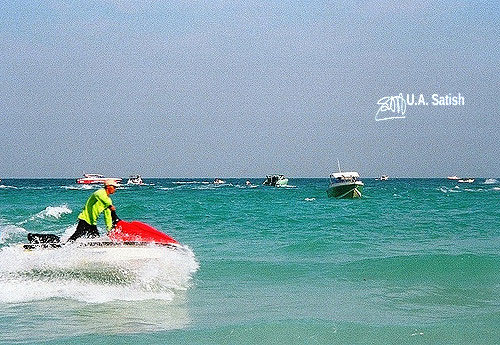 A speed boat from Pattaya will take you to Coral Island ( Koh Lam) in 30 minutes . The waters are clean and has a beautiful greenish colour. Safe areas for swimming has been marked on the sea. The place can get crowded on Thai holidays.
You have hopefully enjoyed viewing my photo essay on beaches. Join me on Facebook, Instagram and Flickr.
If you liked the post, you could…
Join more than 5,000 fans of UASATISH by liking us on Facebook, or follow us on Twitter and Instagram.
Related posts: