Vasai Fort is a large fort overlooking Bassein Creek. It is also known as Bassein Fort and has a lot of history behind it. The fort is spread over 110 acres. The ramparts are in reasonably good condition. We can climb up the fort walls via staircases. Some old cannons can also be seen. There is a small Hanuman Temple, probably dating back to the times of Chimaji Appa, the Maratha general. Archeological Survey of India looks after the fort.
The Portuguese in Vasai Fort
The Portuguese controlled the fort for two centuries. Vasai was their naval base and ship-building port. Fishing, quarrying for stones, ship-building and trading in horses, timber, salt contributed to the wealth. The fort fell to the Maratha army under Chimaji Appa in 1739. A statue of Chimaji Appa on horseback has been erected across the road from the fort. Later the British attacked and seized the territory from the Marathas.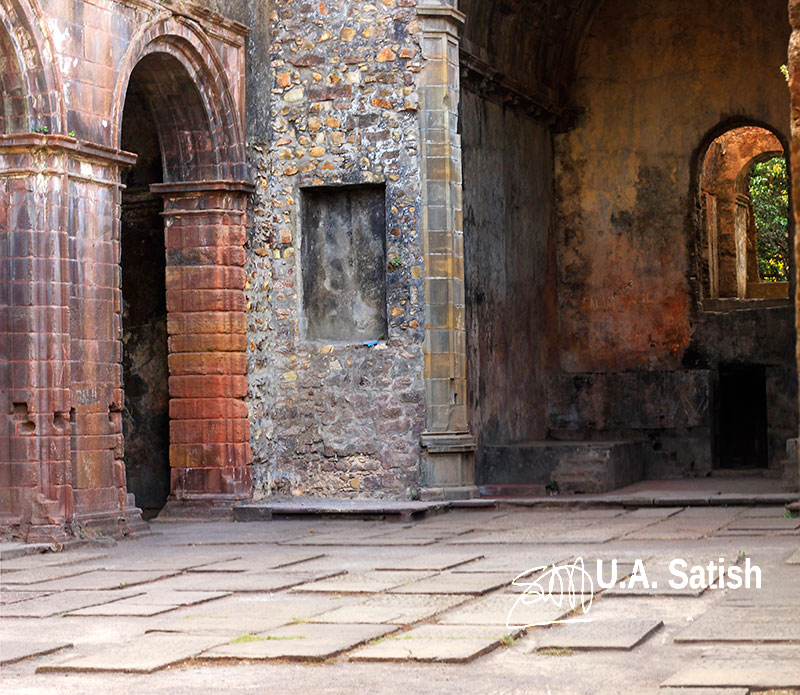 The Portuguese buildings in Vasai Fort are now in ruins. Three old churches are recognisable in the fort. One of them is Gonsalo Church which Archaeological Survey of India has renovated. They have plastered the walls and the church has lost a bit of its old-world charm. It has a barrel-vaulted ceiling.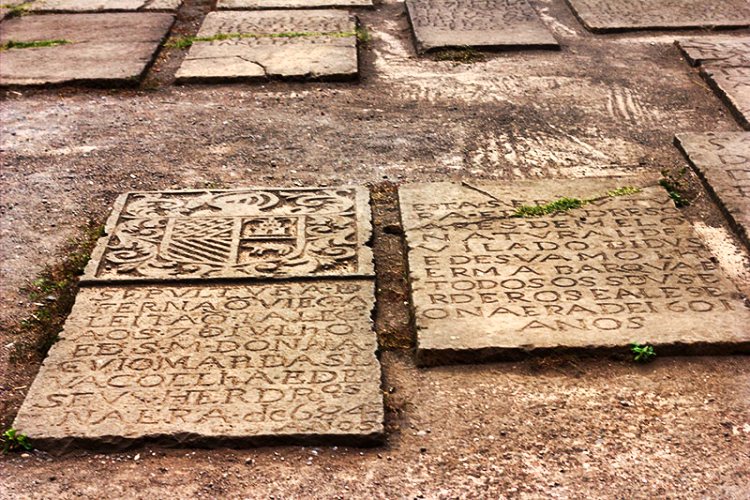 During Portguese rule, reportedly 60,000 people lived in and around Vasai Fort. Of this, 2,000 were Portuguese and the rest were Christian Indians. Inside the fort were houses, convents, town hall, colleges and churches. We spotted Portuguese tombstones in the church, with inscriptions and symbols. Many of the buildings are overgrown with vegetation.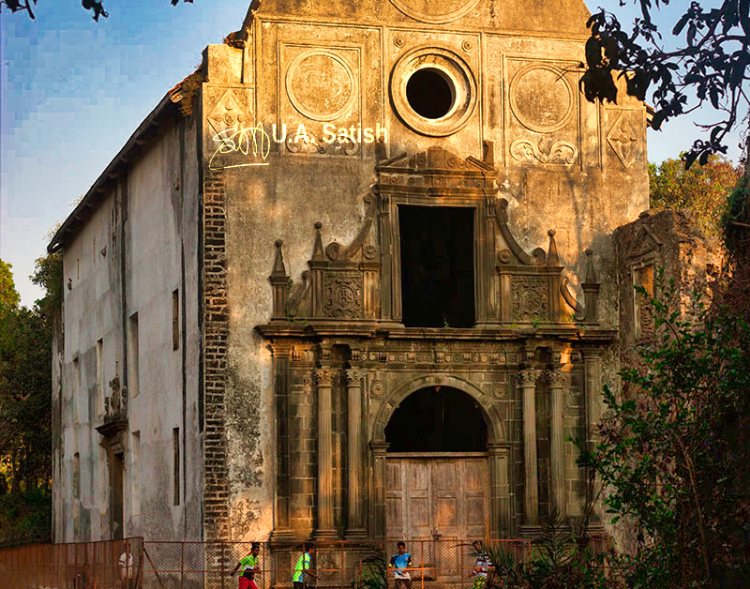 In 1661, Portugal handed over the port of Bombay to England as dowry of Catherine of Braganza. The English developed Bombay as a trading and shipping hub. With this, the importance of Vasai slowly declined.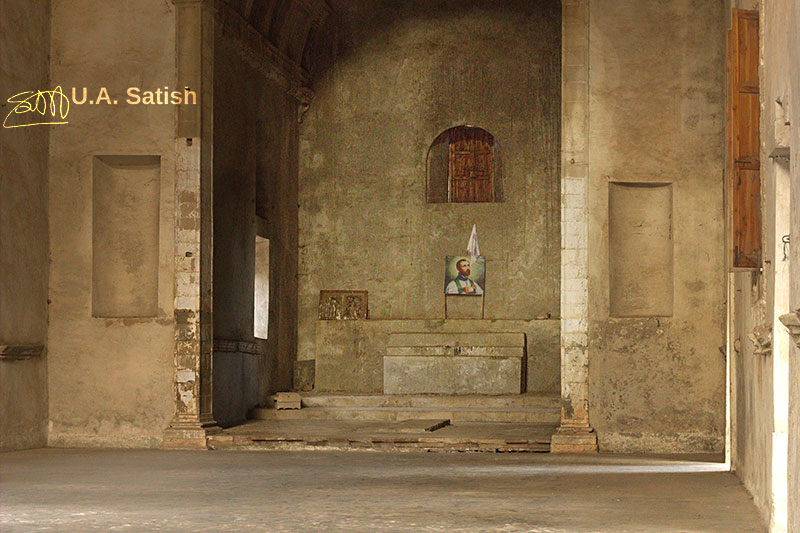 Getting to Vasai Fort
The nearest train station is Vasai Road on Western Railway. Frequent local trains connect Vasai Road and Churchgate, a distance of 51 km. From Vasai Road, a journey of 7 km by road will take you to the fort. Buses and autorickshaws are available from west side of the station.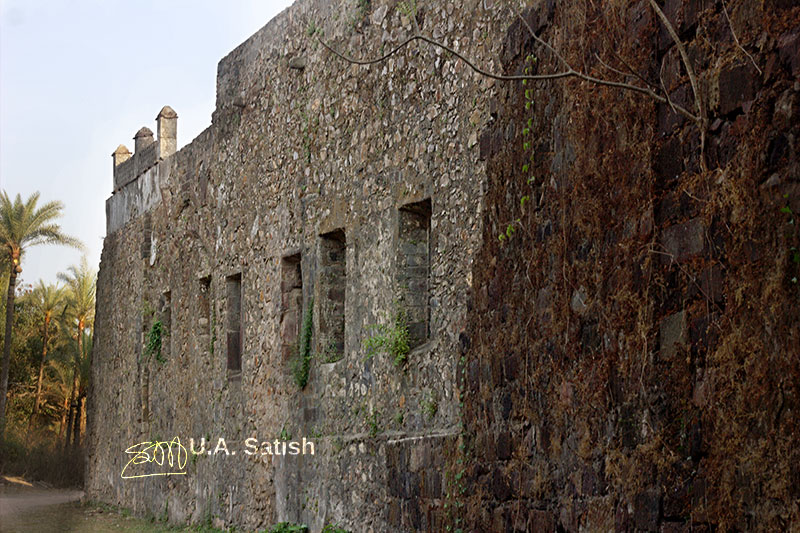 Entry to the fort is free. But a visitor has to bear in mind that it lacks some basic facilities such as security, drinking water, wash rooms and food stalls. He will have to walk across to the area near Tahsildar's office if he wants something to eat and drink. I have heard of illegal activities at this place due to its isolated location. Even on weekends, there are not many people in the area. So it is best to avoid visiting the fort on weekdays if travelling alone. Make sure that you do not stay behind after sunset.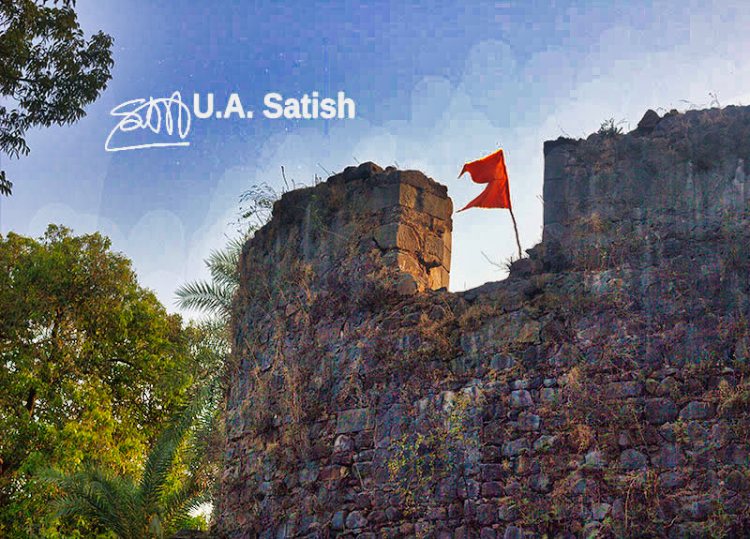 I shot the photo above when a few thirsty visitors had gathered around a vendor selling cold drinks. A saffron flag fluttered above them on the fort wall.
Location for Bollywood and Malayalam Movies
The fort has been used many times for shooting movies.  Bollywood films shot here include Josh, Khamoshi and Ram Gopal Verma's Aag. Mohanlal's Malayalam movie released in 2014, Mr Fraud, has scenes which were picturised here.
Chimaji Appa and The Capture of Vasai Fort
The life-like sculpture of Chimaji Appa faces Vasai Fort. He is riding a horse with a raised sword in his right hand.  Peshwa Bajirao of the Maratha Empire sent Chimaji Appa to attack Salsette Island and the forts on it in November 1738. Chimaji Appa was the Peshwa's brother. The forts at Bandra, Versova as well as at Thane and Tarapur were quickly captured. Chimaji Appa then assembled a force of more than 100,000 soldiers and attacked Vasai Fort. The Portuguese surrendered on May 5, 1739.
If you liked the post, you could…
Join more than 5,000 fans of UASATISH by liking us on Facebook, or follow us on Twitter and Instagram.
You might also enjoy: