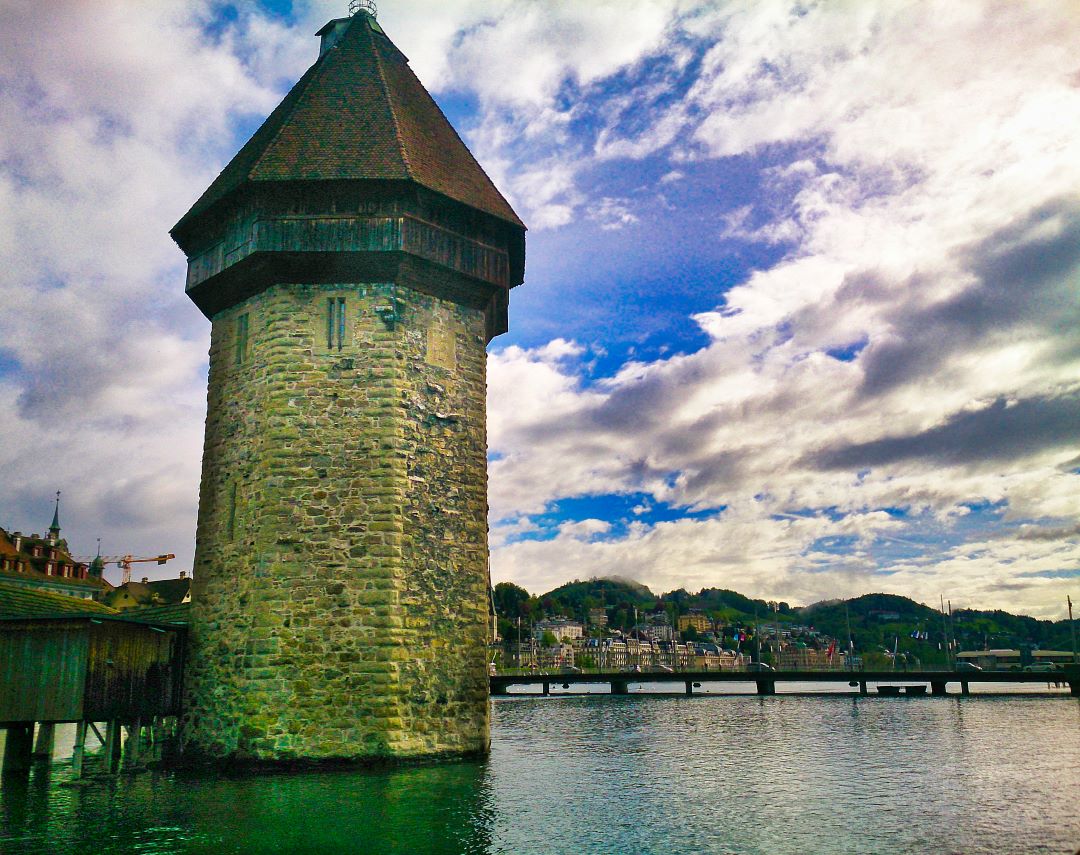 Two Days in Lucerne were a great experience. Switzerland is synonymous  with the town which is on the shores of Lake Lucerne in the centre of Switzerland. The lake has an intricate shape, with several sharp bends and four arms. The nearest airports are Zurich (68 km) and Basel (104 km). Lucerne is connected by trains to all major cities within and outside Switzerland. Fast trains take you to Paris in about 4hours 45min. Zürich Airport is the largest international airport of Switzerland
1. Chapel Bridge
Our train from Italy reached Lucerne on a rainy afternoon. Just outside the Bahnhof we could see the River Reuss which had a good flow of water. We walked along its bank and Chapel Bridge soon came into view. It is a covered wooden pedestrian bridge and is probably the most photographed bridge in Switzerland: a beautiful wooden bridge with paintings that decorate the rafters. The bridge dates back to 1333.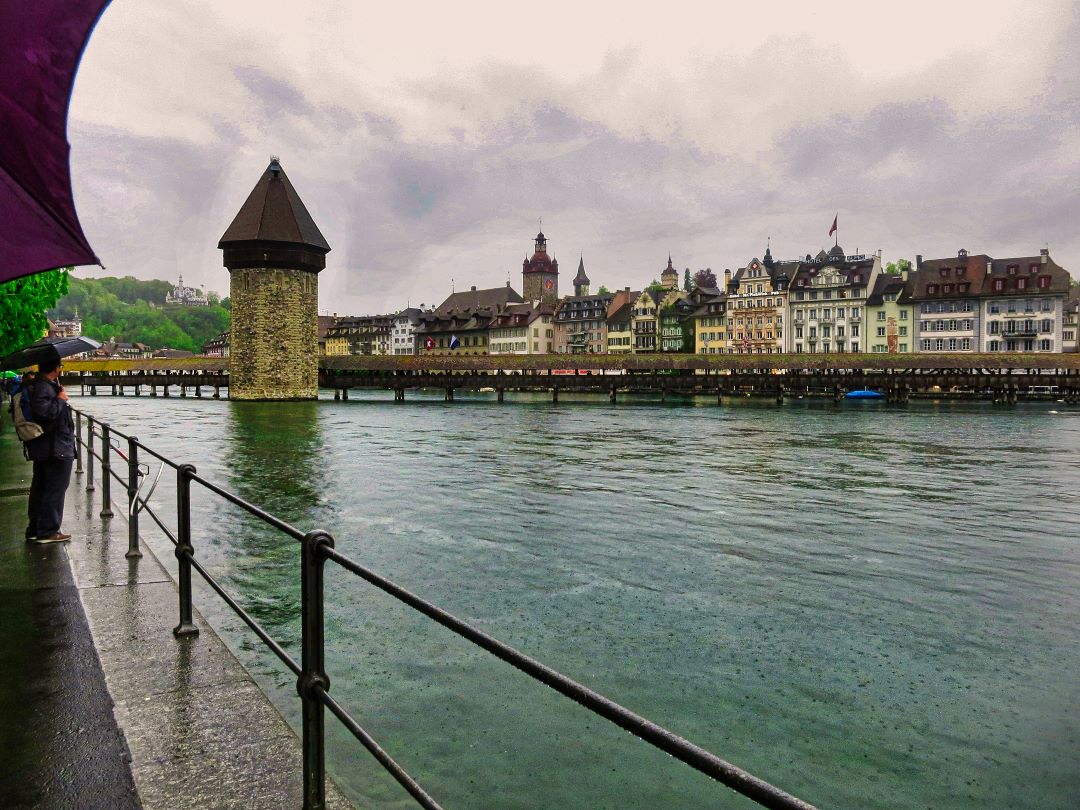 Chapel Bridge includes the octagonal 140 ft (43 m) tall Wasserturm or "water tower". The tower is closed to the public. It was was built in the thirteenth century, almost a hundred years before the adjoining Chapel Bridge was constructed. It is a massive structure.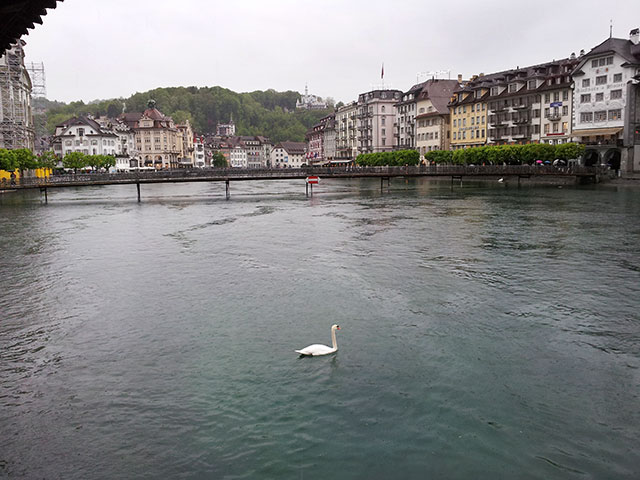 There were many swans on the water. Some onlookers were feeding them. Several hotels line both banks of the river.
2. Lion of Lucerne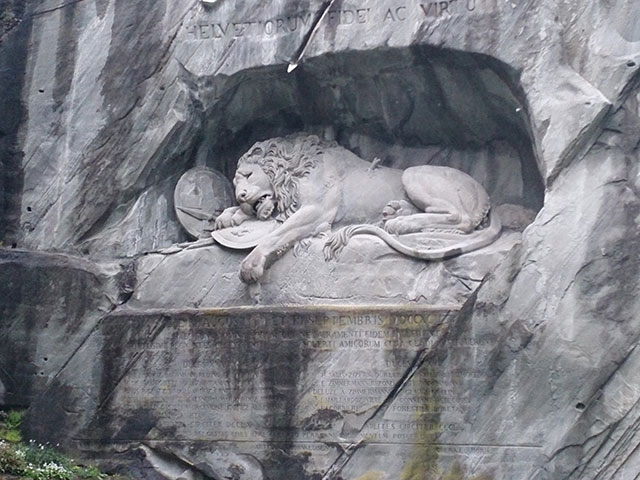 The two days  included a visit to the Lion of Lucerne. It is a world famous monument. It was carved out of rock in memory of the the Swiss Guards who were massacred in the French Revolution at the Tuileries Palace in Paris in 1792. Swiss Guards  are Swiss soldiers who have served as guards at foreign European courts since the late 15th century. Mark Twain had described the Lion of Lucerne as "the most mournful and moving piece of stone in the world".
3. Mount Titlis in Switzerland
We were lucky that our second day in Lucerne was bright and sunny. So we decided to visit Mount Titlis in the glacier ski area of Engelberg. The journey from Lucerne by train takes nearly an hour. There are trains from Lucerne to Engelberg every 60 minutes, at 10 minutes past the hour. Our train was full of visitors from India.
One of the biggest Bollywood hits, 'Dilwale Dulhania le Jayenge' was shot in Switzerland including Mount Titlis.  Its ski lift area has a cut-out of Shahrukh Khan and Kajol  to greet tourists from India.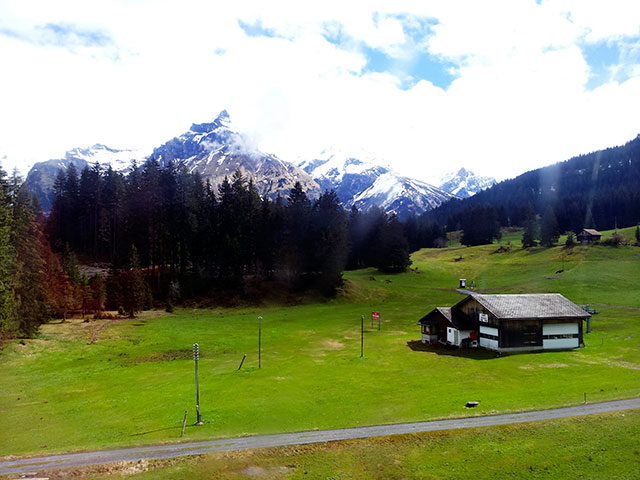 The first part of the ascent to Mount Titlis is by cable cars which can seat six persons. We were able to sit back and watch pretty green meadows as well as the snow-clad mountain. Near the top, we transferred to a big Rotair car. There was much jostling as people attempted to occupy vantage points. Visitors must keep in mind that the last descent from Titlis to Engelbeg is at 4:50 pm.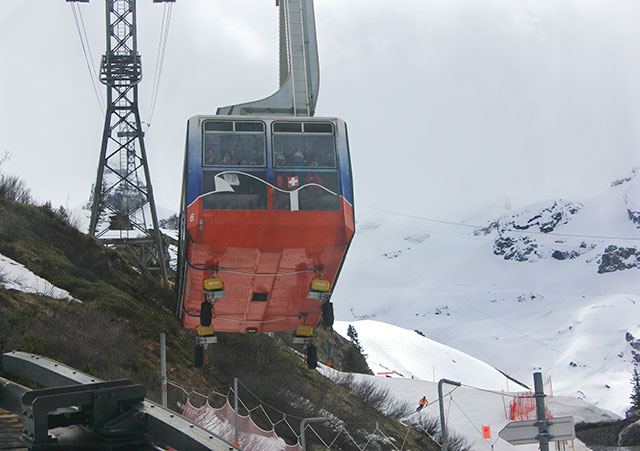 The temperature at the top was zero deg C. (It was 18 deg. C in Lucerne.) We were well protected with trekking shoes, thermals, jackets, gloves, caps and sun glasses. Luckily for us, it was mostly sunny and there was no rain.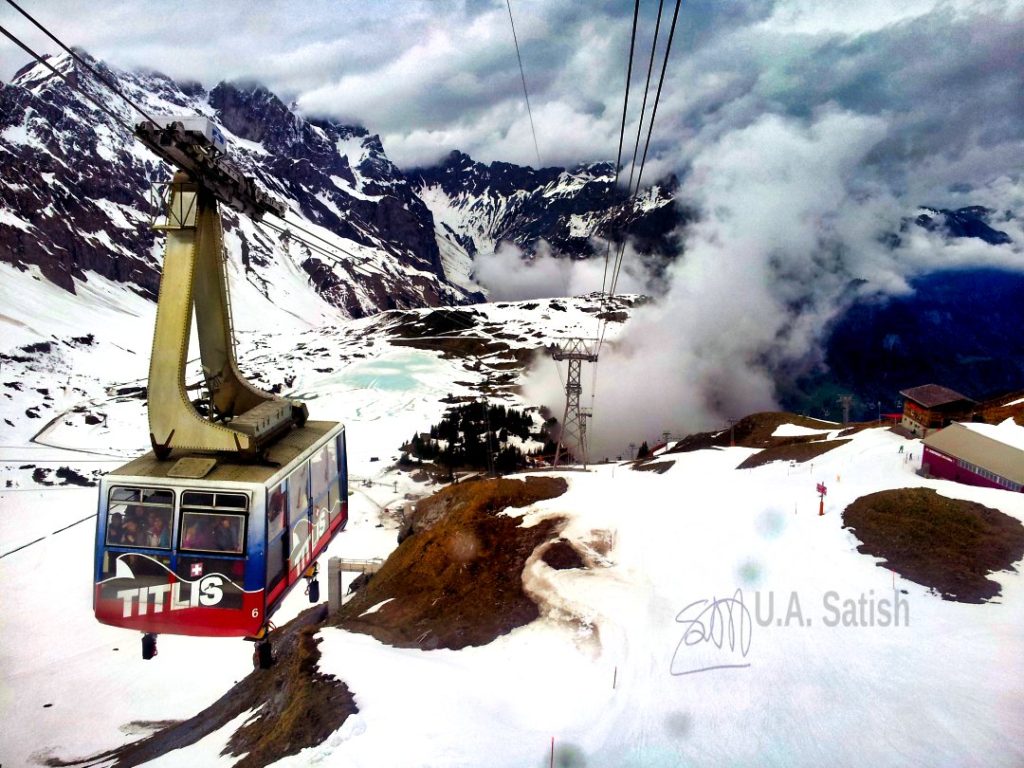 There is Panorama Restaurant on Titlis which has spectacular views and serves pizzas, pasta and desserts. But we preferred to go down to Engelberg and have hot dogs and coffee.
4. Cathedral of Lucerne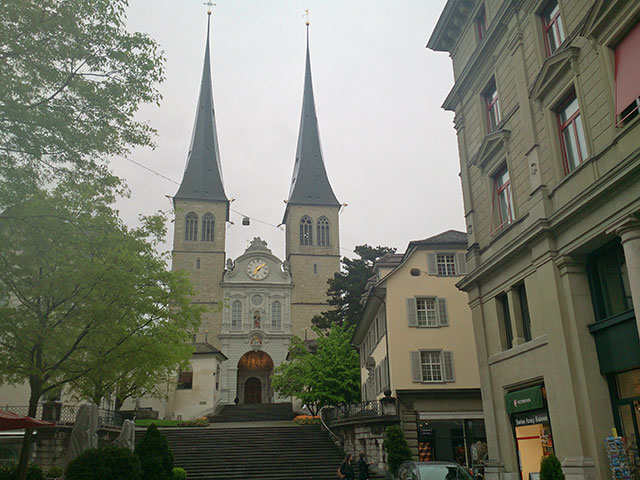 Church of St. Leodegar is one of the landmarks of Lucerne, Switzerland. It is the cathedral of Lucerne and is a short walk from Chapel Bridge (600 metres). Originally built in 735, the present structure was erected in 1633. It is easily identifiable by its twin towers. This part of the town has many small souvenir shops and restaurants.
If you liked the post, you could…
Join more than 5,000 fans of UASATISH by liking us on Facebook, or follow us on Twitter and Instagram.
Related Posts: