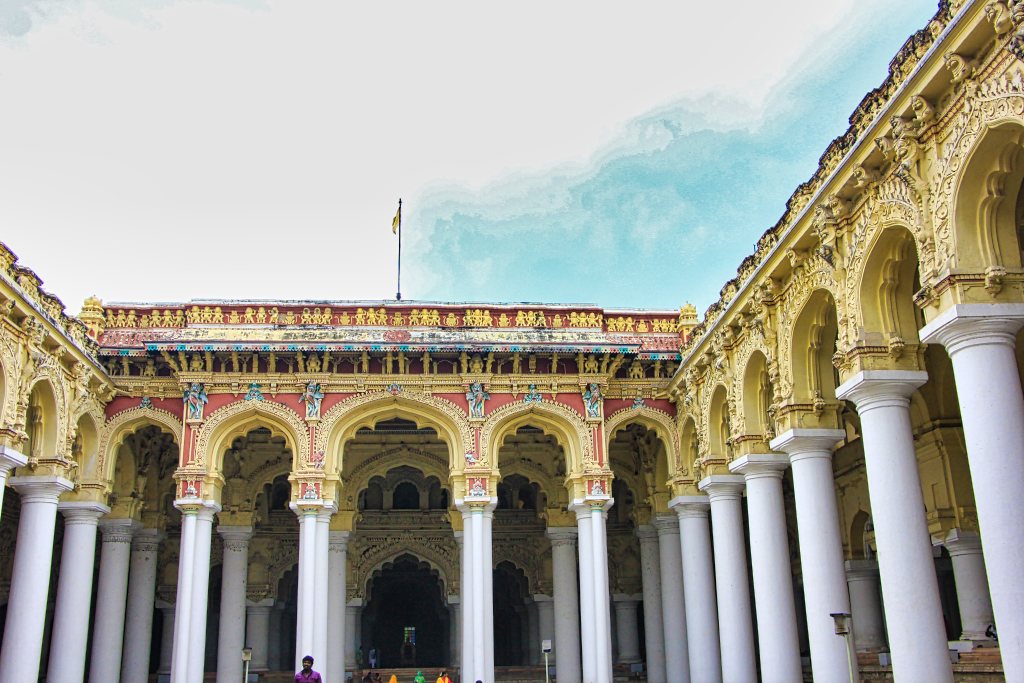 Thirumalai Nayakkar Palace  is a magnificent structure in Madurai. It is not far from the world-famous Meenakshi Amman Kovil. Thirumalai Nayakkar constructed the heritage edifice in seventeenth century.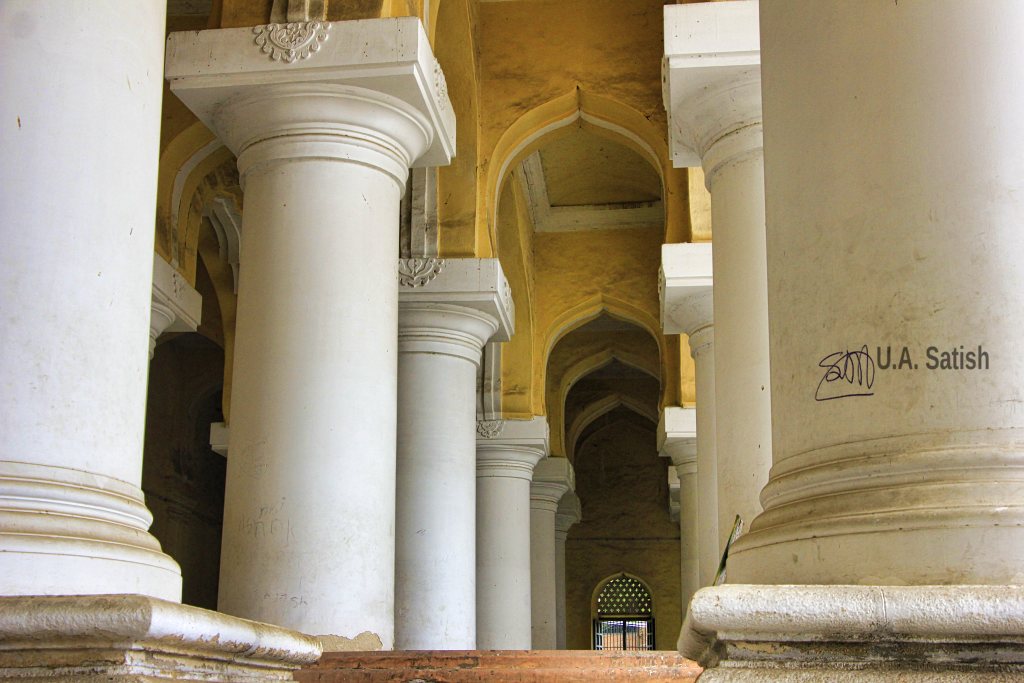 History of  Thirumalai Nayakkar Palace
The Nayaks ruled the kingdom of Madurai from 1545 till the 1740s. The most famous and powerful among them was Thirumalai Nayak. He was in the throne from 1623 till 1659. His subjects locally called him Nayakkar. Many noteworthy buildings in and around Madurai were his contributions. The most famous of them all was Thirumalai Nayakkar Palace.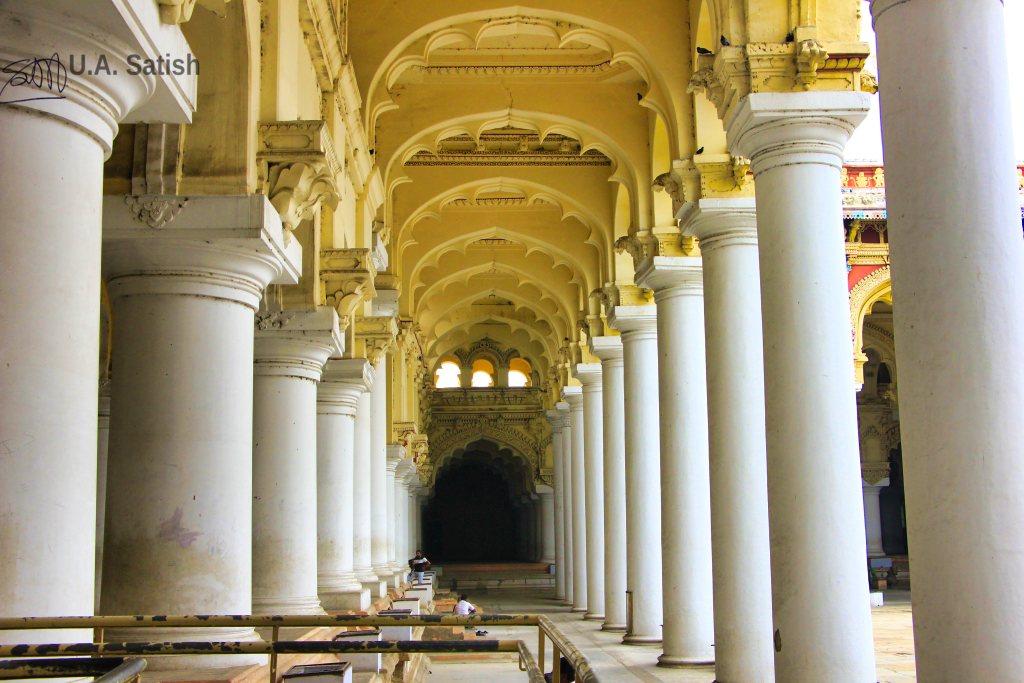 After Thirumalai Nayakkar passed away, his grandson tore down large parts of the palace. He carried the precious jewels and wood carvings to Tiruchirapalli in an effort to build his own palace. Lord Napier, Governor of Madras, later presided over restoration work between 1866 to 72. The British used the place as a garrison.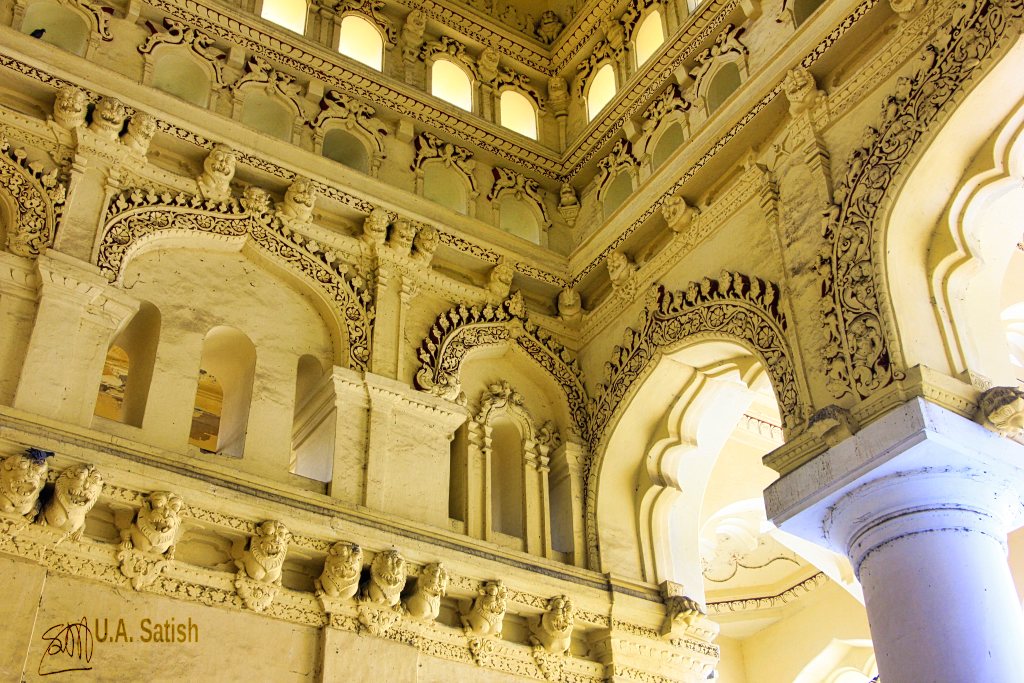 Architecture of Madurai Palace
We enter through massive renovated gates of the palace. The sky above the courtyard was blue with white clouds. In front of us, we see a vast courtyard. On three sides are huge pillars which line the corridors.  The pillars soar up to a height of 13 metres. They support big decorated arches. Beautiful paintings cover the ceiling. Protruding from the walls are animal figures and gargoyles.
We climb up the stairs in front to enter Swarga Vilasam which is a colossal pavillion. A large throne occupies the centre. Above is a mighty dome that has beautiful paintings. Light streams in through windows encircling the dome.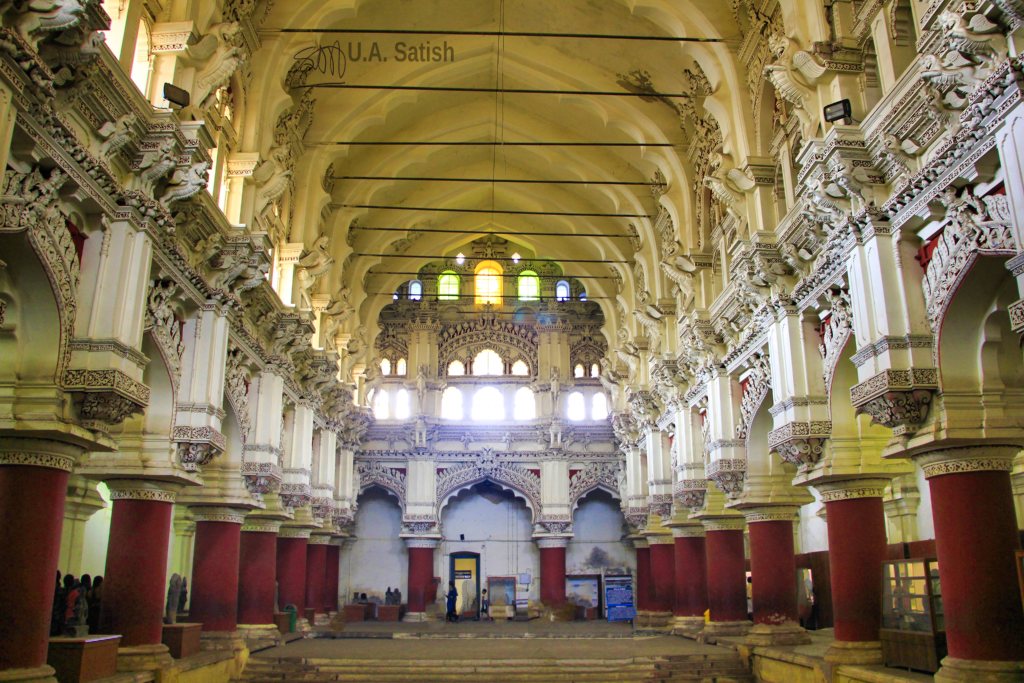 Another notable feature of the palace is Narthana Shala or Dancing Hall. This is where dancers, singers and musicians entertained the king and his retinue. This is a big hall with an arched ceiling.  Pillars support the arches. Windows line the sides.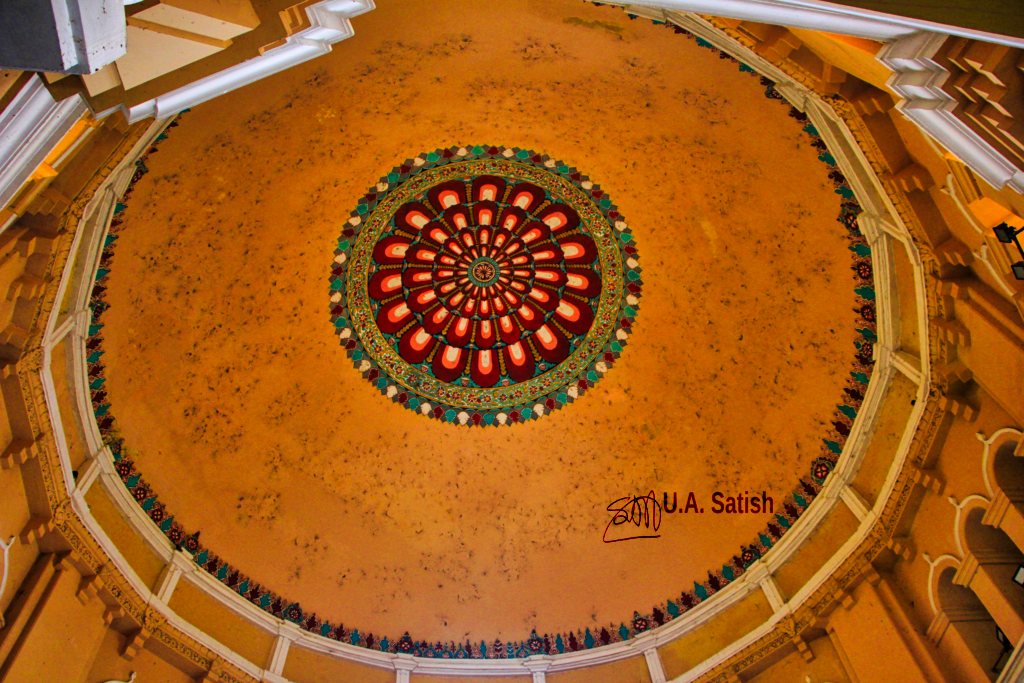 The Palace in Present Day
After Independence, the palace was handed over to Archaeological Department of Tamil Nadu government. Three fourths of the original palace had been destroyed. However the remaining parts are regaining their past glory as a result of the restoration work.
The palace puts up a light and sound show in the evenings. Th narration is in English as well as Tamil. I could not see the show due to shortage of time.
Getting There
The palace is open from 9;00 am to 1:00 pm and 1:30 to 5:00 pm. There is an entry fee of Rs 10 for Indian adults and Rs 5 for children below 12. Photography is permitted. But cameras attract a fee of Rs 30 and video cameras Rs 100.
Meenakshi Amman Kovil is a short walk of 750 metres via E. Chitrai Street. Madurai Railway Junction is 2.0 km by autorickshaw via N. Veli Street.
If you liked the post, you could…
Read more stories and get updates on my Facebook page.
Subscribe to the free and informative e-newsletter.
Related Posts:
Dhanushkodi ghost town near Rameswaram