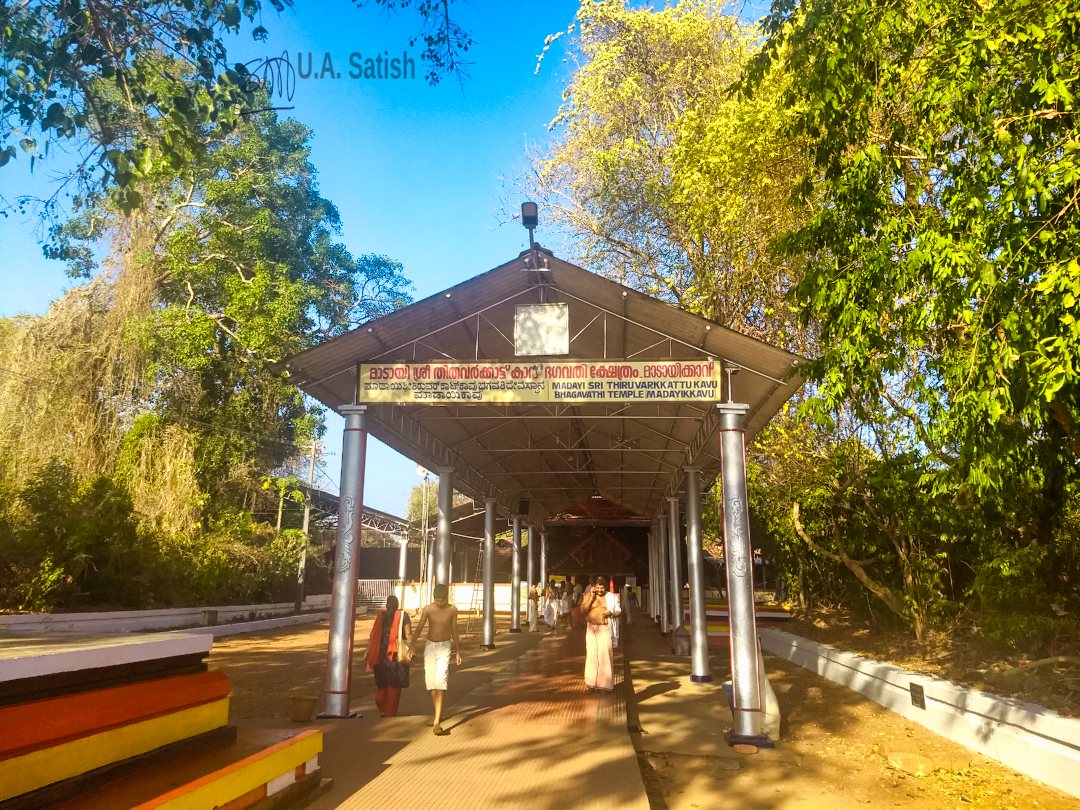 Madayi Kavu is the most renowned of the Bhadrakali temples in North Malabar. Historians believe that the temple is more than a thousand years old. The local people refer to it also as Thiruvarkadu Bhagavathi Temple.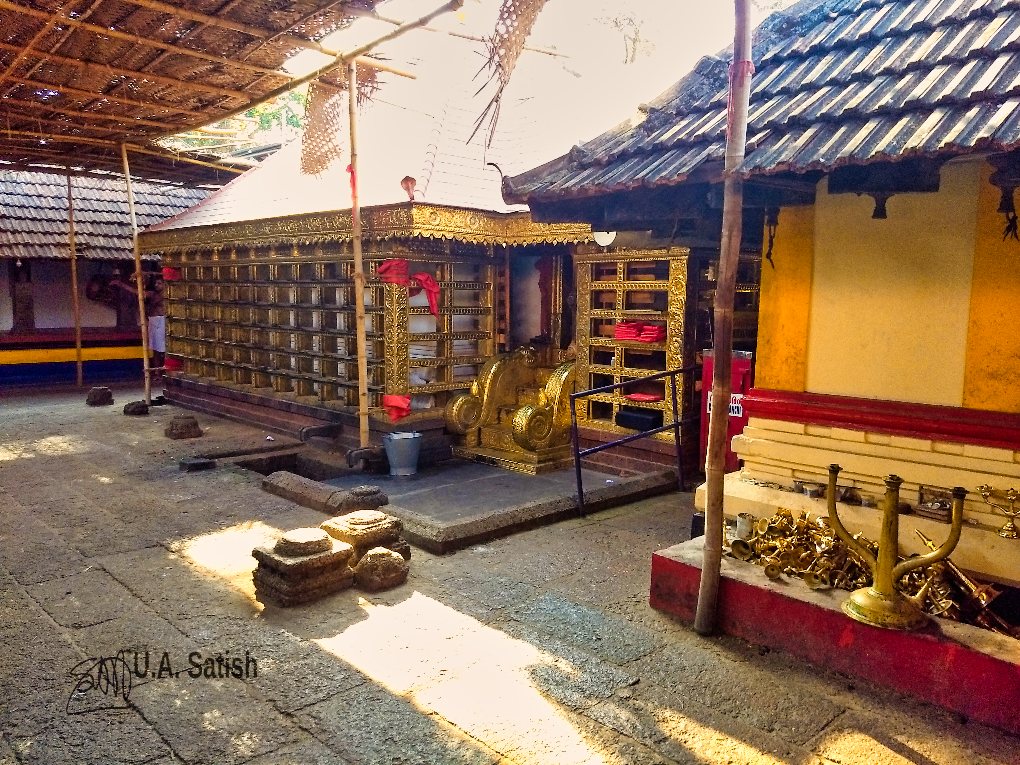 Worship in Madayi Kavu
On entering the temple, you first see the Shiva shrine which faces east. A few metres to the south of Shiva temple is the principal temple of Bhagawathi. The idol of Bhagavathi faces west.
The idol or vigraha of goddess is made of kadu sharkara. The Goddess has a fierce look and four hands. The kadu sarkara idol is not subjected to abhishekham.  For performing abhishekam, there is a metal idol. The Brahmin priests at the temple are not averse to eating chicken and fish.
Folklore
According to a legend, the goddess was initially residing in Raja Rajeshwara Temple in Taliparamba. But since she had a liking for meat, devotees built a temple for her in Madayi and re-installed the idol there.
Another belief is that Lord Shiva created the goddess to kill an asura called Dharuka. After his killing, Shiva consecrated Bhagavathy in Madayi.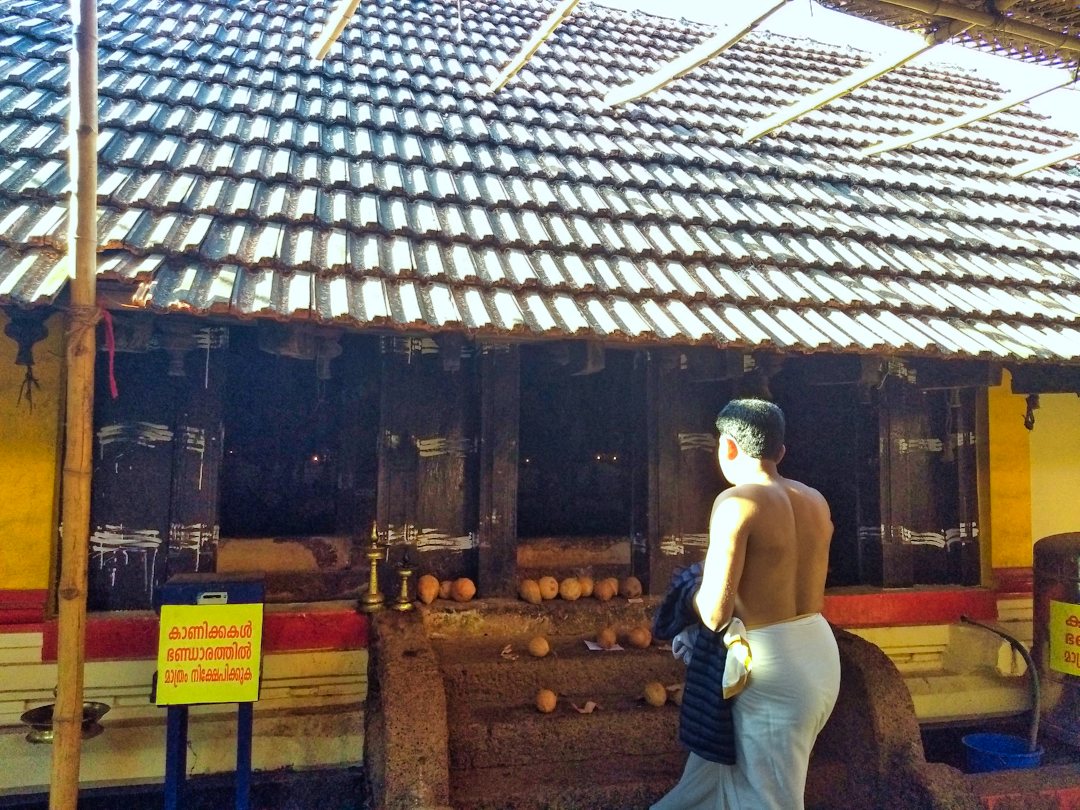 Offerings or Vazhipadu
Regular offerings at Madayi Kavu are Pushpanjali, Raktha Pushpanjali, Thikala Pushpanjali, Sharkara Payasam, Akapooja, Gurusipooja and Karinkalasam.
One of the main offerings here is the akapooja. The routine ingredient for this pooja is cooked chicken. So unless you specify that you want to do a without pooja, you will get a prasadam that includes chicken.
Devotees get the prasadam at around 1:30 pm, on conclusion of the poojas. Long queues are not uncommon on festival days and holidays.
Festivals
The most famous festival in Madayi Kavu is Pooram. This occurs in the Malayalam month of Meenam. Pooram lasts for seven days, from Karthika to Pooram asterisms. The Pooram ends with Pooram Kuli (ceremonial bath) in the Vadakunda lake.
Kaliyattam is the Theyyam fesival at the temple. This happens in the Malayalam month of Edavam (May-June).
Gettig to Madayi Kavu
From Kannur New Bus Terminal, Madayi Kavu is 25 km (42 min). There are frequent buses to Pazhayangadi. The temple is 1.5 km from Pazhayangadi bus stand.
If you liked the post, you could…
Read more stories and get updates on my Facebook page.
Subscribe to the free and informative e-newsletter.
Related posts: