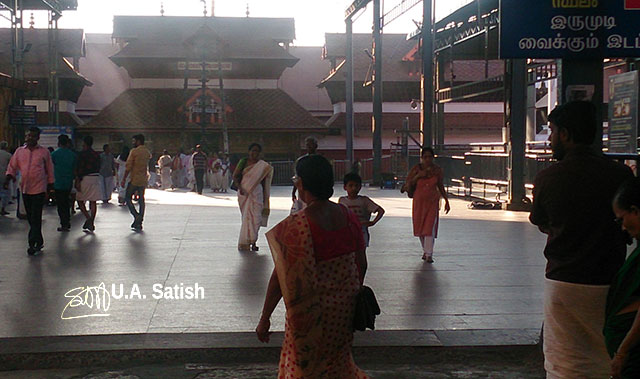 Guruvayur Sri Krishna Temple is one of the best-loved temples in Kerala. The presiding deity is Sri Krishna, an avatar of Lord Vishnu. The main idol is a four-armed Krishna in a standing position. He carries the conch Panchajanya, the discus Sudarshana Chakra, the mace Kaumodaki and a lotus.
Poojas and Rituals
Daily poojas begin with Nirmalyam at 3:00 am. The morning poojas continue till 12:30 pm. Deeparadhana is at 6:00 pm. Sreekovil will close at 9:15 pm.
Seeveli is a circumambulatory procession of caparisoned elephants at Guruvayur Temple. One of them carries the idol of Lord Krishna on his back. Seeveli is performed thrice daily: 7:00 am, 5:30 pm and 8:30 pm.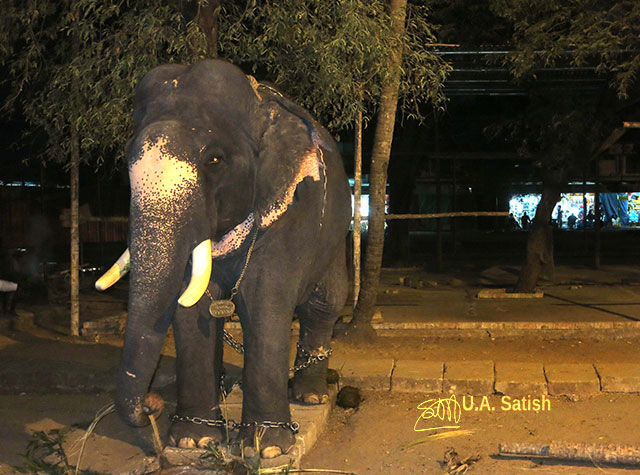 Dress Code at Guruvayur Sri Krishna Temple
Only Hindus are allowed inside the temple. Devotees have to follow a strict dress code. Women are expected to wear saree or salwar kameez. Young girls are permitted to use long skirts and blouses. Men have to wear mundu. Boys can wear shorts.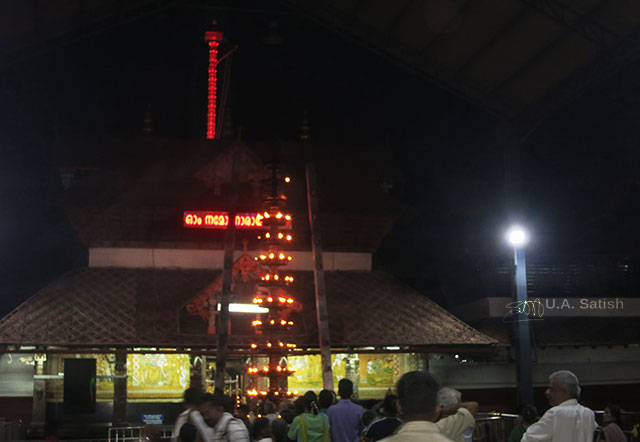 Security Arrangements
Devotees have to go through security checks at the entry point. They are scanned for dangerous or suspicious objects. Mobile phones, cameras and other electronic gadgets are prohibited. They can be deposited in lockers at a nominal cost. Photography and videography are strictly forbidden.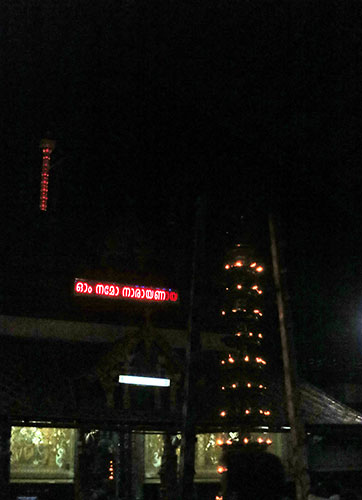 Devotees throng the temple on weekends and holidays. We had reached there on a Sunday afternoon. We had to stand in barricaded queues for two hours before we could gain entry.
Temple Auditorium
Melpathur auditorium adjoins Guruvayur Temple. It is named after the great saint poet Melpathur Narayana Bhattathiri. He composed  the devotional classic Narayaneeyam. The auditorium is used for cultural programmes from 6:00 am till midnight. Entry is free. The video shows an artist performing Mohini Attam at the auditorium.
Location
Guruvayur is 27 km (45 min) from Thrissur. Alternatively, visitors can travel to Guruvayur from Kuttippuram. It is a distance of 39 km (60 min). The bus stand at Kuttippuram is conveniently located next to the railway station.
Although Guruvayur has rail connectivity, the frequency of trains is somewhat limited. The nearest airport is Kochi (80 km).
You have hopefully liked my post on Guruvayur Sri Krishna Temple. Join me on Facebook, Instagram and Flickr.