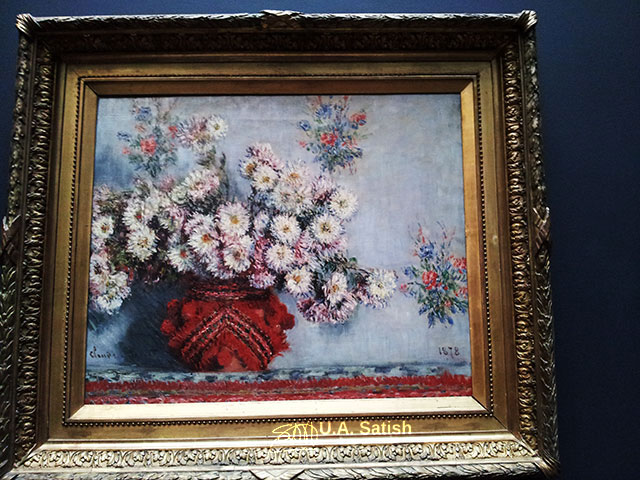 Museum d'Orsay is on the left bank of River Seine, 2.1 km from Notre Dame Cathedral. The nearest metro station is Solférino – Musée d'Orsay. Louvre Museum is across River Seine, a walk of 1.1 km. We had booked our entry tickets online and were able to bypass the queues at the ticket counters.
The museum displays French masterpieces including paintings, sculptures, furniture, and photography. Paintings by Cezanne, Monet, Van Gogh, Renoir and Paul Gauguin, to name just a few, are on show.
Claude Monet
The museum has a collection of 86 paintings by French master Claude Monet. He completed the beautiful oil on canvas painting, Chrysanthemums, in 1878.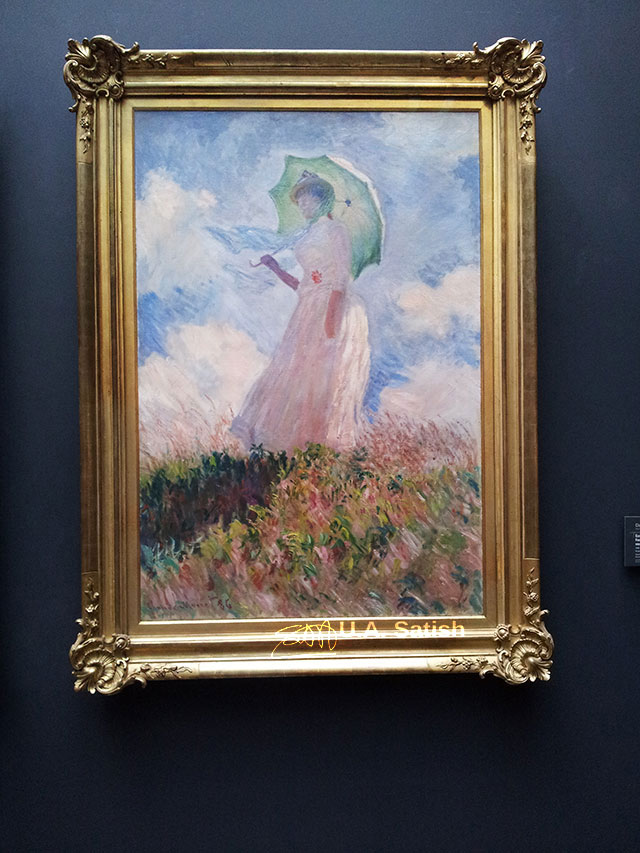 Woman with Parasol is one of the many paintings by Claude Monet in the museum. It is an oil on canvas and dates back to 1886. Monet was engrossed by the low viewpoint from which the model is shown. She stands on a riverbank against a background of pale blue sky. The young woman in the picture is Suzanne Hoschedé. She was the daughter of Alice Hoschedé who subsequenly became Monet's second wife in 1889. Suzanne was among the painter's preferred models for a long while.
Exhibits in Musée d'Orsay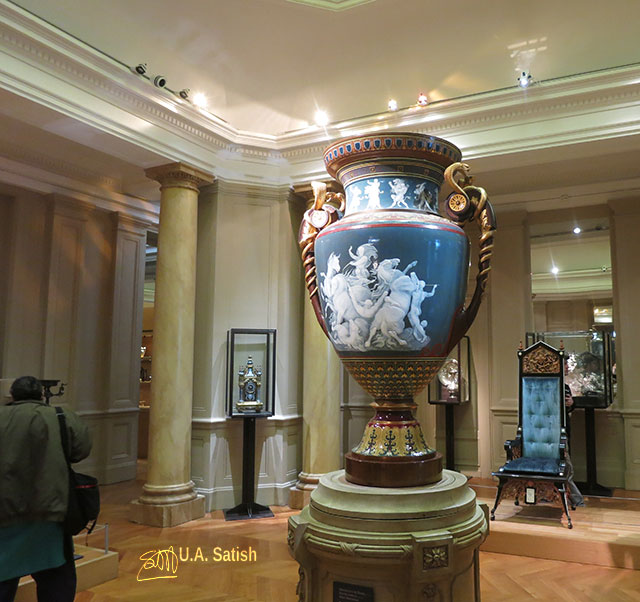 An old train station houses Musée d'Orsay. The station was set  for demolition. But someone had the wonderful idea to turn it into a museum. It is a large beautiful space.
Hercules Vase shows Hercules and the Mares of Diomedes. Hercules is the Roman equivalent of the Greek divine hero Heracles, son of Jupiter and the mortal Alcmene. In classical mythology, Hercules is famous for his strength and his various adventures. In Greek mythology, the Mares of Diomedes were four man-eater horses.
The vase has a  height of about 1 metre.  It is made of porcelain with application of paste decoration and patinated with golden bronze. It was created by Albert Dammouse and Charles Lameire, Paris.
It is a beautiful clock and has a solid look with intricate designs around it. The clock is in a large open area, at one end of a sculpture gallery. The area is full of natural light.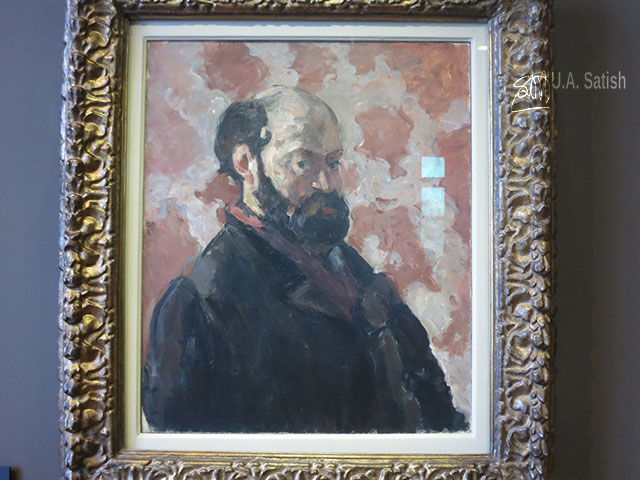 Portrait of the French artist, Paul Cezanne, has a pink background. It is an oil on canvas from 1875. One of the most influential artists in the history of modern painting, Paul Cézanne (1839–1906) has triggered generations of artists.
Pablo Picasso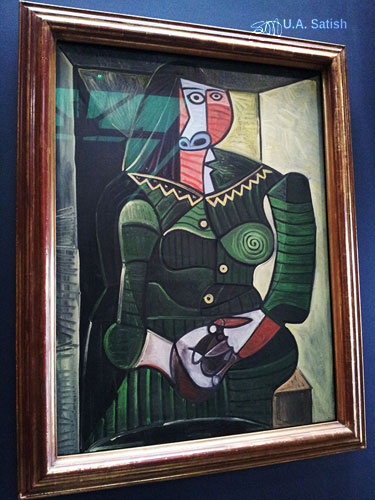 Woman in Green is a famous work by Spanish painter Pablo Picasso. It is a surrealistic painting and dates back to 1943. A number of Picasso's paintings have sold for more than $100 million at auctions. Perhaps the most influential artist of the 20th century, Pablo Picasso may be best known for pioneering Cubism. Picasso had said: "The purpose of art is washing the dust of daily life off our souls."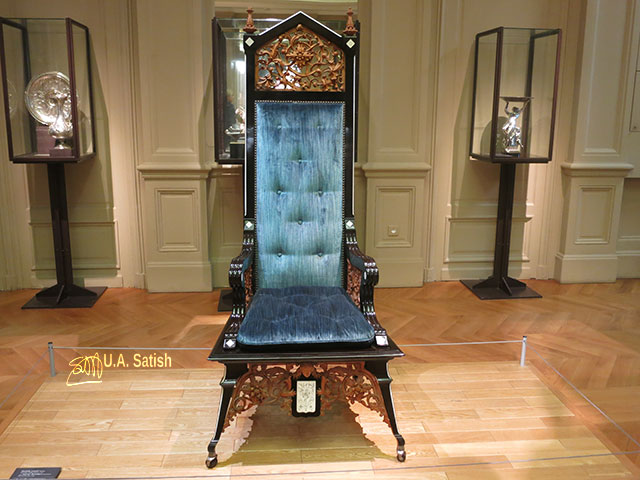 Between 1878 and 1890, Daniele Lovati ran a large workshop specialising in wood and ivory carving, located in Milan. This chair of ivory and ebony on a walnut frame is in Museum d'Orsay. Daniele Lovati made the chair in 1880.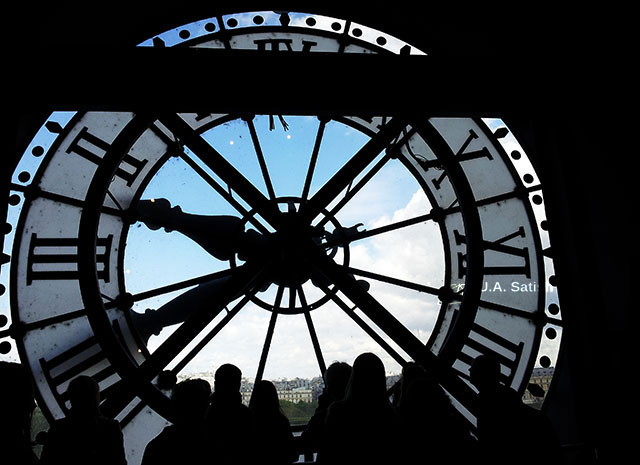 The huge clock is on the fifth floor of the museum. Behind the clock is a restaurant. One can look out through the clock face.
Timings
The museum is open everyday except Monday, from 9:30 am to 6:00 pm. On Thursdays, the museum is open until 9:45 pm and that may be the best time to visit as visitors tend to be much less.
If you liked the post, you could…
Join more than 5,000 fans of UASATISH by liking us on Facebook, or follow us on Twitter and Instagram.
Related Posts
.