I have shown here a selection of eleven street photos from India and outside. These are candid images. None of them is posed or manipulated. The cameras that I used include SLR, mobile  phone and point & shoot. The locations cover city areas, crowded street, mountain road, bamboo forest and a medieval town.
1. Street Photo of Rome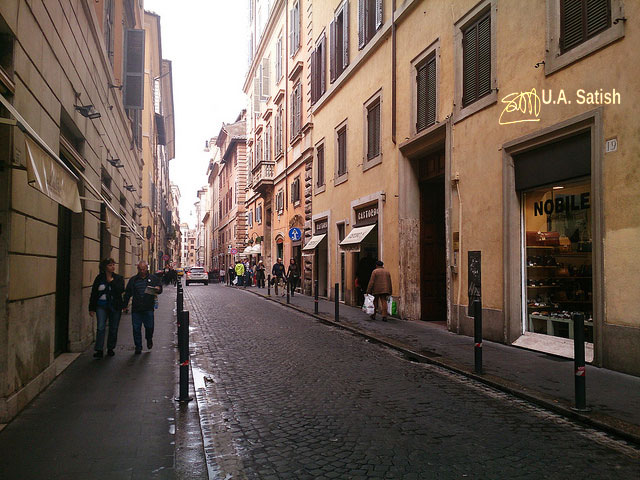 This street is somewhere in the city centre of Rome. It is a narrow cobblestone street and lined with impressive buildings. The Romans were masters in creating classical architecture. The street was empty but for 2 or 3 Italian gentlemen. The shot was not pre-planned.
2. Jalebi Point: Street Photo  in Sikkim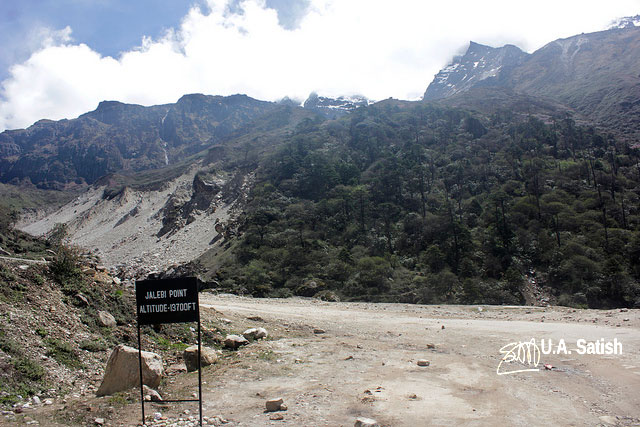 We were travelling on the road from Gangtok to Zero Point in Sikkim. We came across an army camp at an altitude of 13,700 feet. An interesting road sign declared that it was Jalebi Point. We had chai and hot jalebis at the small army canteen by the roadside.
3. Road to Thhirunelli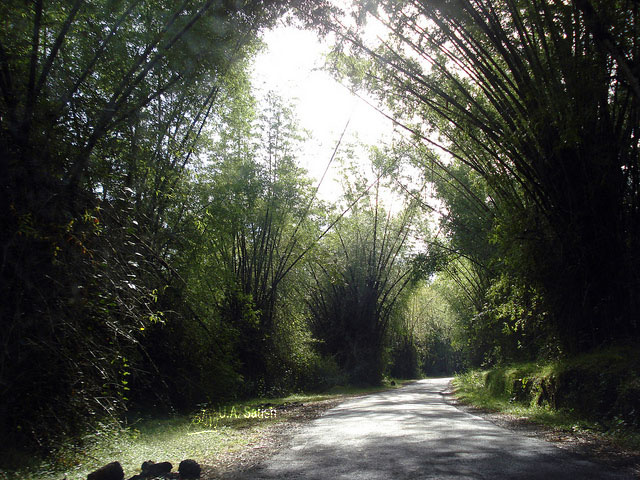 The road from Mananthavady to Thirunelli passes through dense forests of bamboo and teak. Elephant crossings are a common sight at night. Avoid night travel as the roads are usually empty and there is little traffic.
4. Walking Street in Pattaya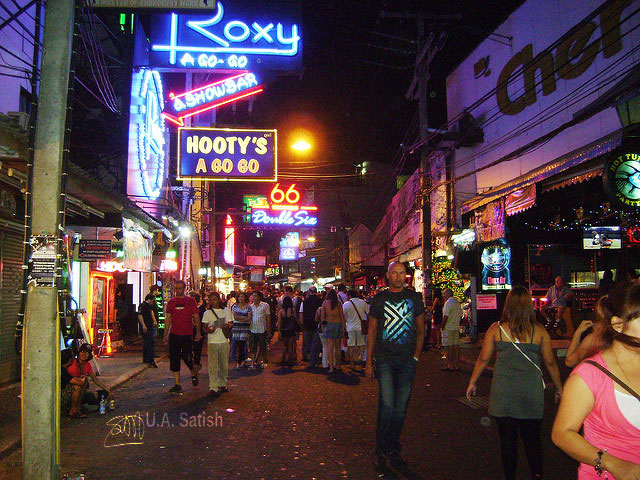 A famous and vibrant part of Pattaya is Walking Street. It runs from the south end of Beach Road to the Bali Hai Pier. There are entrance arches at both ends. The street is traffic-free at night from 6:00 pm to 2 am. It is also known for the large amount of bright neon signs.
The area houses restaurants, live music venues, beer bars, discos, sports bars, go-go bars, cabarets and night clubs. Visitors can find a variety of seafood and western food in the restaurants on Walking Street.
5. Hawa Mahal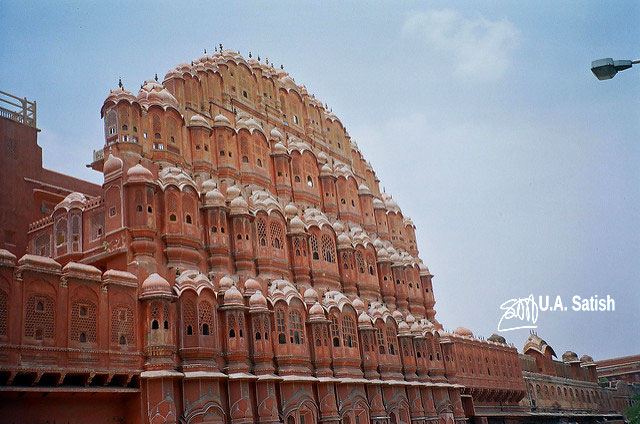 One of the best-known tourist spots in Jaipur is Hawa Mahal. It has a unique facade with 953 windows or Jharokhas which have elaborate decorations. The royal ladies used to look down on the street below without they themselves being seen. A five-storied structure, it is located in the heart of the city. It is a prime example of  Rajput architecture. Built of pink sandstone, it is Jaipur's iconic landmark.
6. Town Square in Gengenbach – Street Photos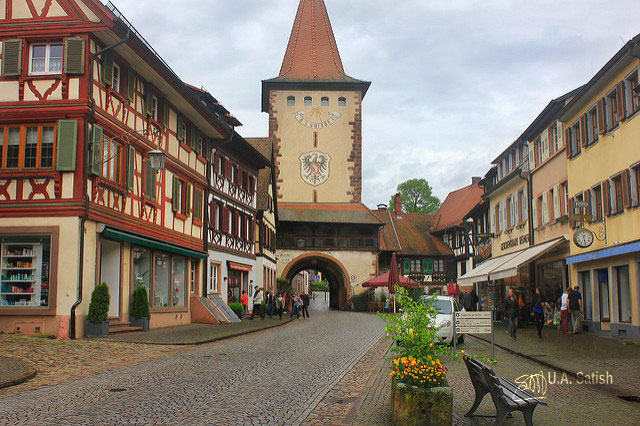 Gengenbach is a small medieval town in the south-west corner of Germany. It is 10 km from Offenburg. You can take a bus, taxi or train to the town. Black Forest Railway serves Gengenbach.
An  eighteenth century gate with a medieval spire looms over the market square. It has cobblestone roads leading to it. Half-timbered houses border the street. There are also pretty flowers in stone planters and even an old wishing well.
7. Mountain Slope Covered with Rhododendrons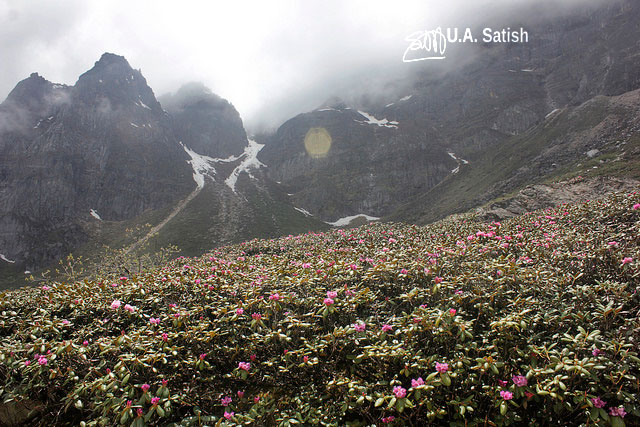 We visited Sikkim in June. The rainy season had not started. On our travels, we found the lower slopes of mountains carpeted with beautiful Rhododendrons. After summer, the flowers disappear till spring in the next year.
8. Sunny Weekend in Pune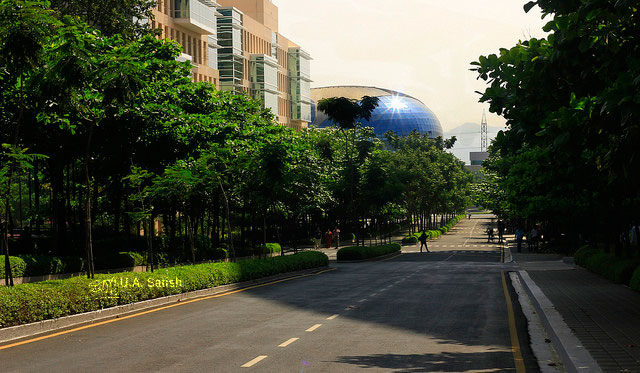 There were few people on the road in Pune on a Saturday morning. Tree-lined pedestrian pathways were on both sides. We saw a wonderful egg-shaped building at end of the road. Sunlight reflected off the glass-covered building.
9. Street Photos in South Mumbai
I clicked this photo in the heritage business district of South Mumbai. My camera phone came in useful. It was midday and the street had strong shadows. Trees hemmed both sides of the street. There were many parked cars there.
10. Riding an Autorickshaw Through the Streets of Kochi
I was travelling in an auto from Kochi to Chottanikkara Temple. We went past Champakara Canal and Tripunithura Palace. I composed the photo from inside the moving auto.
11. Mountain Road in Sikkim
This was another photo that I shot from a moving vehicle. This time it was through the windshield of a car. Roads in Sikkim tend to be narrow. Two cars can barely pass each other. I found road-widening work in progress in some areas. However certain stretches of roads were in poor condition. Landslides can be a problem, particularly during the rainy season.
If you liked the post, you could…
Join more than 5,000 fans of UASATISH by liking us on Facebook, or follow us on Twitter and Instagram.
Related posts: