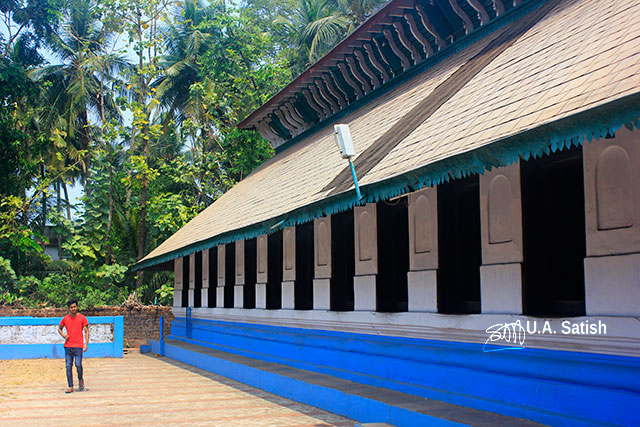 Odathil Palli is an old mosque in the heart of Thalassery town. The architecture has a distinctive style which is commonly found in mosques in Kerala. It was reportedly built in 1806. Moosakakka Keyi was the man behind construction of the mosque. The palli or mosque is not easily visible from the road as it is behind a gate which has a padippura on top. Padippura is a traditional arched gateway on a path leading to the main building.
Architecture of the Mosque
The architecture of the mosque does not show any of the features of mosques in North India. The reason for this is obvious. The workers who built the mosque had modelled it on the Hindu temples of Kerala.
The building is on three floors. A covered veranda runs along the sides. The roof, doors and windows are of solid wood. You will not find any nails in the woodwork.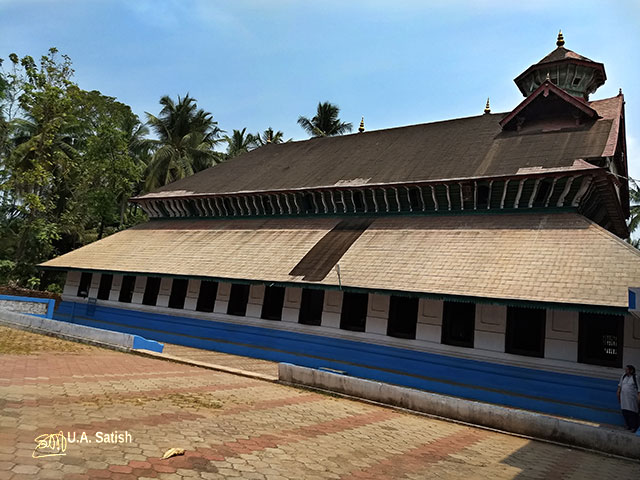 The sloping roof has a cladding of copper sheets. The copper has taken on a green colour. The rooftop has gold crowns. The large prayer hall has a wooden floor with mats on top. On all sides you will see wooden windows.
We were free to go around the building and take photos. You will need special permission to get inside. Ladies are barred from entering the mosque.
History of Odathil Palli
Moosakakka from Keyi family of Thalassery constructed the mosque. He was a wealthy trader. His name was Moosa, but traders from Gujarati called him Moosakakka.
During the invasion of Tipu Sultan in Kerala, trade came down and business struggled. Moosakakka moved to Venad where the Maharaja of Travancore gave him financial help. His business started to look up again.
After the fall of Tipu Sultan in 1799, Moosakakka returned to Thalassery. He built Odathil Palli in 1806 on a land that he bought from the British. Maharaja of Travancore gave him the teak wood for construction.
The town was famous for cricket, circus and cakes – the three Cs. The British had established a port there. However, after the ports of Kochi and Mangalore gained in importance, ships gradually stopped calling at Thalassery port. Tellicherry was also famous for the cricket matches played between the Europeans and local teams by the seaside. The matches used to draw big crowds.
Location of Odathil Palli
Odathil Palli is a 2 minute walk from Old Bus Stand in Thalassery. The nearest airport is Kannur International Airport. It is a drive of 26.6 km (45 min) via Thalassery – Mysore Rd. Bangalore is 311 km (7 hr 16 min) via Thalassery – Mysore Rd and NH 275. Thalassery Railway Station (TLY) has links with all major cities in India. The station handles 60 trains per week.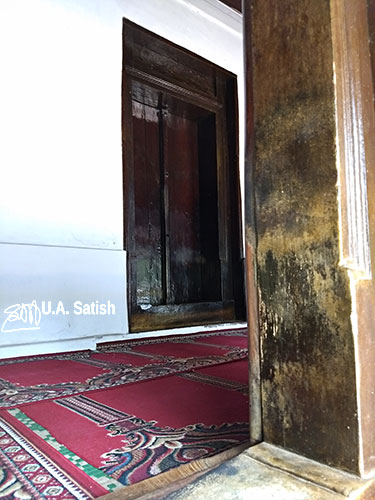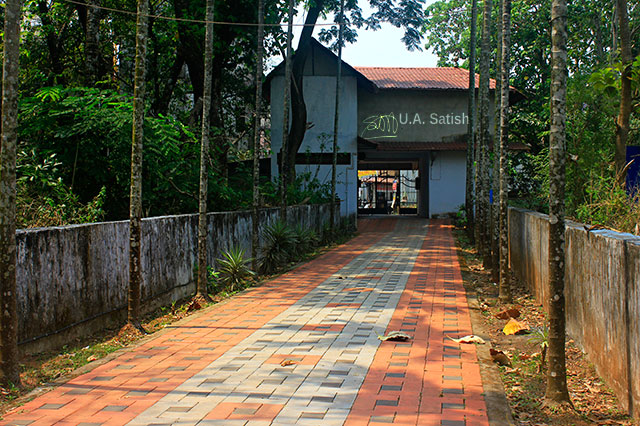 If you liked the post, you could…
Join more than 5,000 fans of UASATISH by liking us on Facebook, or follow us on Twitter and Instagram.
You might also enjoy: