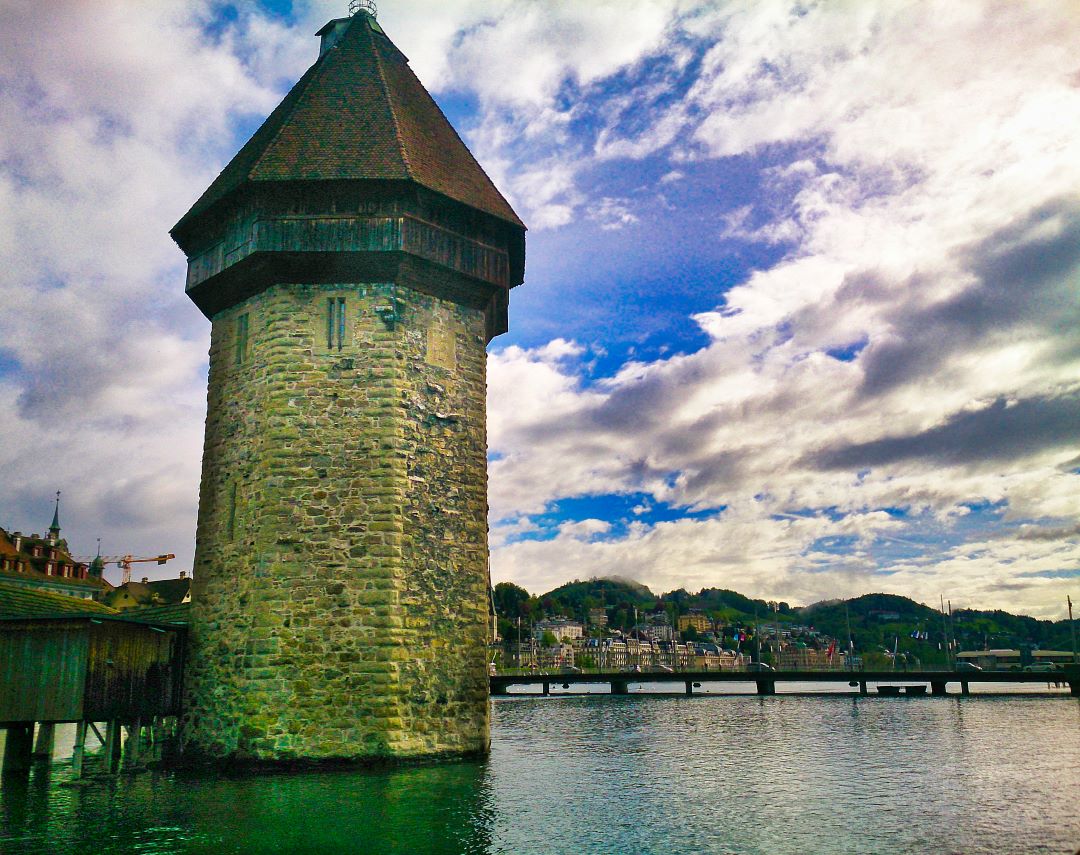 Chapel Bridge is a covered wooden pedestrian bridge across River Reuss in the city of Lucerne in Central Switzerland. It is famous for the paintings on its roof. St. Peter's Chapel is nearby and the bridge is named after it. This is considered the most photographed site in Switzerland.
History of Chapel Bridge
Wasserturm or water tower was the first to come up on the river, in 1333. Over the years, it has served as a prison, torture chamber, and later a municipal archive as well as local treasury.
The bridge itself came into existence in 1365. It linked the old town of Lucerne, on the south bank of the Reuss, and the northern bank. The wooden structure attaches to the water tower along the way. Construction of the bridge also secured the town against potential attacks from Lake Lucern in the south.
Paintings on the Bridge
A striking feature of Kapellbrücke was the paintings dating back to 17th century. The painter was Hans Heinrich Wägmann who created 157 of them. The paintings described events from Lucerne's history. Triangular wooden boards displayed the paintings. Wealthy citizens sponsored one or more of the panels. In 1726, the town had to appoint a watchman to stop youths from damaging the pictures.
Disastrous Fire of 1993
A major fire broke out n August 1993 and destroyed a large portion of the bridge. The exact nature of the fire is not clear. But it supposedly began on a boat beneath the bridge. A vast restoration project began. The bridge reopened after eight months in April 1994. However 110 of the paintings were destroyed or damaged beyond repair. The town has put in place a monitoring system to block fire mishaps.
The image above is a photograph by Mathias Kabel.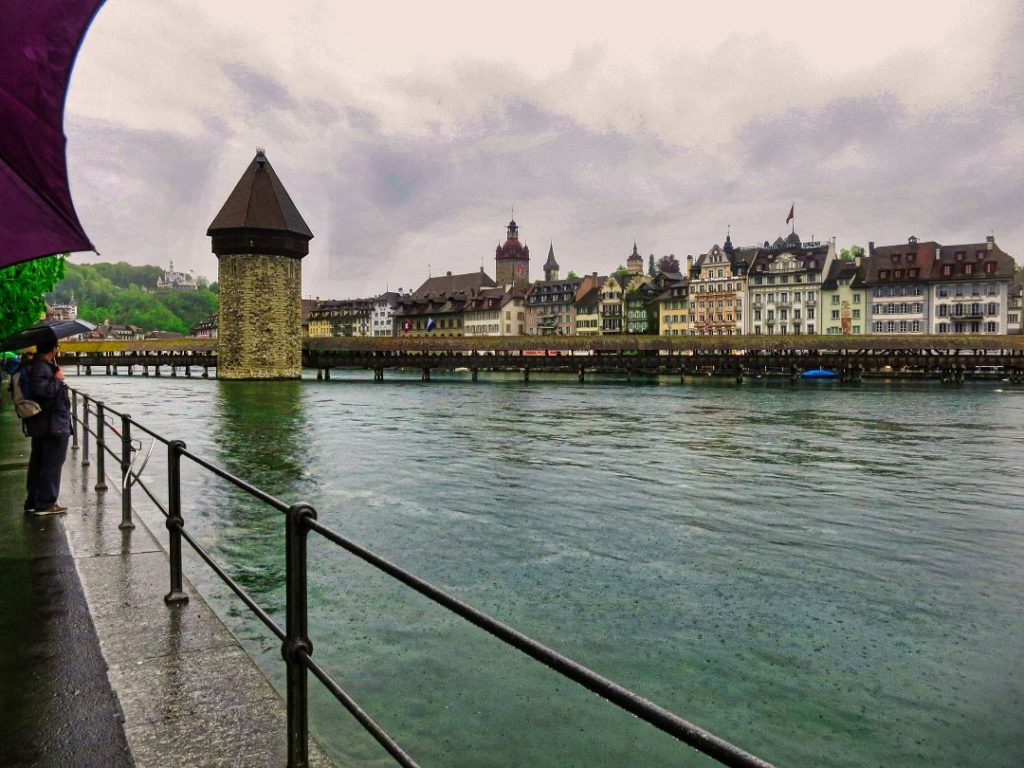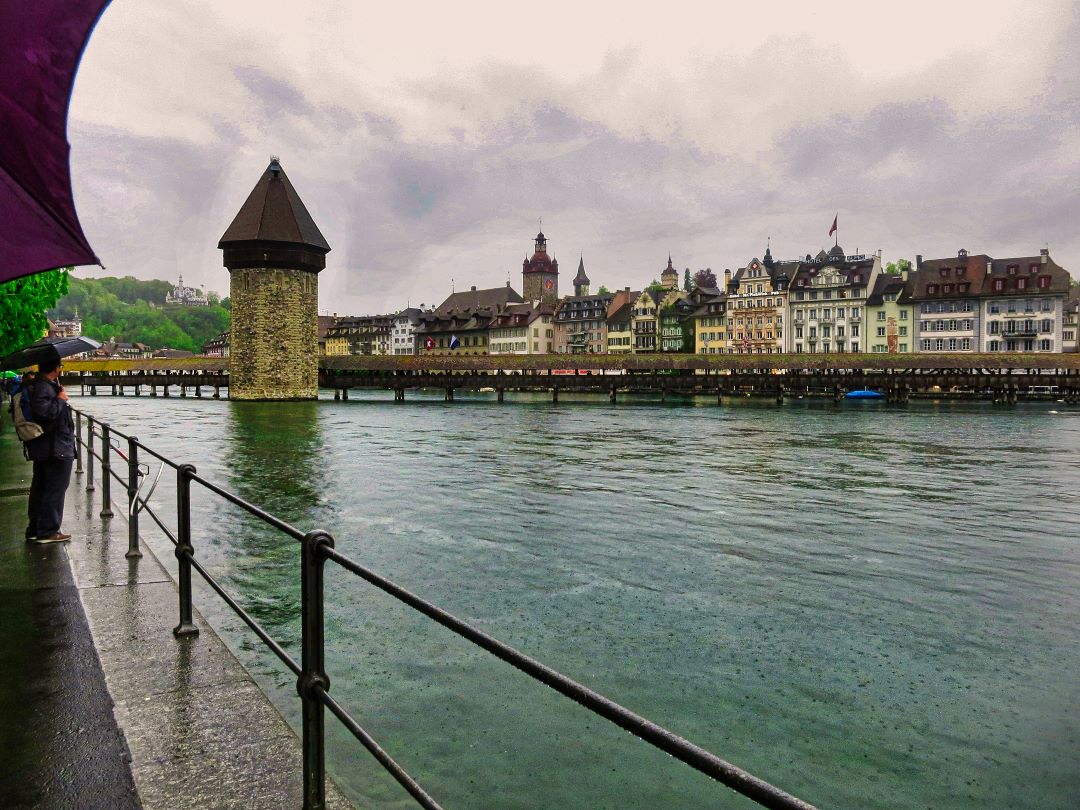 Getting There
We reached Lucerne on a rainy afternoon. We walked by the River Reuss towards our hotel. The river had a good flow of water. There were many swans on the water. Some onlookers were feeding them. There are several hotels on both banks of the Reuss. After a short walk of 750 m, Chapel Bridge came into view. It caught the eye because of its unique appearance.
Related Stories
General Reflections on Switzerland essential insights
Two Days in Switzerland a great experience
Mount Titlis snow and superb views of Swiss Alps
If you liked the post, you could…
Read more stories and get updates on my Facebook page.
Subscribe to the free and informative e-newsletter.