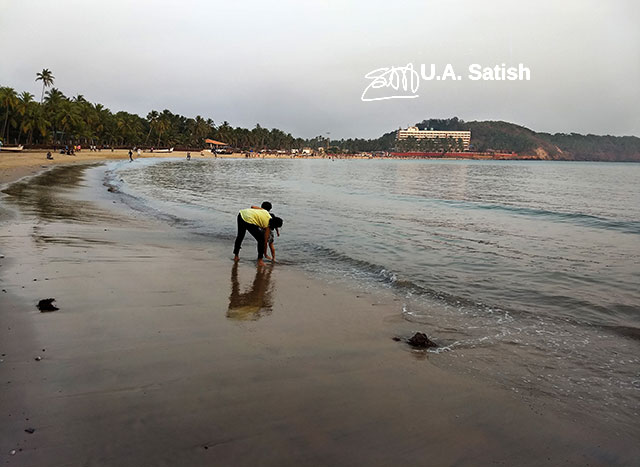 Bogmalo Beach is on a seaside village in South Goa. The beach is 5 km from Goa International Airport. Vasco can also be reached in 10 minutes (4.3 km). Bogmalo Beach is a clean and quiet sandy beach of about 1.5 km which curves around a bay. This place is not very crowded and is free of beach hawkers. You can also spot small restaurants and a couple of beer bars on the beach.
On weekdays there are few crowds and the beach is quite inviting early in the mornings. But visitors tend to leave trash behind and cleaners strive to keep the beach clean. Dolphin-watching cruises are available too. The National Naval Aviation Museum is nearby (1.4 km).
The waves are gentle as you can see in the video above. Therefore do not miss a walk on the beach with the water touching your feet.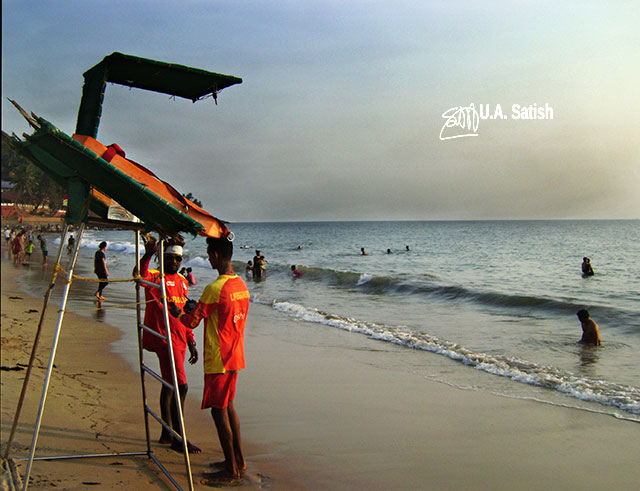 You can see life guards prominently on Bogmalo Beach. You must observe their flag warnings because there are strong currents in the sea.
We found a few cows wandering on the beach. However they are not a nuisance if left alone.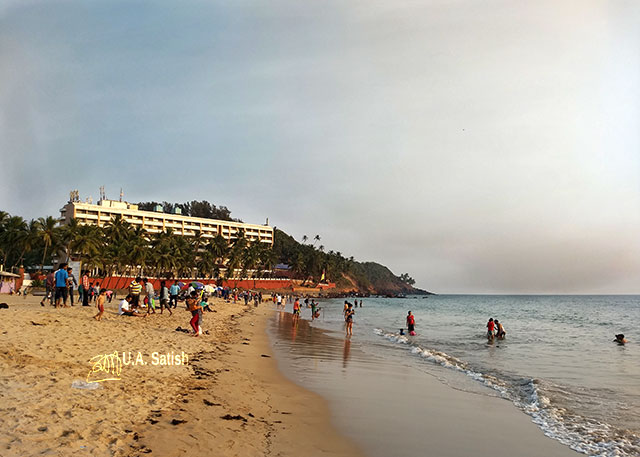 Beach Activities
Bogmalo Beach Resort dominates the beach. It is on top of a hill and the rooms overlook the sea. A few other resorts too are located in the area.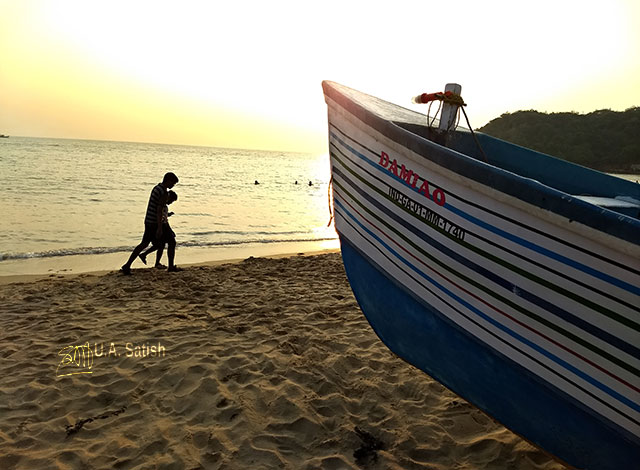 This is not a party beach and there are no water sports either. You will also not find beach beds in Bogmalo.  The sand is light brown and powdery. The beach is frequented by many villagers and locals. The people are friendly and helpful.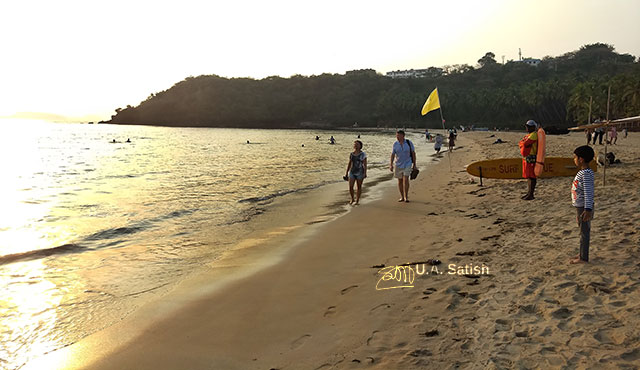 The width of the beach is big enough to permit people to walk, rest or play without bumping into each other. Furthermore, it is a great place to watch sunsets.
Getting there
By bus from Vasco (30 min) or auorickshaw from the airport.
Getting around
Travellers can hire two wheelers from Vasco at Rs. 200 to Rs 500 per day. Keep in mind that petrol costs will be extra.
Best time to visit Bogmalo Beach
December to February.
Exploring Goa
Bogmalo can be a base for exploring the rest of Goa. Panaji is 40 km away. Dudh Sagar Waterfall is 70 km to the south. Baga Beach is at a distance of 43 km.
If you liked the post, you could…
Read more stories and get updates on my Facebook page.
Subscribe to the free and informative e-newsletter.
You might also enjoy:
Ozran Beach in Goa (Little Vagator)
Mangeshi Temple – Anient Temple Dedicated to Lord Shiva