Mangeshi Temple is a beautiful temple in Goa and dedicated to Lord Mangueshi, an incarnation of Lord Shiva. The temple is one of the most popular in Goa and attracts many devotees. The ancient temple has a history that goes back 450 years.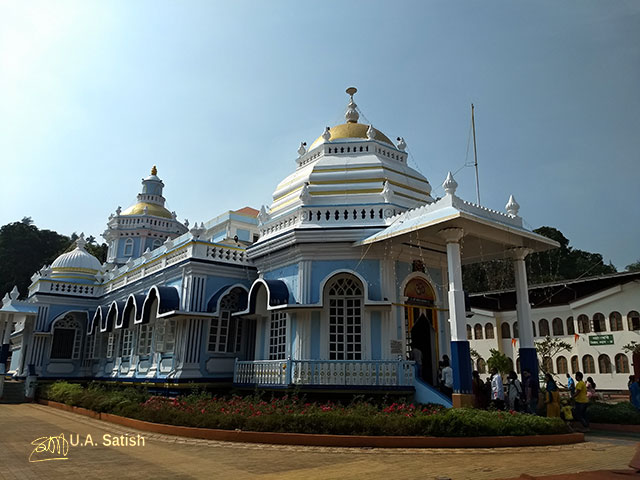 Temple Complex in Mageshi
Mangeshi Temple is on a hillock. You have to go up a flight of stairs to reach the place. Devotees are expected to wash their feet and hands before entering the temple complex. The main temple building is an exquisite structure which is in blue and white. It has perfect proportions and intricate designs. Two golden domes adorn the building.
The water tank in front of the temple is as old as the temple itself. The calm waters reflect the temple walls and a tip of the lamp tower. We did not see anybody enter the pond.  The gleaming white Deepastambha or light tower is strikingly beautiful and elegant. Its lower parts carry carved panels showing religious themes and figures of deities.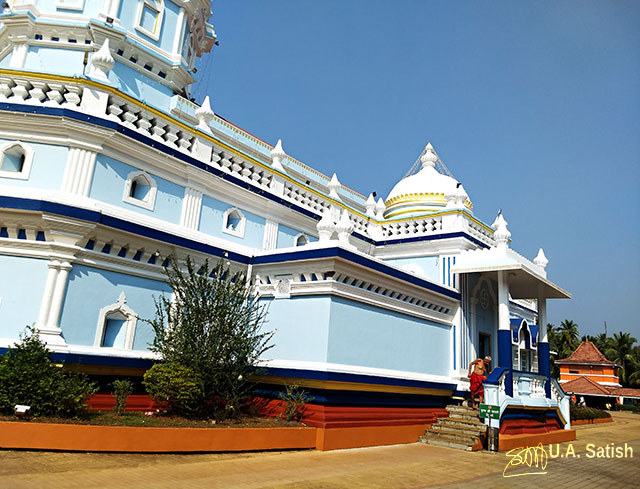 On climbing up the steps to the main entrance, one enters an octogonal hall. The ceiling has chandeliers and lamps. The central part of the hall leads to the sanctum sanctorum. Two shrines dedicated to Lord Ganesh  and Goddess Parvati are on either side of the hall. The Nandi Bull can also be seen here.
The courtyard has several agarshalas or buildings with rooms for pilgrims, marriage or thread ceremonies and administrative offices. There is a temple well in the far corner.
History of the Temple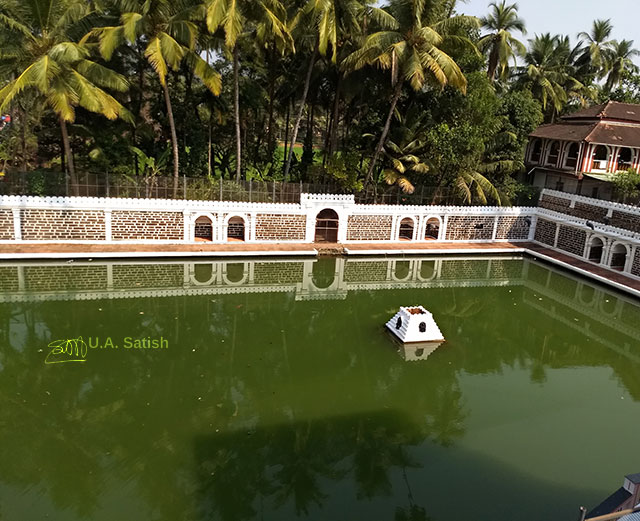 The temple has its origins in Cortalim on the banks of River Zuari. After the area fell to the invading Portuguese, devotees transported the Mangeshi Linga to the present location in Mangeshi near Ponda. This was in 1560.
Since then, the temple had two renovations: once during the reign of the Marathas and again in the year 1890. The final renovation was in 1973 when the tallest dome of the temple got a golden kalasha (vessel)
Temple Rituals
The temple has several poojas during the day. Early morning poojas include Abhisheka, Laghurudra and Maharudra. Maha Arati is at noon and Panchopchar pooja at night.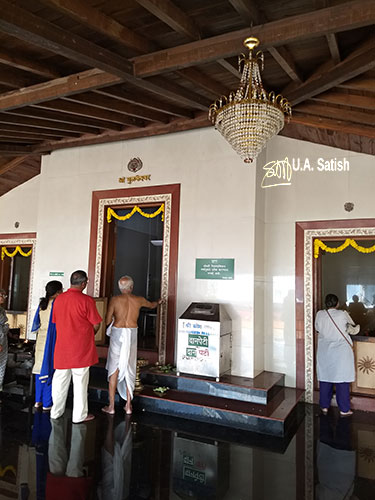 Every Monday, the idol of Manguesh is taken out on the temple palanquin in a procession before the evening Aarti.
Location of the Shiva Temple
Mangeshi Temple is 18 km from Ponda and 23 km from Panjim. Ample parking is available for visitors. Regular bus services connect Mangeshi to Panjim and Ponda. The nearest railway station is Madgaon (27 km).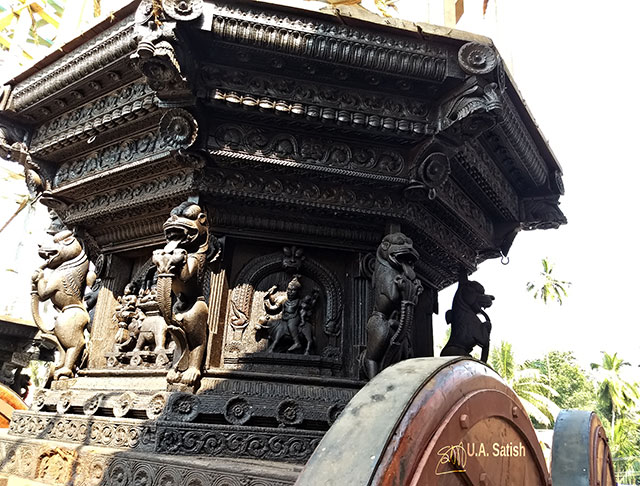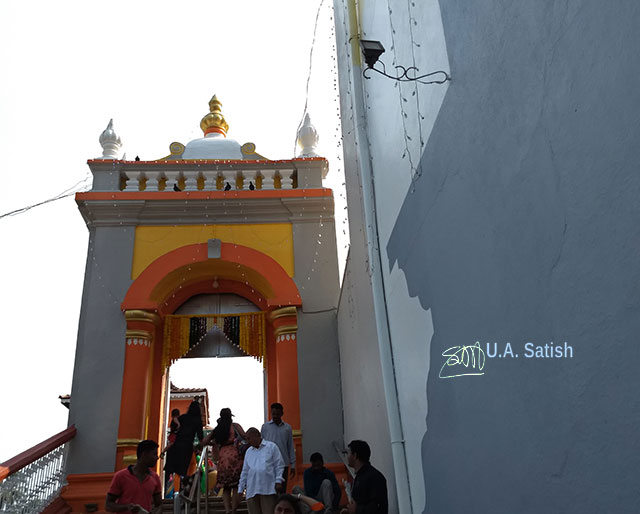 If you have questions, please use the Contact Form to get in touch with me.