Backwaters cruise on luxury houseboats in Alappuzha is famous for its stunning lakes and canals. The canals are connected to Vembanad Kayal. It is one of the largest lakes in India. The lake is fed by ten rivers which flow into it. It is separated from Arabian Sea by a narrow barrier island.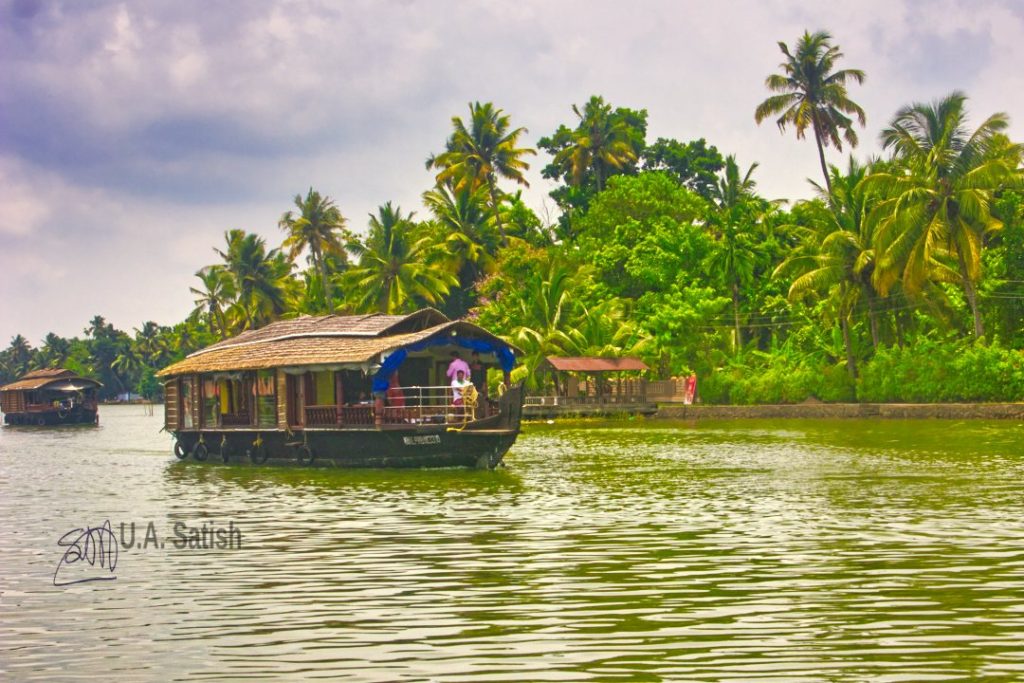 Our houseboat had all modern amenities. It had air conditioning, satellite TV, entertainment system and diesel power generator. The houseboat contained a bedroom, bathroom, kitchen and seating/dining areas. Food was freshly cooked on board by a chef.
Kuttanad Region
Our cruise took us past many areas of Kuttanad which is one of the largest rice producing regions in Kerala. Much of the paddy fields in Kuttanad exist below sea level. Apart from agriculture, people generate income from tourism and fishing. Prawn farming is popular as there is a large export demand. Karimeen is another fish which is much sought after. Duck farming provides employment to many.
Kuttanad has a high density of population. People live at the water's edge. As we went by, we could see them on the banks of the lake – bathing, washing clothes and doing other household chores.
Boats of all sizes and shapes exist in Kuttanad. Houseboats are new avatars of Kettuvallams which once transported rice and other agricultural produce. There are reportedly more than 2,000 houseboats in Alappuzha. Shikara-type boats are used for sight-seeing. Most households have at least one boat, big or small. People have to depend on boats for local transport.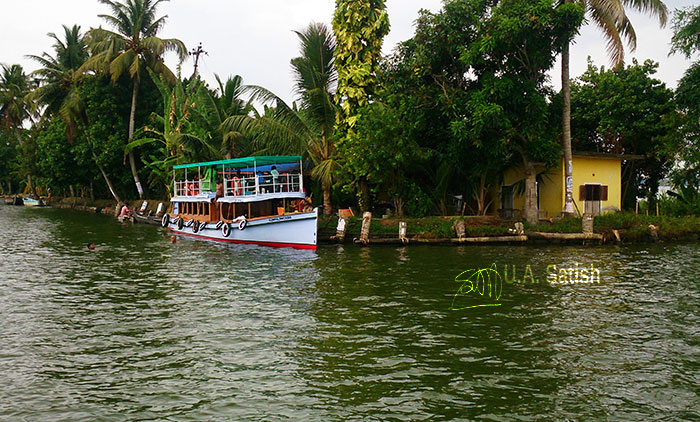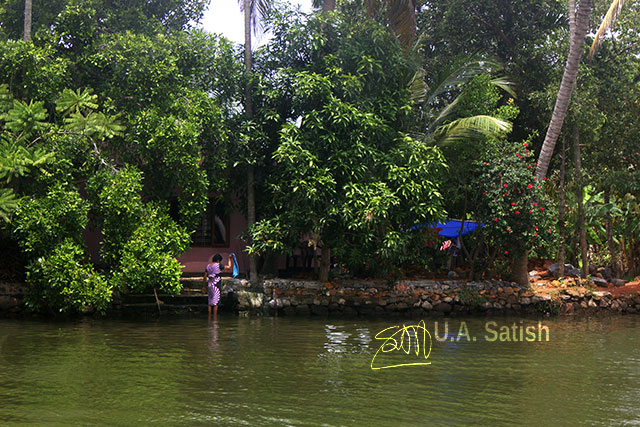 Our Lunch in Backwaters Cruise
Our cruise lasted five hours. A couple of hours into the cruise, the boat stopped briefly at lakeside shop selling fish. We bought jumbo prawns which the chef cooked us. Our lunch was an elaborate affair with rice, karimeen fry and Kuttanadan duck curry. The fare also included sambhar, cabbage thoran, beetroot pachadi, pappadam, curds and pickles. A typical Kerala fare and very delicious.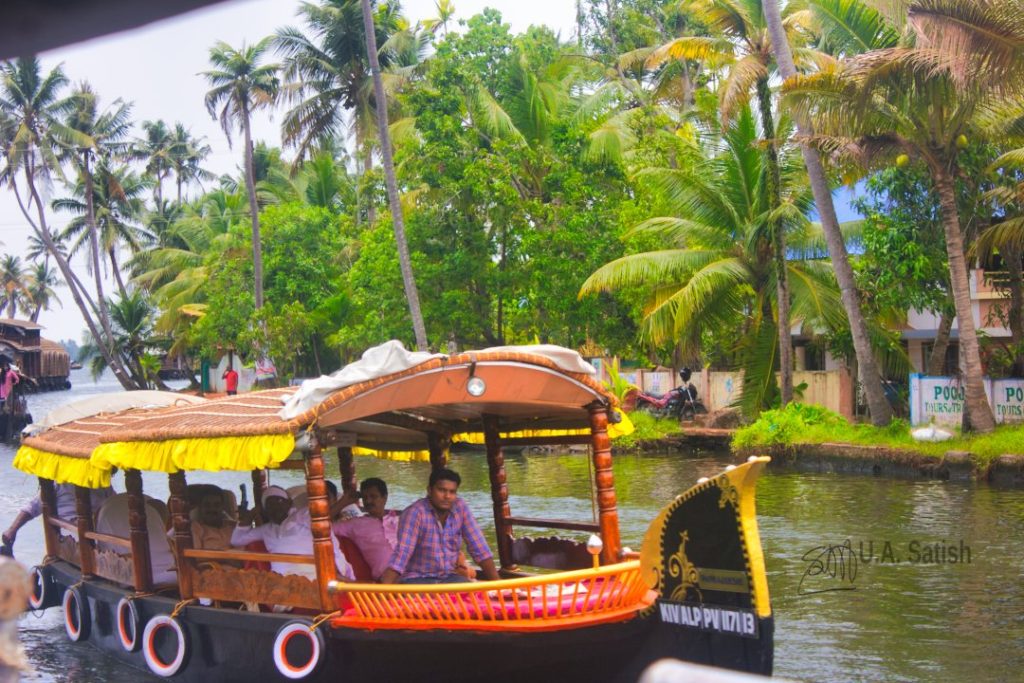 The boat shown above passed us somewhere along the way. The limitation of this kind of boats is that passengers cannot get up and move about due to safety considerations.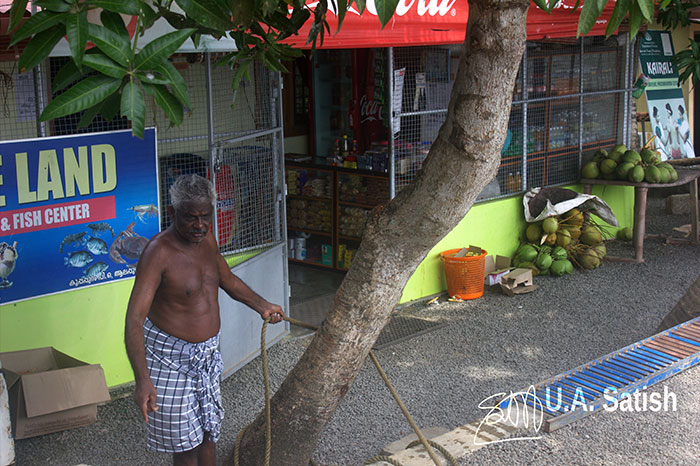 During peak summer, salinity in the water rises a bit. But with the onset of rains in May and June, fresh water flows increase and salinity disappears.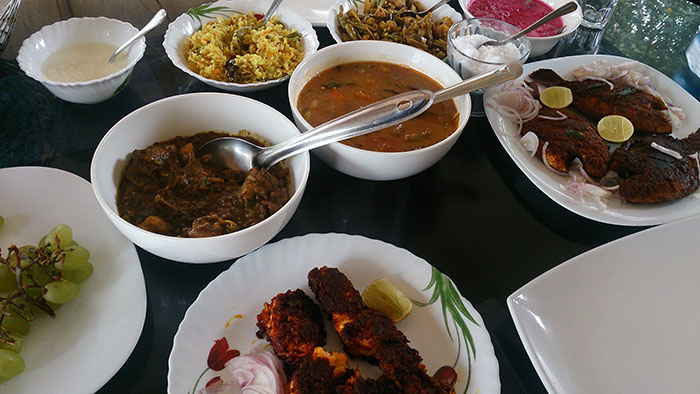 Many of the bridges in Kuttanad have a good height to allow boats to pass below. The bridge shown below was picturised in the Malayalam movie Sound Thoma.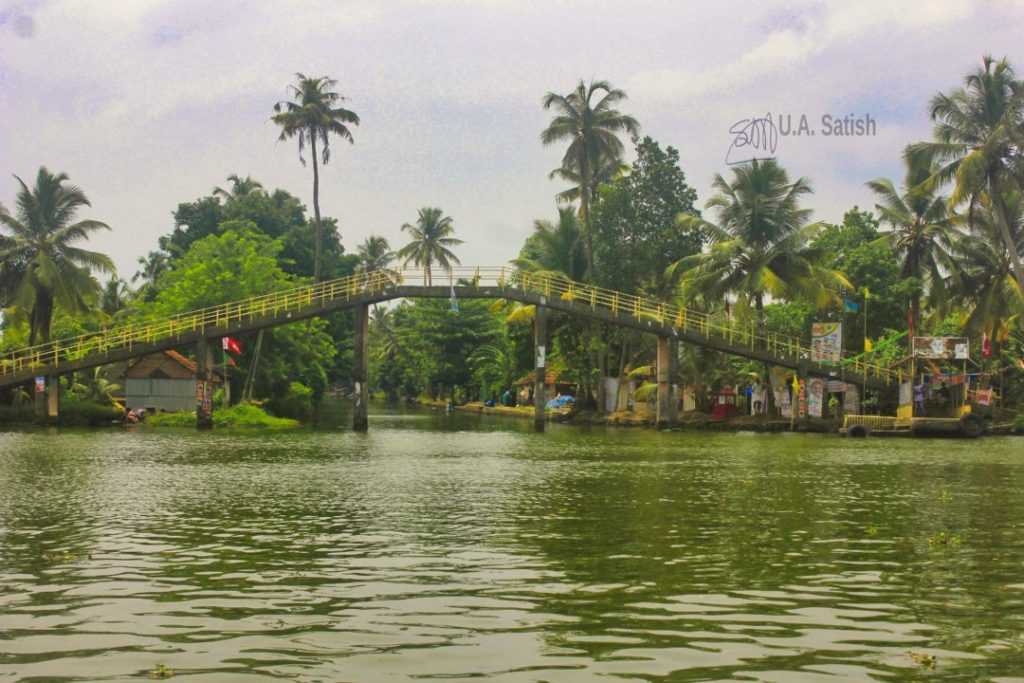 The Kuttanad area is also rich in bird population. One can find flocks of parrots over the paddy fields, especially those fields with rice stalks in bloom. Darter birds come together on the backwaters of Kuttanad.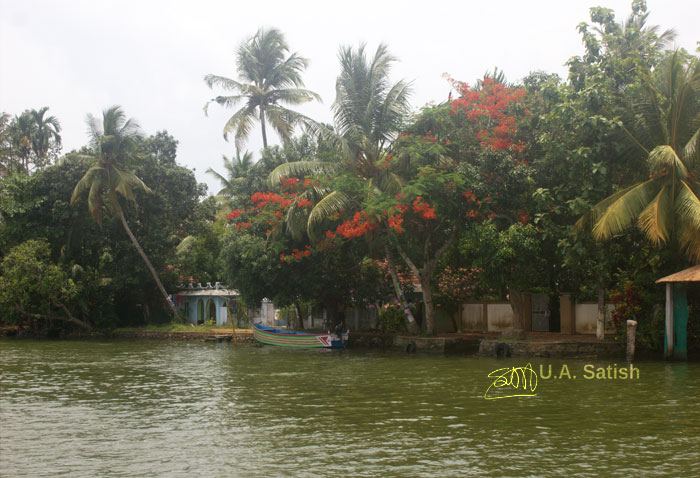 Unique System of Paddy Cultivation
The unique feature about paddy cultivation in Kuttanad is that the water level is a few feet higher than that of the cultivated land. It is the region with the lowest altitude in India and one of the few places in the world where farming takes place below sea level.
The lakeside has a number of churches. This is St. Joseph's Church in Chennamkary village. It is a Syro-Malabar church. It is the first ever catholic church dedicated to St. Joseph in whole of Asia.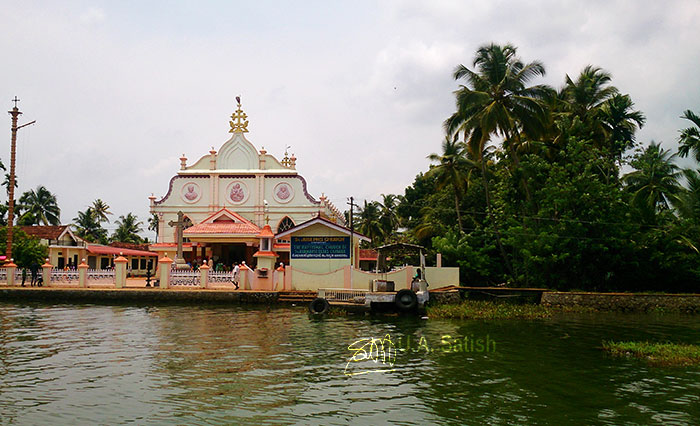 If you liked the post, you could…
Read more stories and get updates on my Facebook page.
Subscribe to the free and informative e-newsletter.
You Might Also Enjoy:
Ambalapuzha Sree Krishna Temple in Kerala
Alappuzha home to beaches backwaters and canals