Thrissilery Temple is an ancient temple and one of the oldest in Kerala. The presiding deity is Lord Shiva. It has a distinctive architectural style and intricate carvings. The atmosphere is calm and peaceful. Visitors will notice a small shrine of Jala Durga  near the temple pond. Waters of the pond flow from Papanashini in Thirunelli.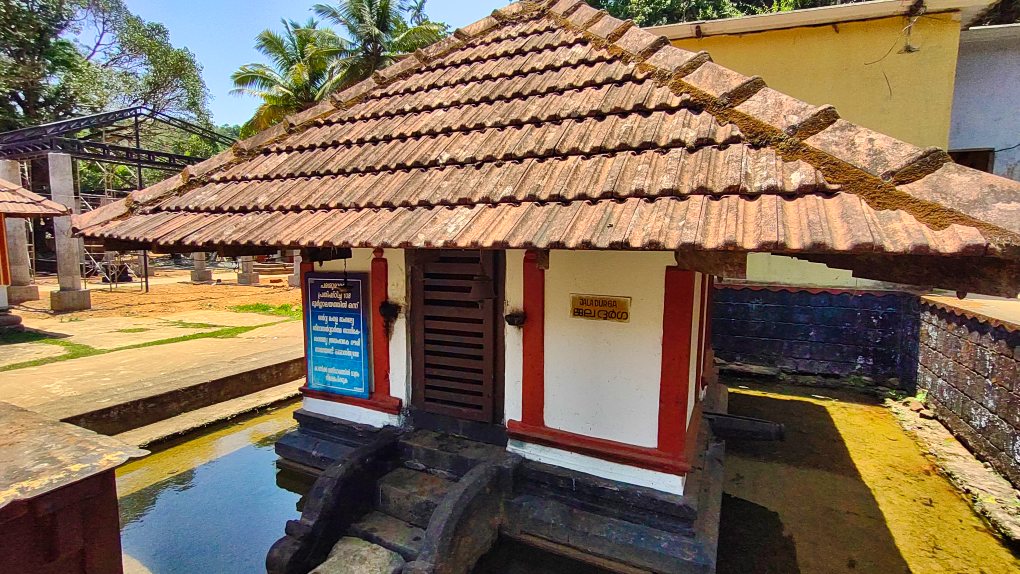 Deities in Thrissilery Temple
On entering the temple compound, devotees have to first wash their feet in the temple pond. Waters of the pond were pleasantly cool even at noon. Water surrounds the shrine of Jala Durga. There are separate shrines for Balakrishnan and Dharma Shastha. The Shastha Pratishta (vigraham) is unique in that He is in the form of a jada dhari, with long matted hair. This implies that He is  practising sannyasa.
A stone Nandi is is positioned near the entrance steps. The main sanctum is inside the four walls of the nalambalam. The deity of Lord Shiva is a swayambhu. Opposite the sanctum of Shiva are the deities of Ganesha and Parvathi (sankalpam).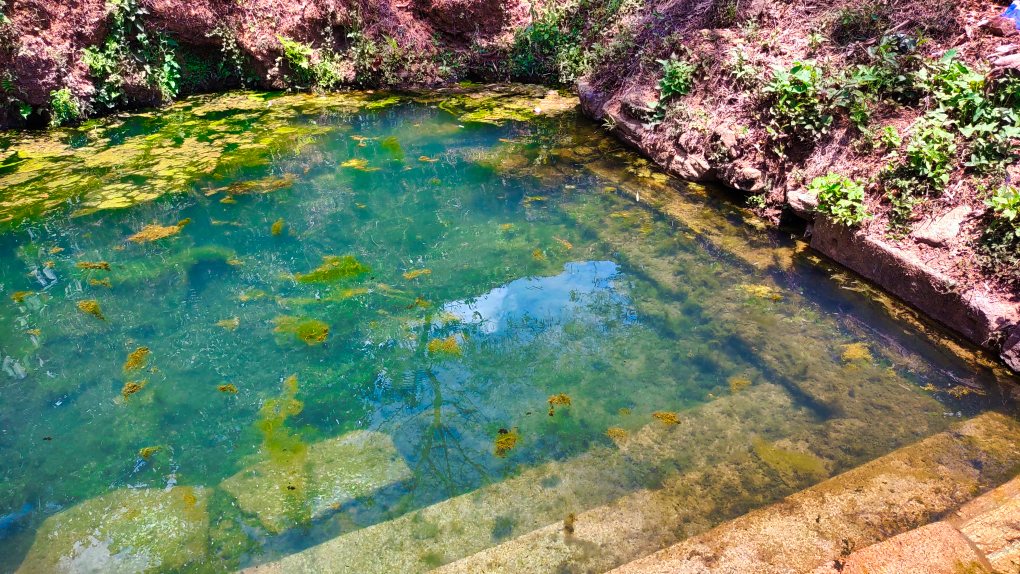 Architecture
This temple is a fine specimen of classical Kerala temple architecture. A tiled-roof structure surrounds the inner sanctum. Laterite and granite stones have been extensively used in the construction. The walls are whitewashed. Red clay tiles cover the roof. Inside nalambalam is the main sanctum which is festooned with beautiful carvings. The two main sanctums have a two-tier structure. Above the first tier you will notice wooden carvings. A long verandah outside the nalambalam is used for annadanam. All devotees get free lunch daily. The temple is at an altitude of about 2,490 ft in a valley surrounded by mountains and beautiful forests in north Wayanad .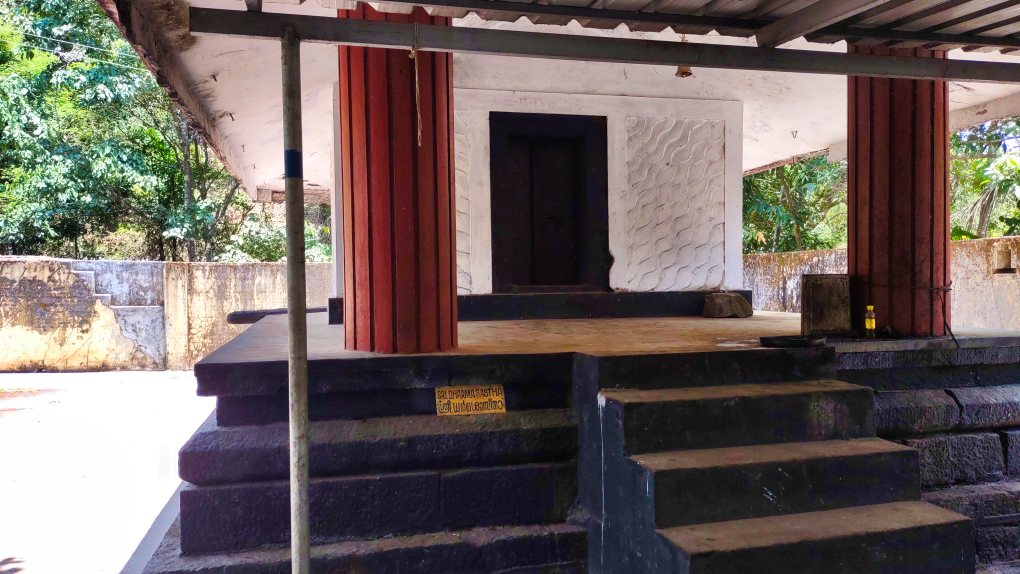 Vazhipadu and Offerings
Devotees travelling to Thirunelli temple for Bali Tharpanam should first visit Thrissilery temple and offer a Neyvilakku to Sivan. They can then go on to Thirunelli temple. This is a widely held belief.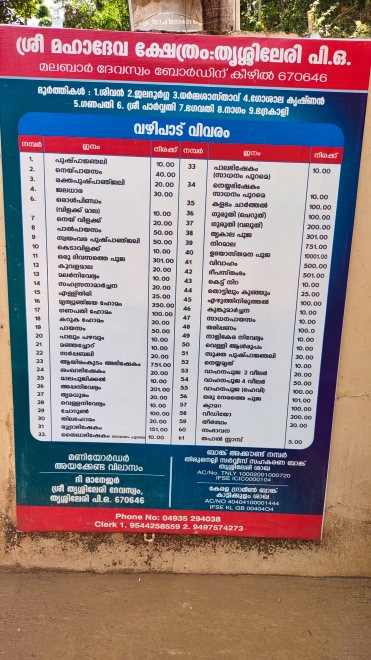 The main Vazhipadus in the temple are Rudrabhishekam, Swayamwara Pushpanjali and Dhara. Some of the other vazhipadus are:
| | |
| --- | --- |
| VAZHIPADU | RATE |
| Pushpanjali | 10 |
| Ney Vilakku | 20 |
| Ney Payasam | 40 |
| Jala Dhara | 30 |
| Ganapathi Homam | 100 |
| Appanivedyam | 201 |
| Mruthyunjaya Homam | 300 |
| Niramala | 751 |
| Udayasthamana Pooja | 1000 |
Bank Account Details
Kerala Gramin Bank
 Kattikulam Branch
Account no. 40404100001444
IFSC Code: KL GB  004040
Getting There
Thrissilery Temple is 8.5 km (23 min) from  Government Engineering College, Mananthawady, via Kaniyaram – Thrissilery Road. Beyond Manathawady, mobile network seems to work only with BSNL and Jio. Public transport does not serve the temple. There are no hotels or snack bars in the area. Avoid travel at night. Wild elephants are a constant threat. Thrissilery to Thirunelli is 21.9 km (42 min) via Thirunelli – Pothumoola – Kartikulam road.
Thalssery is the nearest railway station. It is 83.7 km (2 hr 20 min) via Malayora Highway and Thalassery – Baveli Road. Mananthawady Bus Stand is 8.8 km from the temple and well-connected by bus services to all parts of Kerala. Kannur International Airport (CNN) is the nearest airport, 69.4 km (2 hr 7 min).
Phone Numbers, Address and Temple Timings
Thrissilery Temle is open from 6:00 am to 12:30 pm and 5:00 to 7:30 pm.
Address: Thrissilery Shiva Temple, Thrissilery 670 646, Kerala.
Phone: +91 4935 294038, mobile: +91 95442 58559 (Clerk 1)
If you liked the post, you could…
Join more than 5,000 fans of UASATISH by liking us on Facebook, or follow us on Twitter and Instagram.
Related Posts