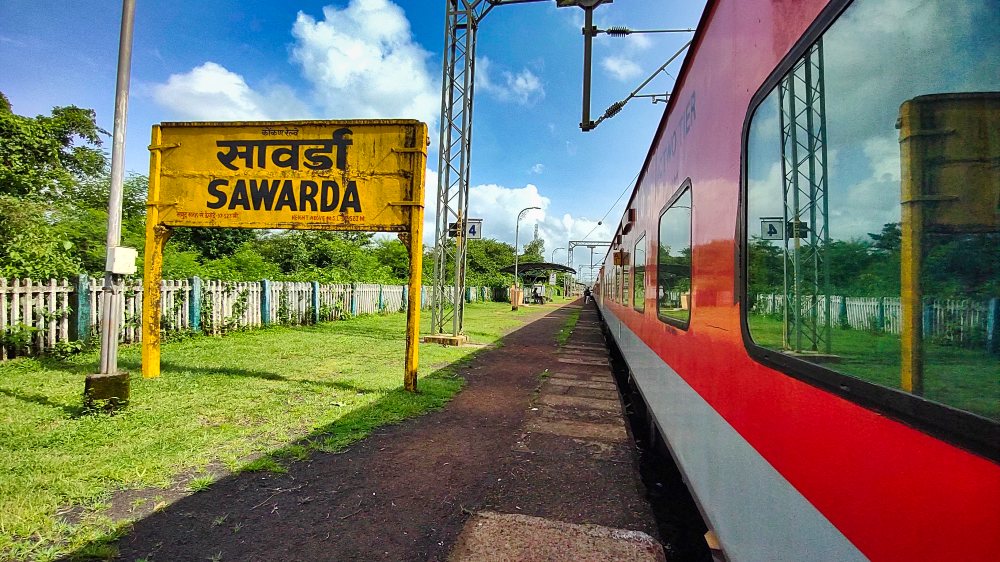 Mumbai to Ratnagiri through Konkan Railway is delightful. We travelled on the Jamnagar – Tirunelveli Express (19578) from Vasai Road to Ratnagiri. It is a distance of 363 km and takes about 7.5 hrs.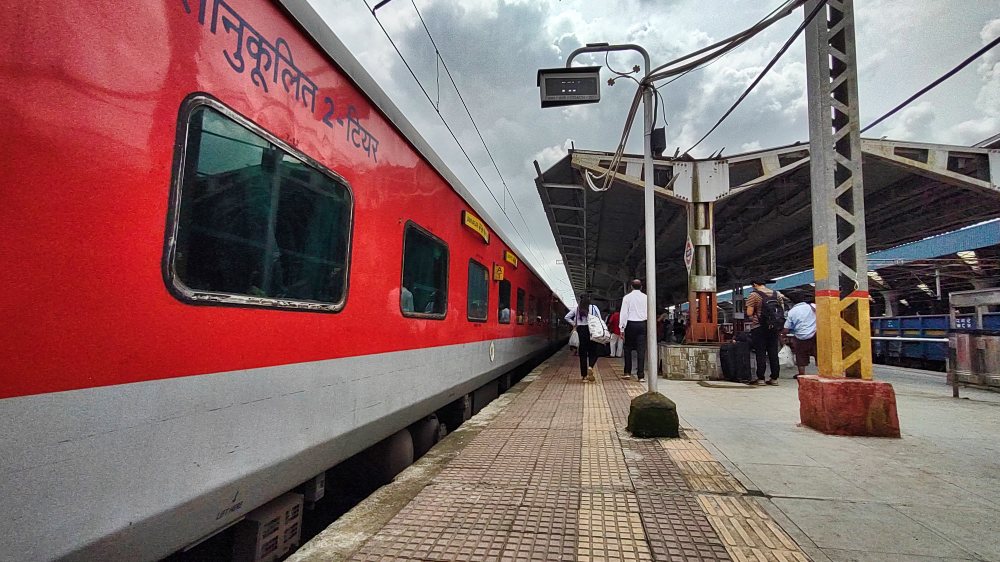 Jamnagar – Tirunelveli Express 19578
A WAP-5 electric locomotive hauls the train for the full journey. It shares its rake with 22907 / 22908 Madgaon-Hapa Superfast Express.  The service is twice a week and departures from Jamnagar are on Fridays and Saturdays. The train has 22 coaches and an average speed of 55 km/hr. We travelled on an AC II Tier coach.  The coach had 52 seats. There was no onboard pantry car. You can book tickets online at irctc.co.in or at the reservation counters. Forward reservations generally open up to 120 days in advance for all trains.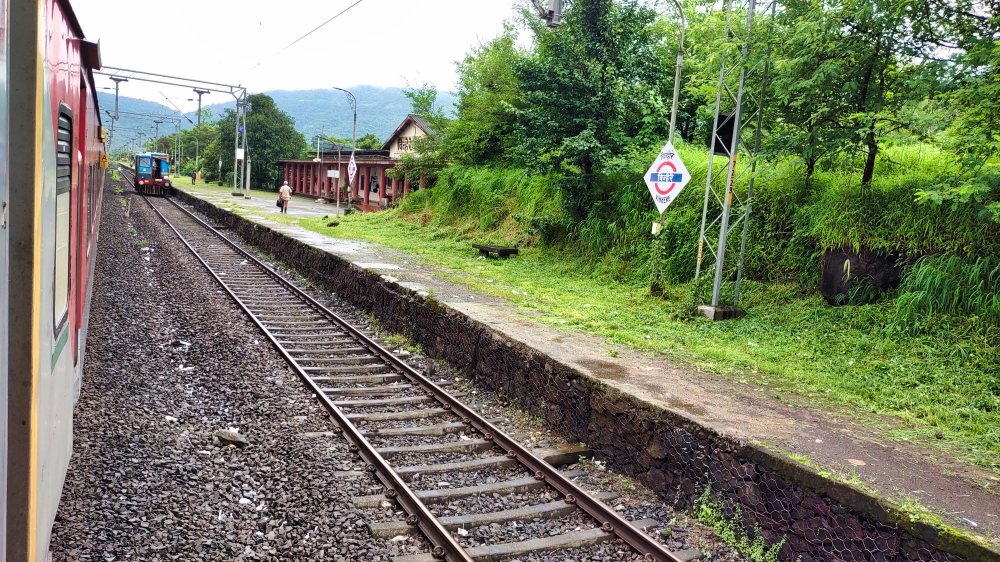 The Route
The train leaves Vasai Road at 10:00 hrs and reaches Panvel at 11:25 hrs. After Panvel, the next scheduled stop is at Ratnagiri at 17:25 hrs. However, there are stops at small stations along the way for crossings. We stopped at Chiplun, Vinhere, Khed, Sangameshwar and Ukshi stations. Ukshi may be the only train station in India where part of the platform is inside a tunnel. The route is scenic. We passed many bridges, viaducts and tunnels.
The Panval Viaduct spans the Panval River near Ratnagiri and is the tallest viaduct in India. The bridge is 424 meters long, with its tallest pier standing 60 metres above bed level.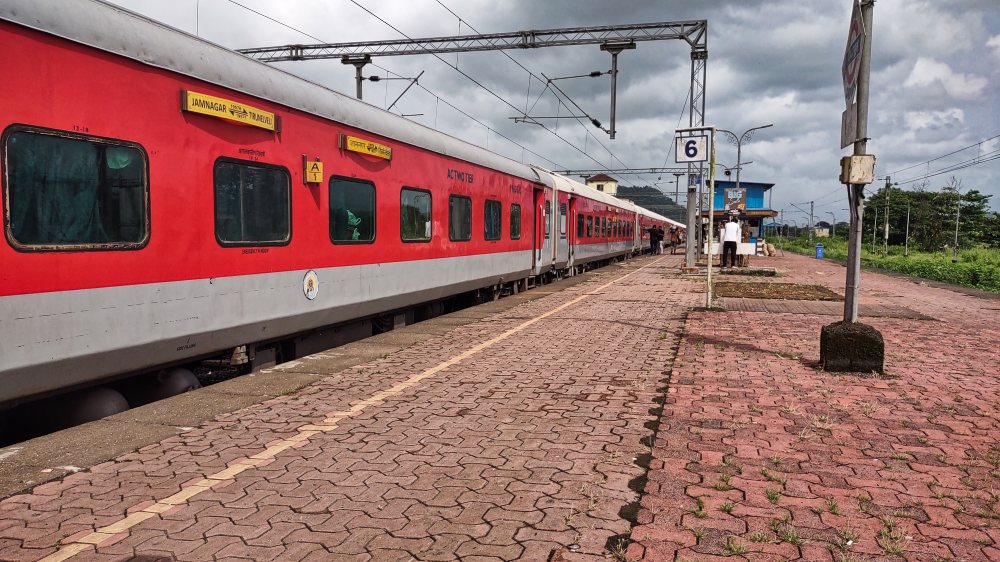 Ratnagiri is the largest railway station in the Ratnagiri railway division.  The railway station has daily connectivity to  important cities in India. it has modern facilities like escalators and lifts on each platform, wi-fi, disabled-friendly access, canteen etc. Most of the stations on the Mumbai-Ratnagiri line are small. It is hard to find tea vendors or snack bars.
Rivers on the Train Line
We went over several rivers on the route. Savitri River meanders through Veer. Anjani boasts of Agrani River. The Vashishti is in Chiplun while River Gad flows in Aravali. You will see Bav River in Sangameshwar.
Tunnels on Mumbai-Ratnagiri Route
Karbude Tunnel (Tunnel 35) is the longest tunnel on the Konkan. It is 6.5 km long and beyond doubt one of the best engineering works in India. It is located between Ukshi and Bhoke stations. Chiplun Tunnel is a road and railway tunnel that was completed in 1998. Nathuvadi tunnel (Tunnel 6) is 4.4 km long and near Vinhere. Sawarda tunnel (Tunnel 17) is 3.4 km long and near Kamathe station.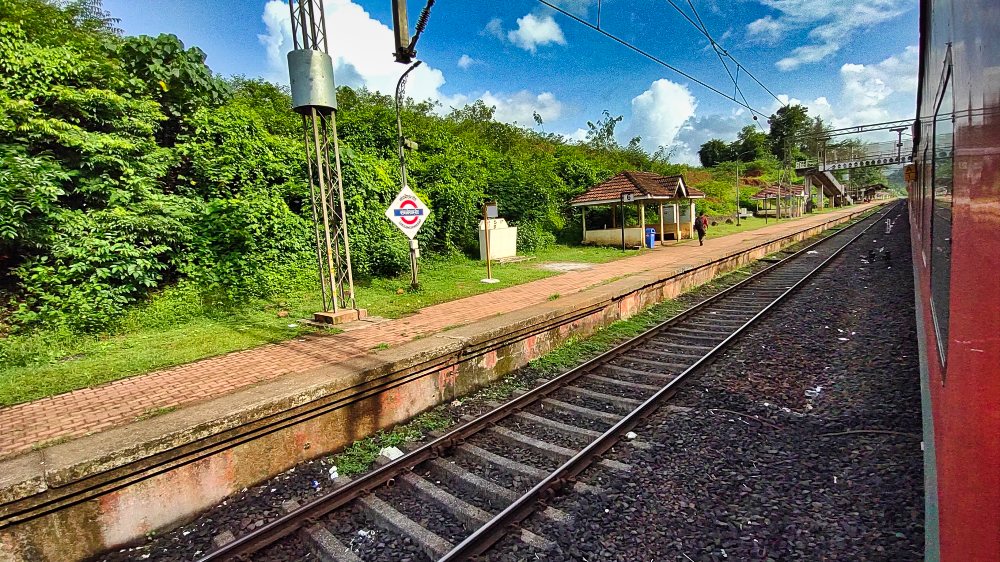 Konkan Railway
Indian Railways established Konkan Railway on 19 July 1990 and completed the construction in 1998. It is a 760-km long rail route linking Roha in Maharashtra to Mangalore in Karnataka. It is an engineering marvel and crosses 146 river streams, 2000 bridges and 91 tunnels. The railway line connects the states of Maharashtra, Goa and Karnataka. The route is popular with passengers due to the considerable time savings for travel between the western and southern states of India.
Under the leadership of E. Sridharan, Konkan Railway completed construction of the train line in eight years. This was particularly commendable since engineers had to overcome tough challenges due to the wet and clayey soil in Konkan.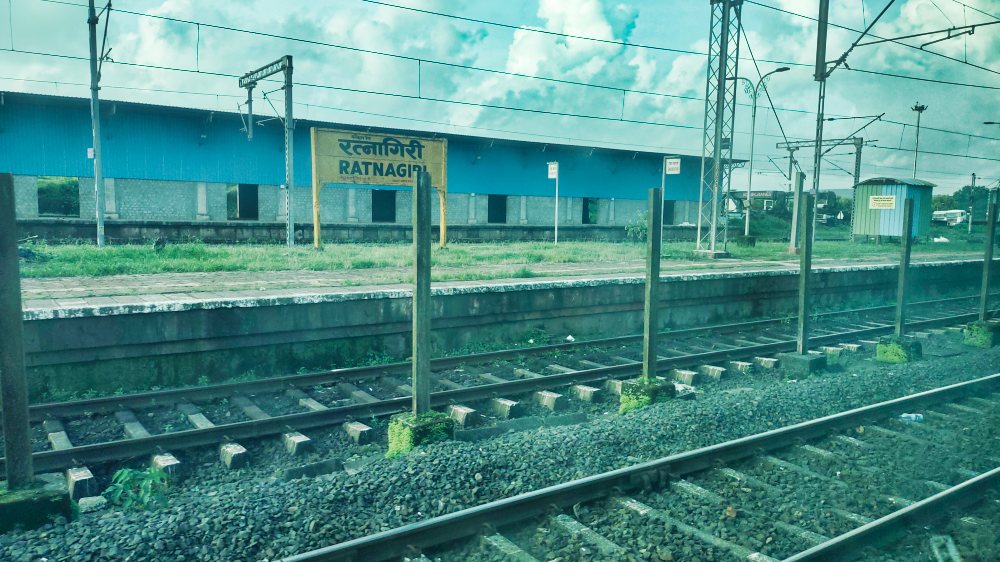 If you liked the post, you could…
Join more than 5,000 fans of UASATISH by liking us on Facebook, or follow us on Twitter and Instagram.
Related Posts