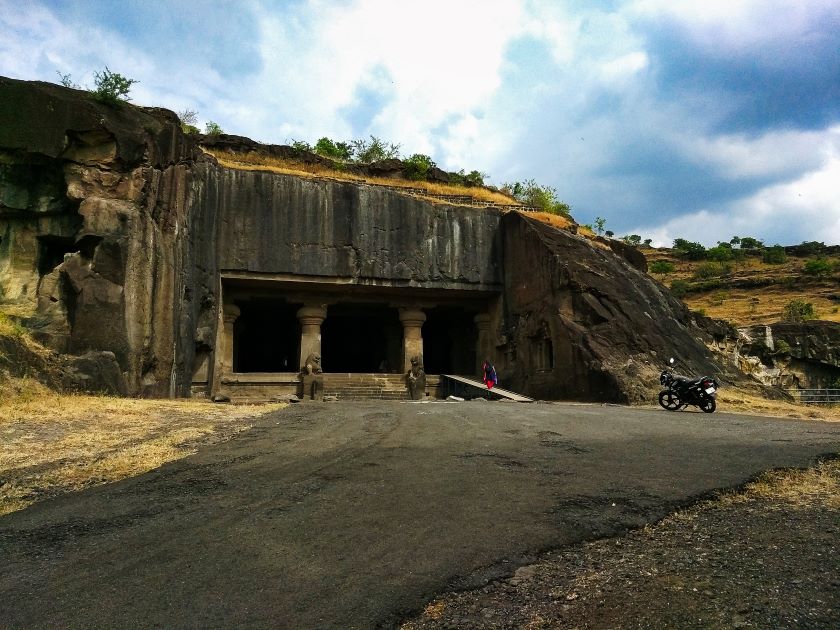 Ellora Cave 29 is magnificent and among the largest excavations in Ellora. Construction of the cave took place in sixth century. It is a UNESCO Heritage site.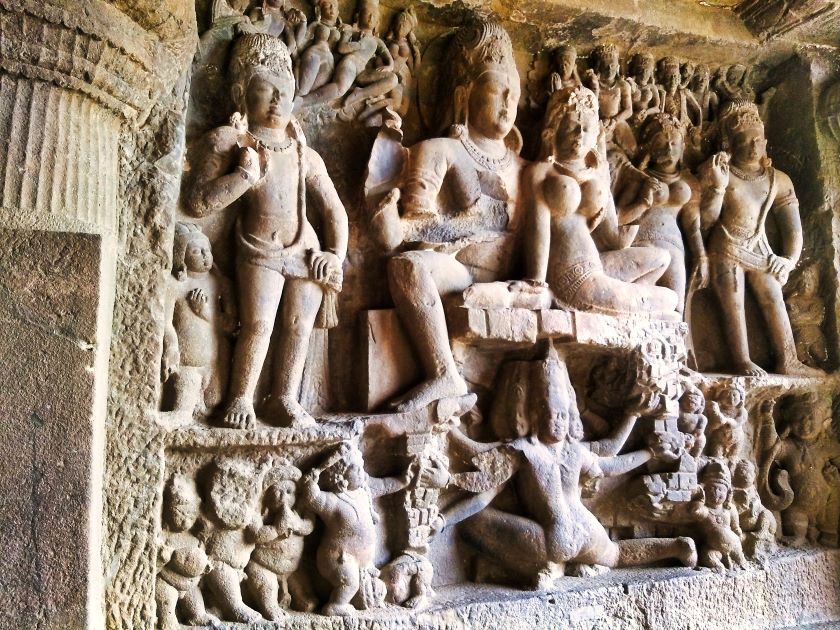 Location of Ellora Cave 29
Ellora Caves is a 43 minute drive from Aurangabad. We arranged a car from Capital Tours in Aurangabad. Our driver, Mohsin Taqui (phone 98603 67110), spoke  English and also Hindi with a Hyderabadi accent. He gave us useful tips on the important caves to visit in Ellora.
The first cave we saw in Ellora was the famous Cave 16 (Kailasa Temple). Cave 29 is to the north of Kailasa Temple.
Aurangabad is an 8-hour train ride from Mumbai. Direct flights connect the two cities.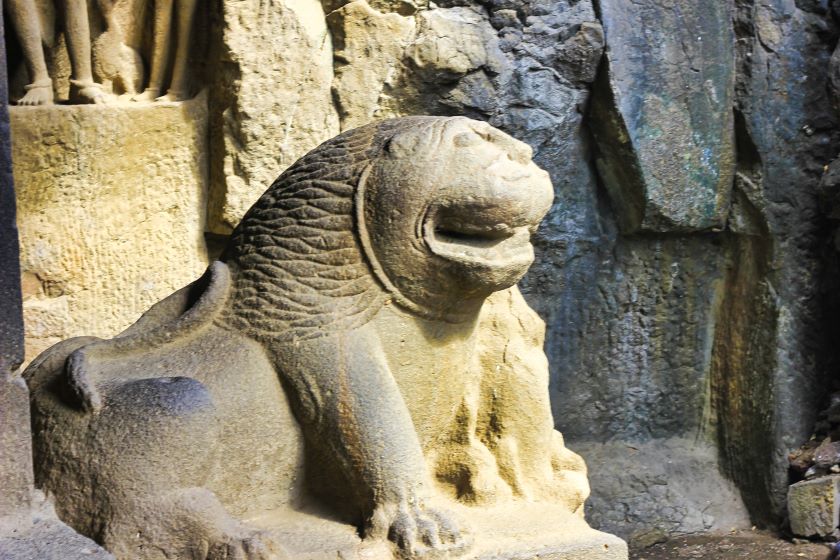 Construction
There are more than 100 caves in Ellora. Of this, 34 caves are open to public. The Budhist caves are twelve (caves 1 to 12). The Hindu caves are numbered 13 to 29. Jain caves have numbers 30 to 34.
Cave 29 is a massive structure. Two stone lions guard the entrance steps. One climbing up the steps, we entered an enormous hall. The height of the ceiling is 18 feet. The hall is in the form of a cross, the roof supported by 26 massive pillars. The hall is open on three sides. Deep inside the hall is a Shiva temple. There are large sculptures on the sides.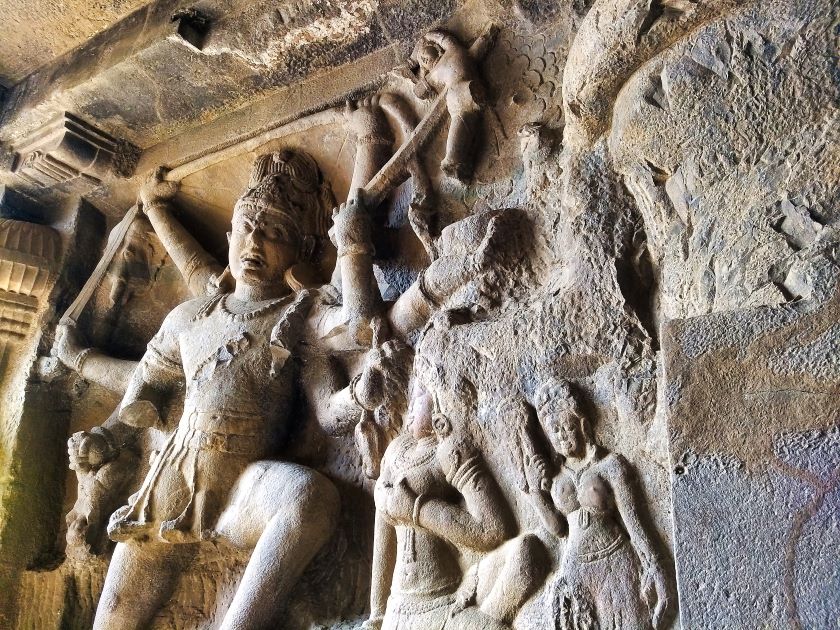 Sculptures in Ellora Cave 29
Near the entrance steps is a sculpture of Ravana Shaking Mount Kailasa. According to Hindu scriptures, Ravana once tried to lift Mount Kailasa. But Shiva pushed the mountain down and trapped Ravana underneath. For a thousand years, the imprisoned Ravana sang hymns in praise of Shiva who finally released him.
Another panel shows Shiva killing the demon Andhakasura. He is holding a spear in his hand with the demon at its end.
The shrine has four entrances, each guarded by a pair of towering dwarapalakas. The guards hold a flower in their right hand.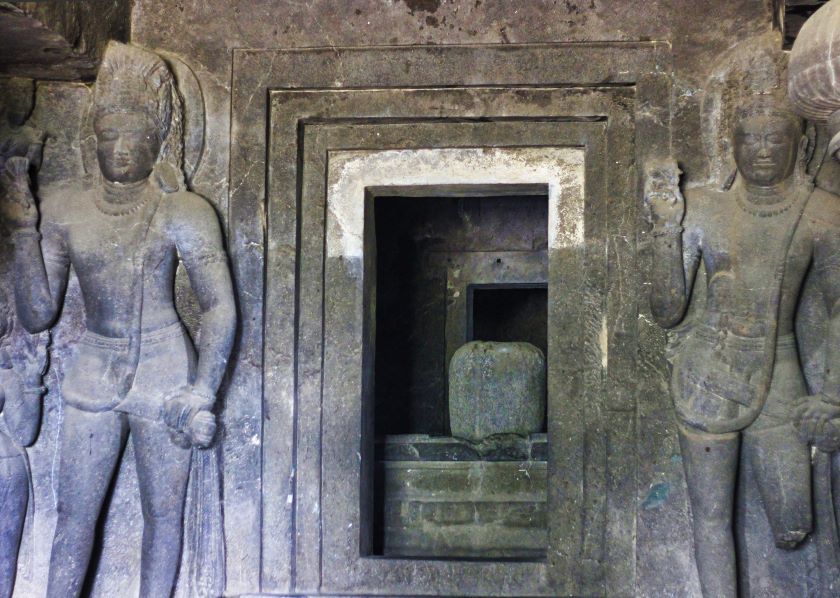 If you liked the post, you could…
Join more than 5,000 fans of UASATISH by liking us on Facebook, or follow us on Twitter and Instagram.
Subscribe to the free and informative e-newsletter.
Related Posts: