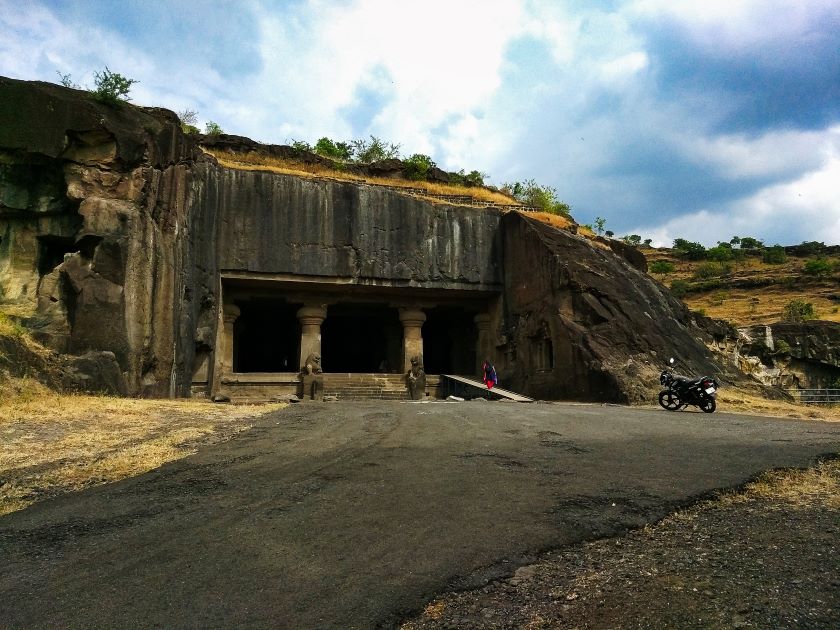 Ellora Cave 29 is magnificent and among the largest excavations in Ellora. Construction of the cave took place in sixth century. It is a UNESCO Heritage site.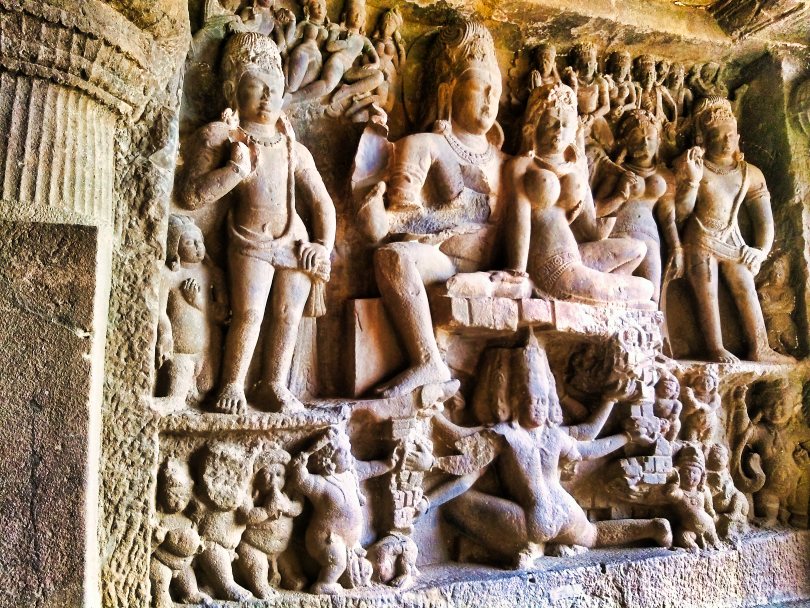 Sculptures in Ellora Cave 29
Near the entrance steps is a sculpture of Ravana Shaking Mount Kailasa. According to Hindu scriptures, Ravana once tried to lift Mount Kailasa. But Shiva pushed the mountain down and trapped Ravana underneath. For a thousand years, the imprisoned Ravana sang hymns in praise of Shiva who finally released him.
The home of Shiva is on Mount Kailasa in the Himalayas. He lives there with his wife Parvati. In one episode of Shiva's mythology, he presses down his big toe to quell the ten-armed demon Ravana. He had tried to take Mount Kailasa away to his island kingdom of Sri Lanka. When Ravana was trying to shake the mountain loose, Parvati turned and clung to Shiva in fear. This is the moment that we see in this magnificent sculpture. Here Parvati is seated to his left while two Dwarapalakas are on either side. Devotees believe that Shiva created the world in his lila or divine play.
Another panel shows Shiva killing the demon Andhakasura. Shiva is holding a spear in his hand with the demon at its end. One of Shiva's left hands holds a cup to catch the blood dripping from Andhakasura. According to Liṅga Purāṇa, Andhaka was the son of Hiraṇyākṣa.   Brahmā granted him immunity from death after he performed a severe penance. He crossed the three worlds and subdued the heavens. The Devas retreated to Mount Mandara. Andhaka followed them. Shiva challenges Andhaka, destroys his army and impales him on his trident.  However, the divine sight of Shiva burns away all of Andhaka's sins. This causes Andhaka to sing the praises of Shiva. This pleases Shiva who forgives him. In the sculpture, Parvati looks adoringly at Shiva.
Location of Ellora Cave 29
Ellora Caves is a 45 minute (28.6 km) drive from Aurangabad Railway Station. We arranged a car from Capital Tours in Aurangabad. Our driver, Mohsin Taqui (mobile phone 8603 67110), spoke  English and also Hindi with a Hyderabadi accent. He gave us useful tips on the important caves to visit in Ellora.
The first cave we saw in Ellora was the famous Cave 16 (Kailasa Temple). Cave 29 is to the north of Kailasa Temple.
Aurangabad is an 8-hour train ride from Mumbai. Direct flights connect the two cities.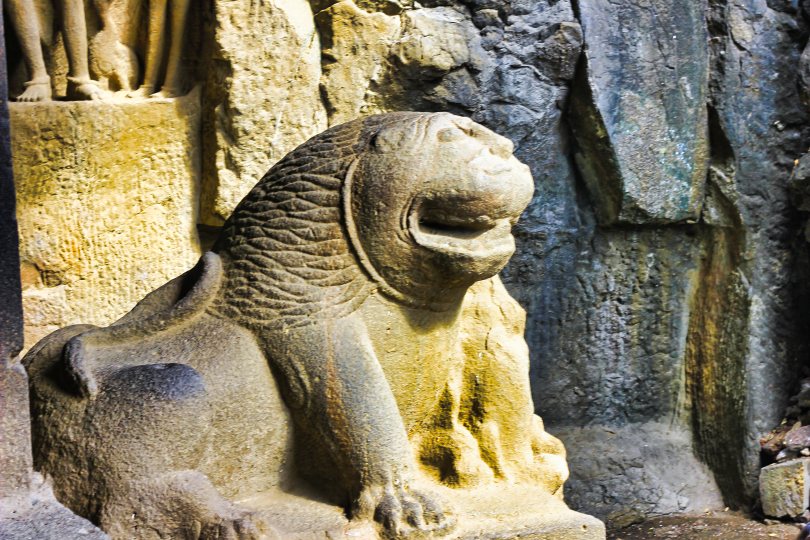 Architecture
There are more than 100 caves in Ellora. Of this, 34 caves are open to public. The Budhist caves are twelve (caves 1 to 12). The Hindu caves are numbered 13 to 29. Jain caves have numbers 30 to 34.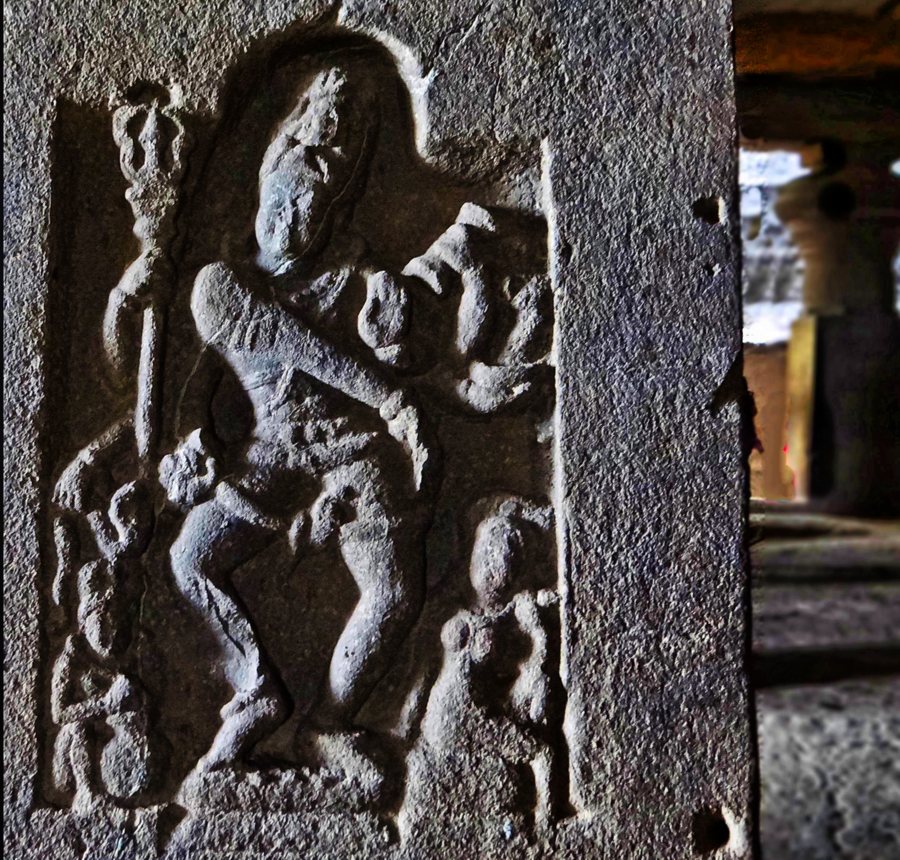 Cave 29 is a massive structure. Two stone lions guard the entrance steps. On climbing up the steps, we entered an enormous hall. The height of the ceiling is 18 feet. The hall is in the form of a cross, the roof supported by 26 massive pillars. Access to the columned interior of the cave is from three sides. Deep inside the hall is a Shiva temple. The shrine has four entrances, each guarded by a pair of towering dwarapalakas. The guards hold a flower in their right hand. A monolithic lingam is enshrined within. Large sculptures on the sides depict Nataraja, Lakulisa, Andhakasuravadha Murti, Ravananugraha Murti, Kalyanasundara Murti, and Shiva Parvati playing dice.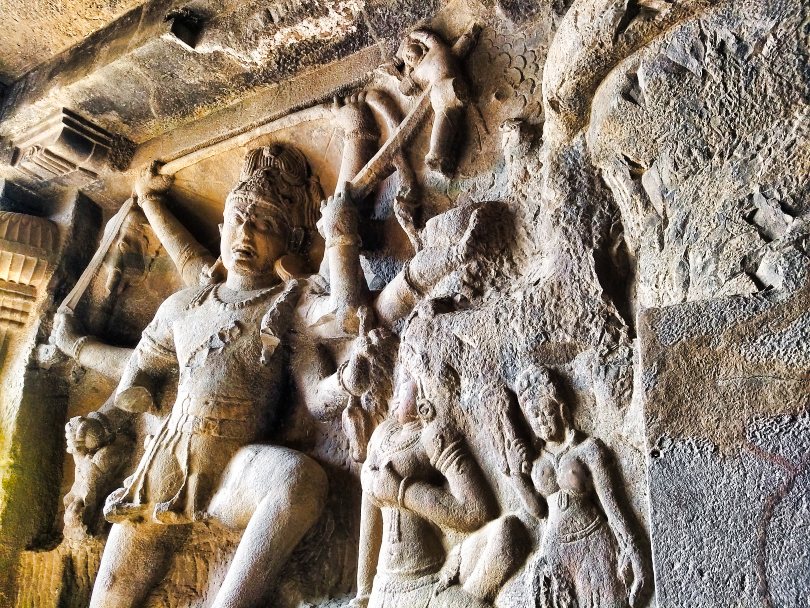 If you liked the post, you could…
Join more than 5,000 fans of UASATISH by liking us on Facebook, or follow us on Twitter and Instagram.
Related Posts