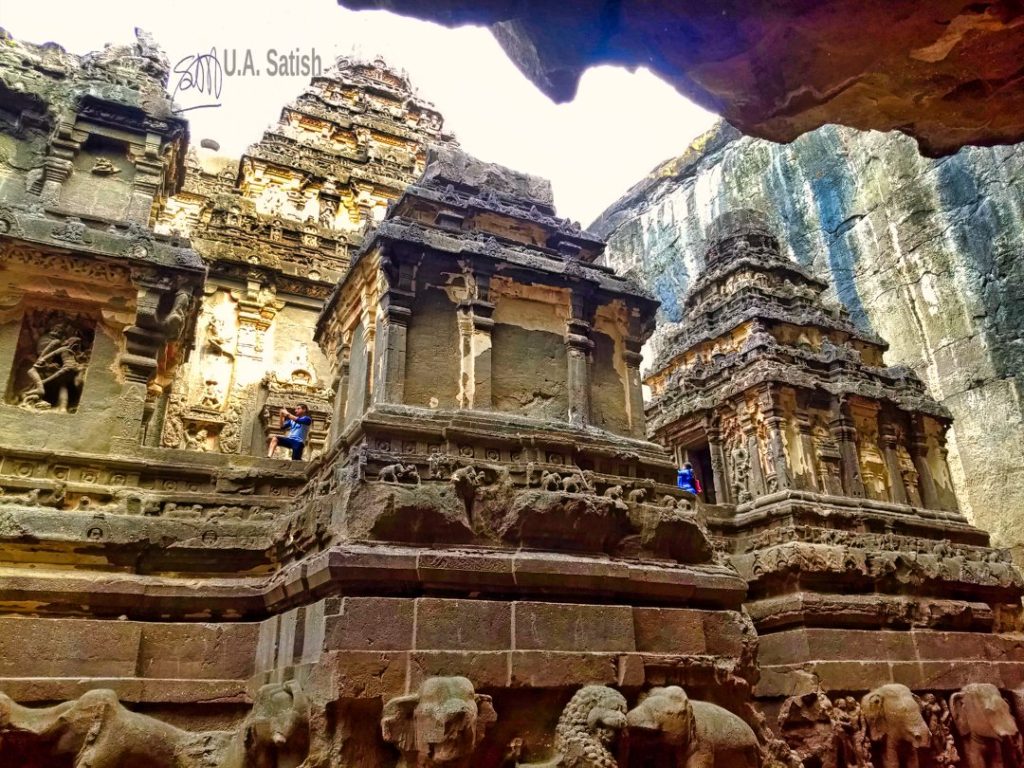 Kailasa Temple in Ellora Caves is an extraordinary Shiva temple. It is hundreds of years old. The temple is a monolithic structure of basalt stone. Beautiful carved sculptures fill the temple. There are 32 caves in Ellora. Kailasa Temple is in cave no. 16.
History of Kailasa Temple
There are no inscriptions in the temple to track its history. But historians attribute the construction to Rashtrakuta king Krishna I in the eighth century. Later rulers further extended the temple.
The picture shows elephants spraying water on Gajalakshmi. This magnificent panel is in front of the entrance gate. The goddess is sitting on a double louts in  kshirsagar (Milk Ocean). She is the goddess of fortune and wealth. The two small elephants are filling the vessels with water.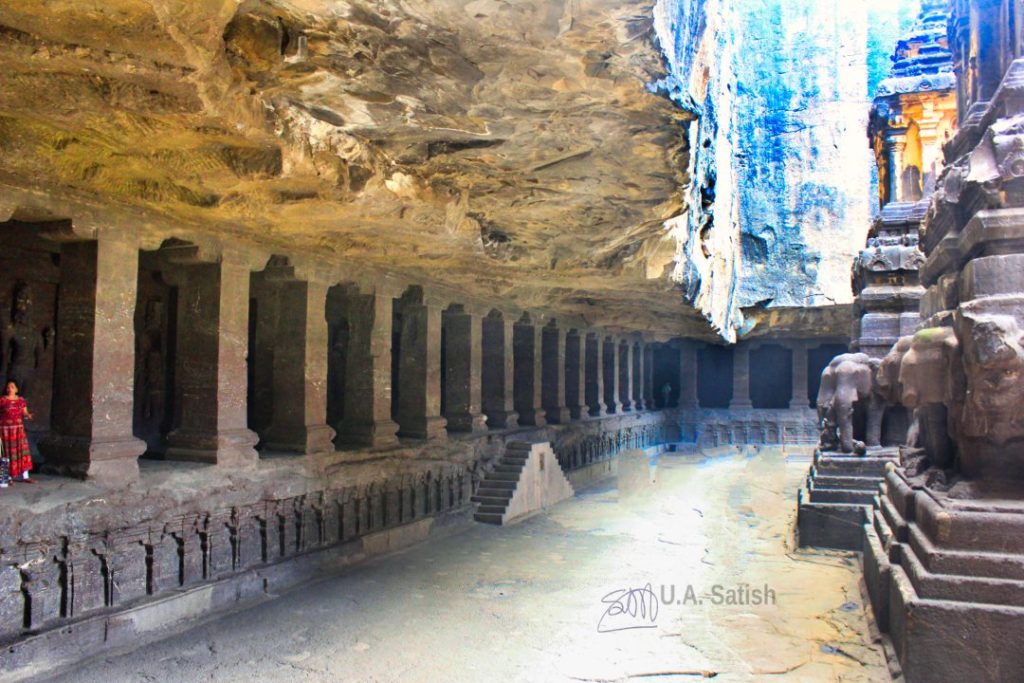 Construction of the Temple
The master architect had chosen to excavate from the top of the mountain. Massive amounts of stone were dug out, without the help of modern machinery. The temple stands independent of the surrounding rock. There are carvings on the inside and outside.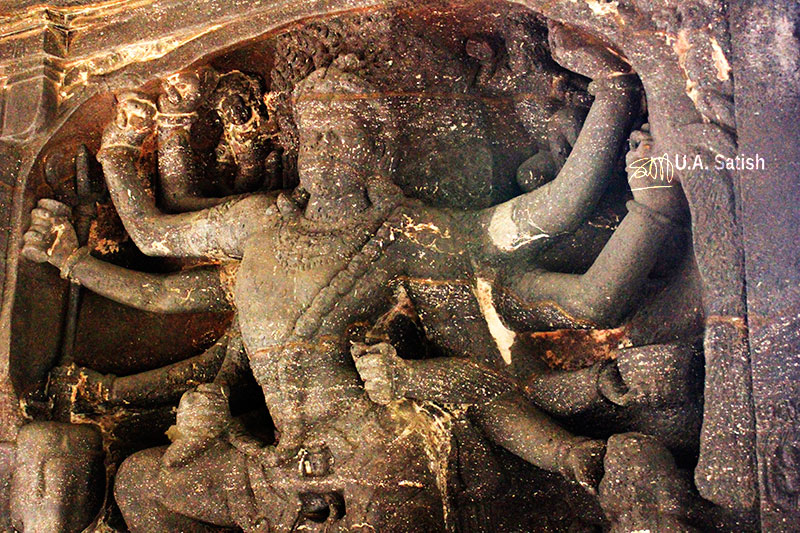 The sculpture of Shiva in Tandava dance is in the rare abhanga pose, balanced delicately by four hands on each side. He stands gracefully with weight of the body placed on one leg. The pose shows meditation, repose and serenity.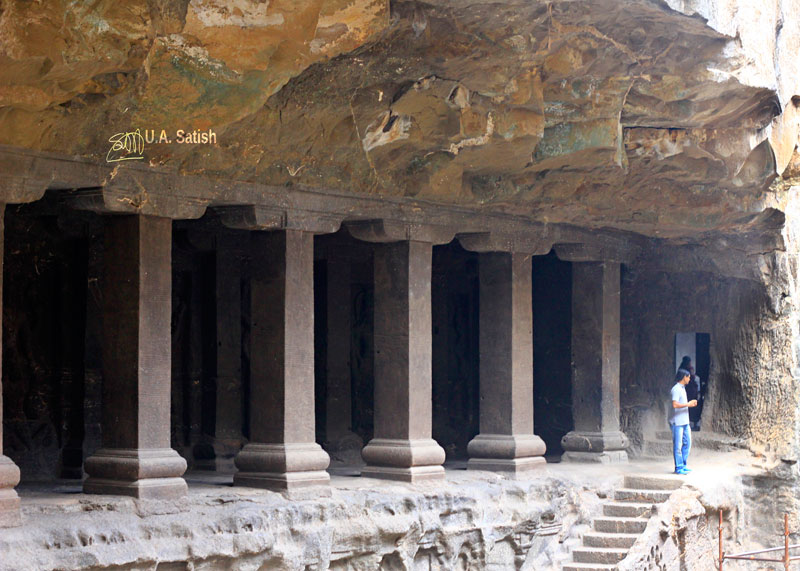 Unsupported Rock Ceiling
On either side of the main temple on the exterior walls are two panels depicting scenes from Mahabharatha and Ramayana. The Ramayana panel in the southern wall portrays a number of events in seven rows.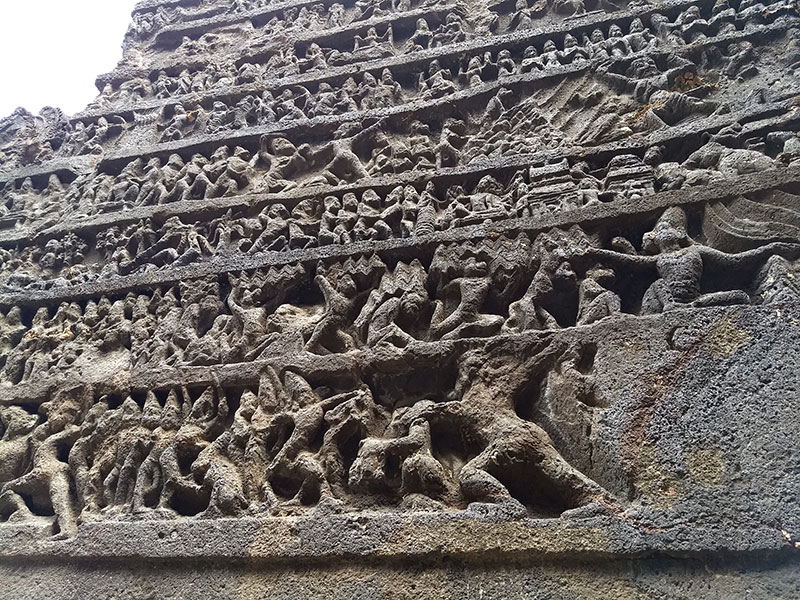 The northern wall has carvings showing scenes from Mahabharata. The panels are again in seven rows. The lower two rows display the childhood escapades of Krishna. The upper five rows have scenes of Arjuna's penance, the Kirata-Arjuna fight and the Mahabharata war.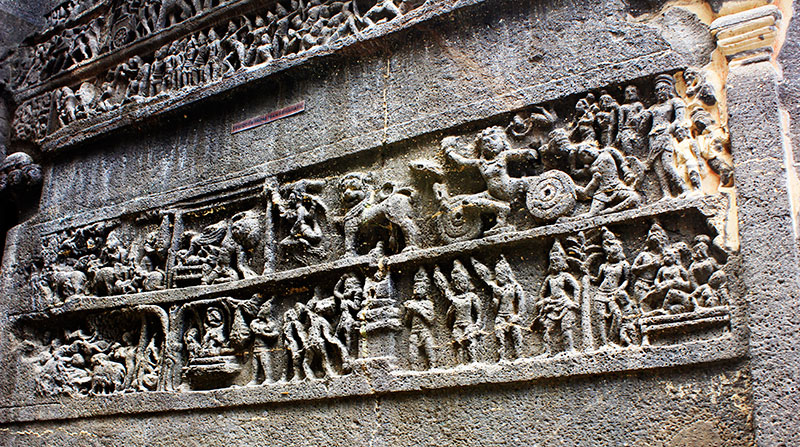 Architecture of Kailasa Temple
The temple architecture has Dravidian influences. The main temple has a U-shaped courtyard. A columned arcade three stories high surrounds the courtyard. The arcades contain enormous sculptures of deities and sculpted panels.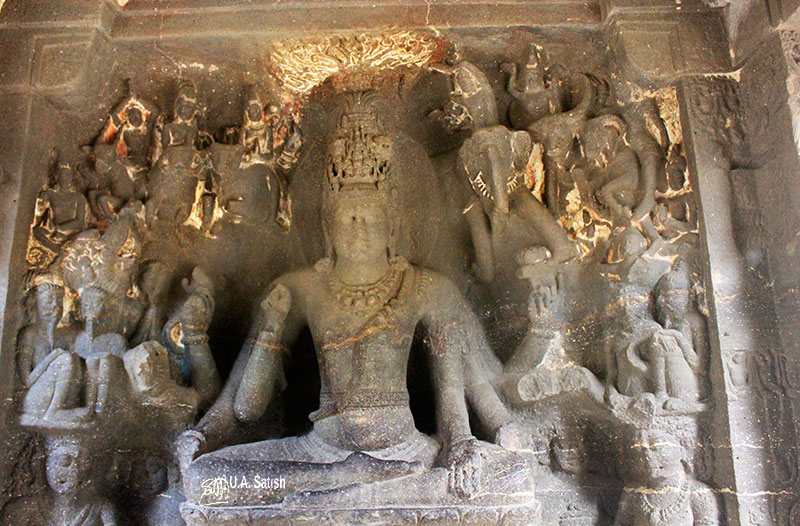 There are five subsidiary shrines around the main temple in the path that runs along the side of the hill. This includes a shrine dedicated to river goddesses Ganga, Yamuna and Saraswati, and a yajna-shala (hall of sacrifice).
Elephants are auspicious animals in Hinduism. They are part of some religious ceremonies and functions in India. You will find life-size sculptures of elephants in Kailasa Temple.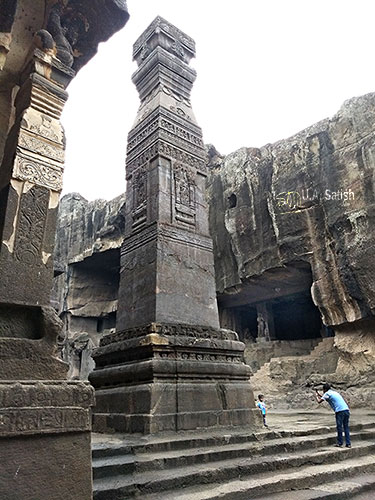 There are two free-standing victory pillars (kirti stambhs) in the temple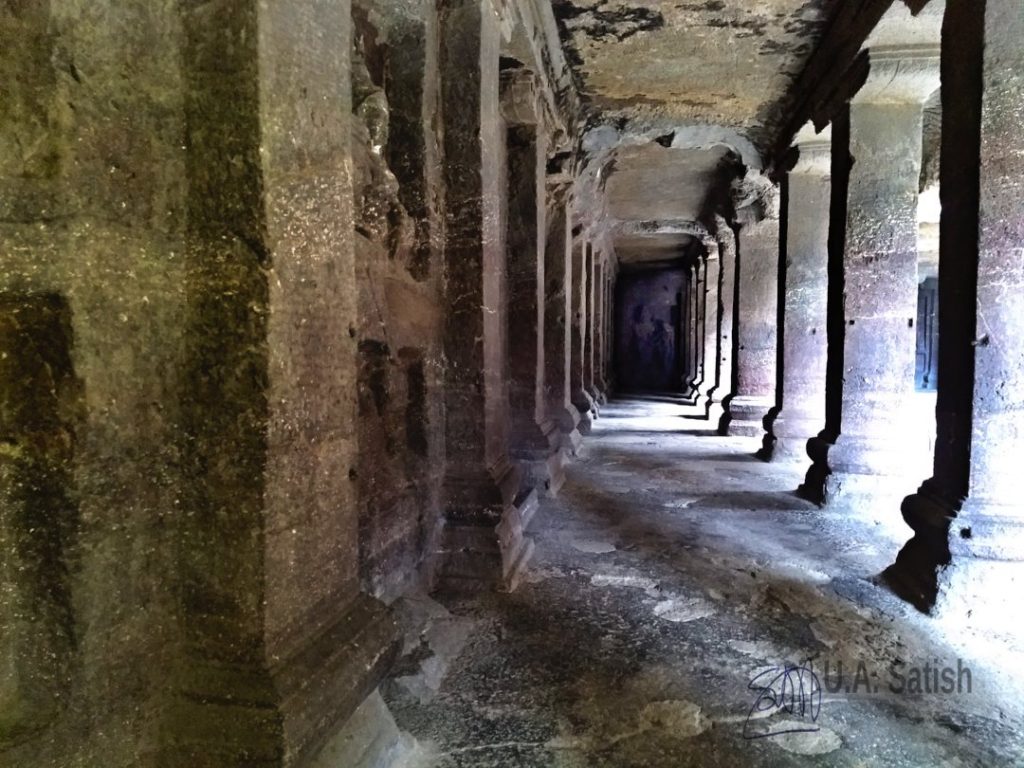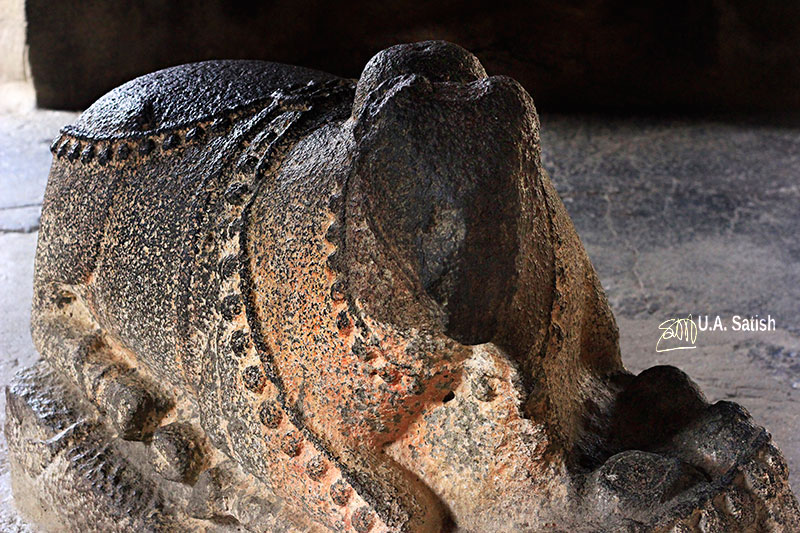 A sculpture of the sacred bull Nandi paying obeisance to Lord Shiva is in the centre of the temple.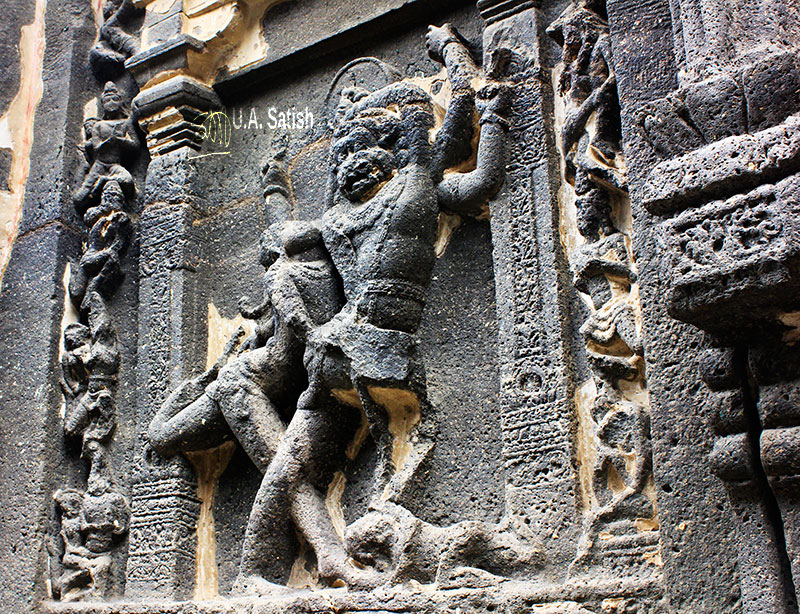 The sculpture shows Narasimha, tearing out the entrails of his enemy.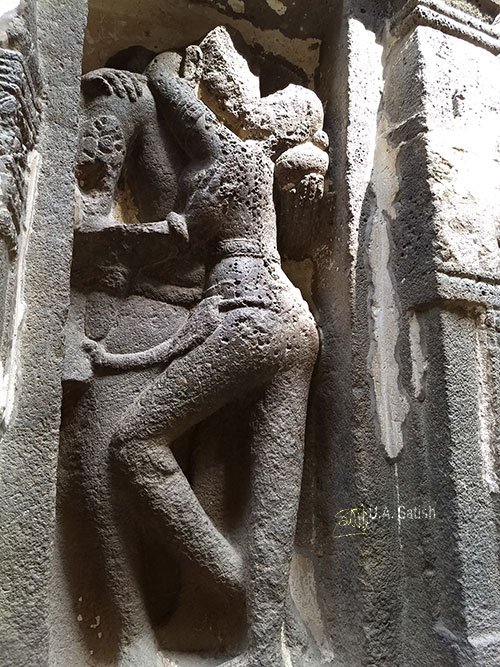 There are a few erotic sculptures on the outer walls of the temple.
If you liked the post, you could…
Read more stories and get updates on my Facebook page.
Subscribe to the free and informative e-newsletter.
Related posts: