It is a beautiful clock. It has a solid look with intricate designs around it. It is placed in a large open area, at one end of a sculpture gallery. The area is full of natural light.
You can also see my previous post, Top 5 Attractions in Paris.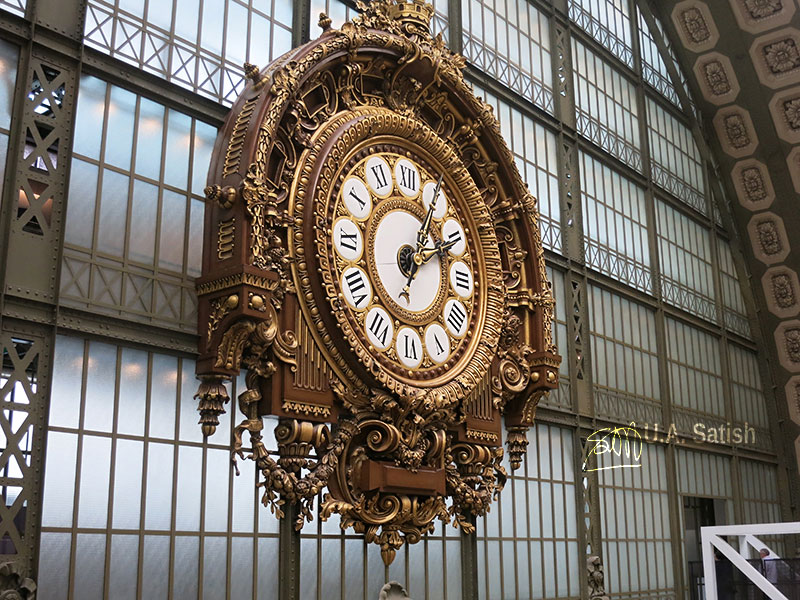 Location
The clock is in Museum d'Orsay which is is on the left bank of River Seine in Paris. The museum was originally built as a train station and was opened in 1900. It served as a train station till the 1970s, and then re-opened as a museum in 1986. The clock is in the ground floor of the building – a large open zone with sculptures and rooms around it.
Across the river is the Louvre Museum, a short walk of 12 minutes. You will be able to see it on Google Maps. Museum d'Orsay is smaller than the Louvre but you will still need many hours to see it all. It houses major works by Cezanne, Monet, Van Gogh, Renoir and Gauguin. There is a big pool of sculptures too.
Technical Info
The camera is Canon PowerShot S110. The aperture was f/3.5 at an exposure time of 1/80 sec. ISO was set to 400 and flash was not employed.
If you should wish to download my photos for any commercial or personal application, please contact me at ua.satish@uasatish.com.