It was a spectacular scene. The big river was lined on one side with palm trees. The trees were leaning over the river so as to catch the sunlight. The water below had taken on a greenish colour due to the greenery. The sky was partly cloudy and the sunlight mellow. I composed the photo with the coconut trees taking up left side of the frame.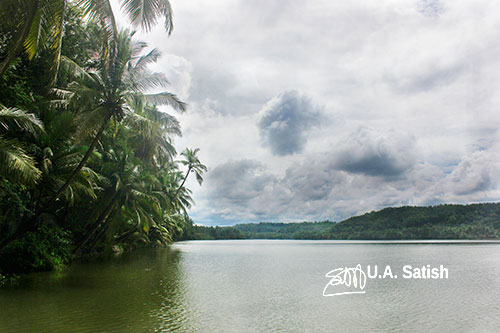 Location
Kariyankode River flows by Cheruvathur town in Malabar. There are two bridges spanning the river – one for trains and the other for road transport. The river can be seen while travelling between Kannur and Kasargod in Kerala.
Technical Data
I used my Canon EOS 550D camera in aperture priority mode. Although the sky was partly cloudy, the light was good. I was therefore able to employ a shutter speed of 1/1600 sec. Aperture was f/8.0. Exposure bias was -2 EV.