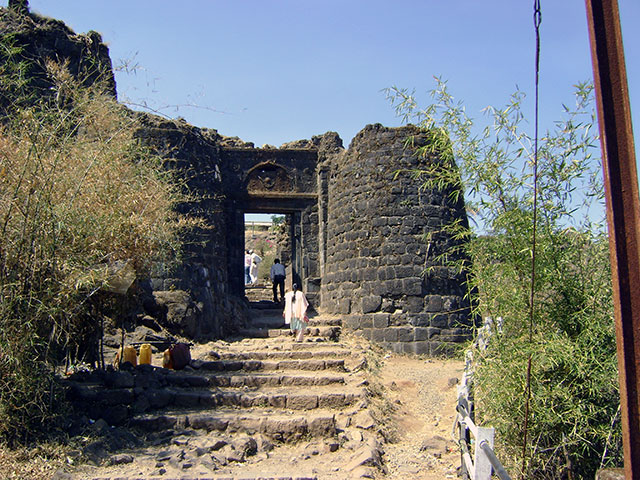 Sinhagad Fort is thirty kilometres to the southwest of Pune.  It is at an altitude of 1312 metres. It was one of the top military outposts during the reign of Chhatrapati Shivaji Maharaj.  The climb takes about two hours. You can spend one to four hours in the fort, depending on your interests and the weather.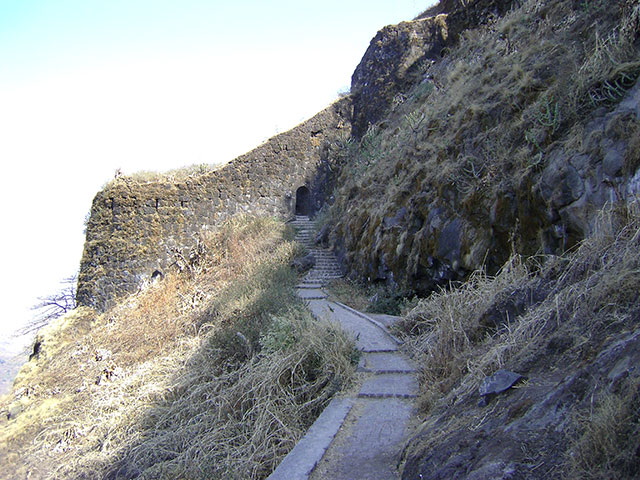 People from the surrounding areas like to visit the fort during the rainy season. There is a lot of greenery all around at that time and the weather is pleasant. However it can get hot in summer.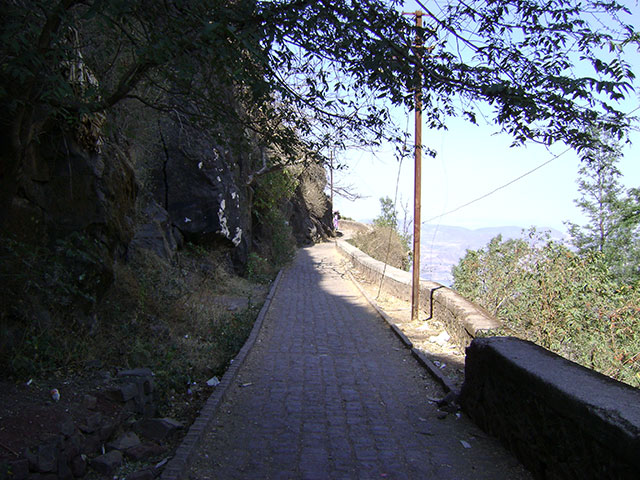 Lay-Out of Sinhagad Fort
The fort has huge walls, bastions  and steep slopes. There are only two gates to enter the fort, the Kalyan Darwaza and Pune Darwaza. Parts of the once extensive fortifications are now in ruins. It is a popular weekend destination for the residents of Pune.
At the top, the air is refreshing and .pollution-free. If you walk around the fort, you can catch wonderful views of the valleys below. From Sinhagad Fort, you can see Panshet, Khadakwasla and Varasgaon dams as well as Torana Fort.
You will find traditional Maharashtrian food on top:  Pithala Bhakari, Kanda Bhaji and curd. The gentleman in the photo above was the host for our rustic lunch.
Notable Battle in Sinhagad Fort
The most notable battle for Sinhgad was fought in 1671. Tanaji Malusare, one of Shivaji's trusted generals, led his army in the fight to  recapture the fort. After a fierce battle, the fort was captured from the Mughals who had occupied the fort at that time. Unfortunately, Tanaji Malusare had to bravely lay down his life in the battle.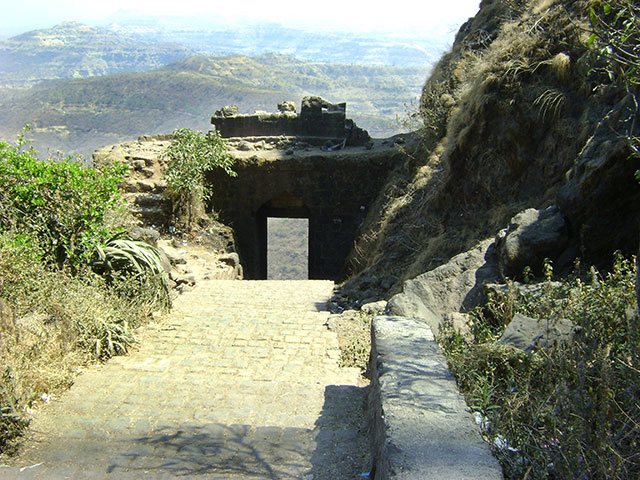 On top of the fort, there are a few open water tanks, ammo house and parts of the old fortification. You can walk all the way to the other end of the fort, which presents some scenic mountains of the Sahyadri range (an area dotted with forts). If the visibility is good, one can catch a glimpse Raigad which was the capital of Shivaji.
Avoid visiting the fort on weekends which tend to get crowded. Best time to visit would probably be in the mornings before the sun climbs overhead. There are no decent washrooms here which can be an irritant. Finally, remember to not lean against the railings which are obviously not in good condition.
If you liked the post, you could…
Join more than 5,000 fans of UASATISH by liking us on Facebook, or follow us on Twitter and Instagram
Related posts: