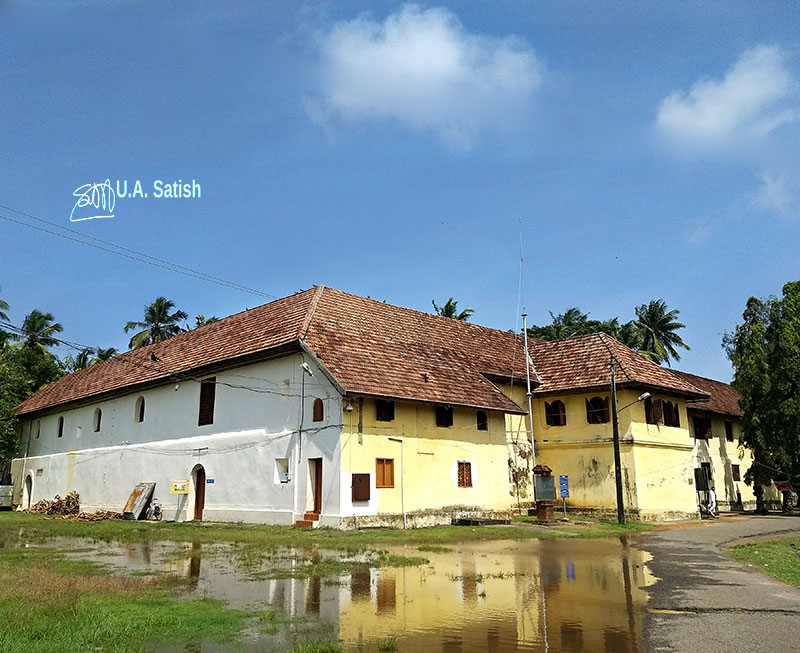 Mattancherry Palace was the residence of the Cochin royal family for 200 years. The Portuguese built the palace in 1555. From Ernakulam South railway station, it is 10 km. The palace is now a museum since 1985.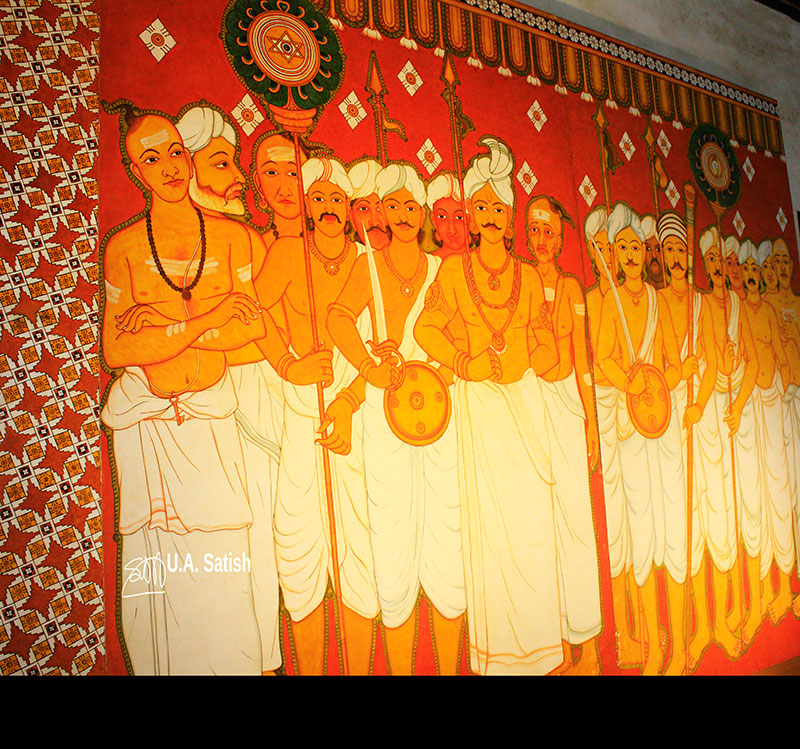 History of Mattancherry Palace

Vasco da Gama, Portuguese explorer, landed in Kappad, Kerala in 1498. The Portuguese Admiral Pedro Cabral visited Kochi in 1500 and the Raja of Kochi gave him permission to carry out trading activities. This was after he signed a friendship treaty with Portugal. In 1503, Alphonso de Albuquerque was given permission by the Raja to build a fort at the mouth of the river. They named it Fort Manuel. The area around the fort is Fort Kochi.
The Portuguese built the palace in 1555 and gifted it to the King of Cochin. They might have done it to gain trade privileges. The Portuguese defended Kochi against several attacks by the Zamorins of Calicut.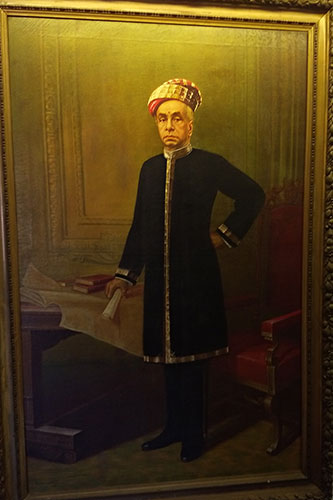 The Dutch wrested power from the Portuguese in 1663. They carried out many renovations and extensions pf the palace. Thereafter the palace came to be known also as the Dutch Palace.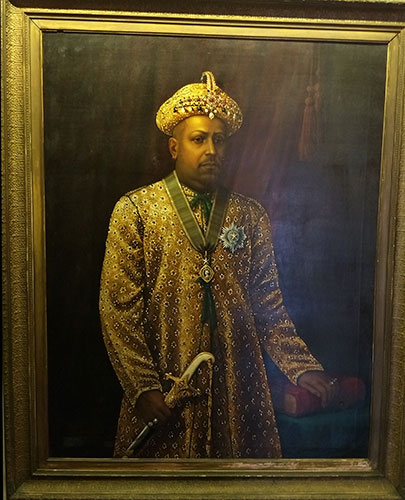 Palace Architecture
Construction of the palace is in the traditional nalukettu style of Kerala architecture, with a courtyard in the middle. The courtyard has a shrine of Pazhayannur Bhagavathi, the family deity of the royal family. The palace has European influences in its arches and generous proportions.
The palace is in two floors, with the lower floor closed to visitors. A steep flight of stairs leads to the upper floor.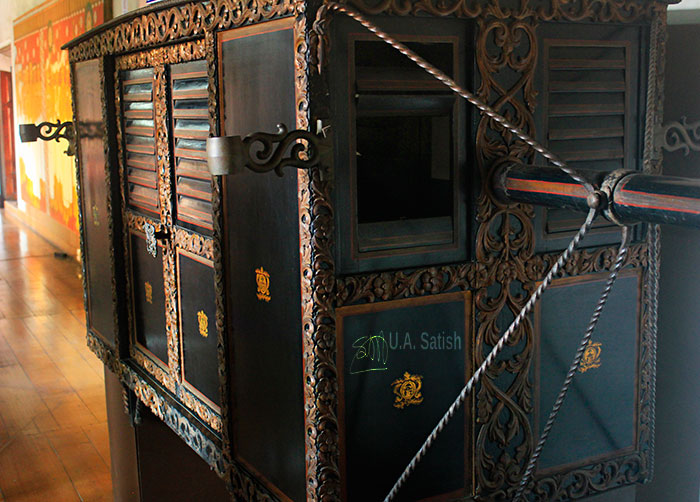 Beautiful Murals
Murals cover the walls in 3 or 4 rooms. The paintings may date back to the sixteenth century. Scenes from Ramayana and Mahabharata appear on the murals. The artists have also shown events from Kalidasa's masterpiece in Sanskrit, Kumarasambhava. The museum does not allow the murals to be photographed. Visitors can photograph other exhibits, without the use of flash.
Other Exhibits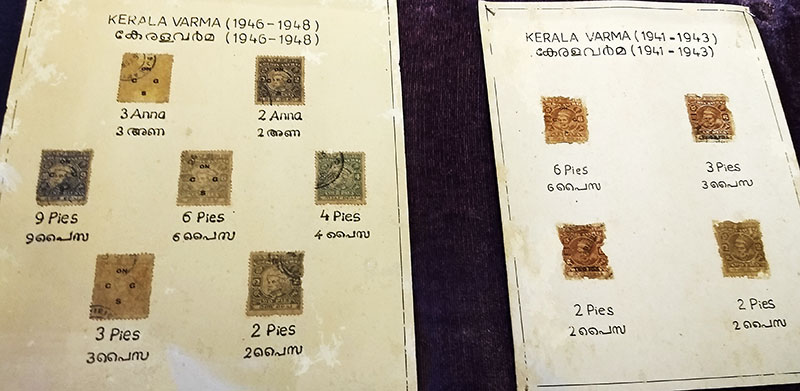 Mattancherry Palace has on display old Cochin Anchal stamps. I have shown here some of them whichh are of 1941-48 vintage.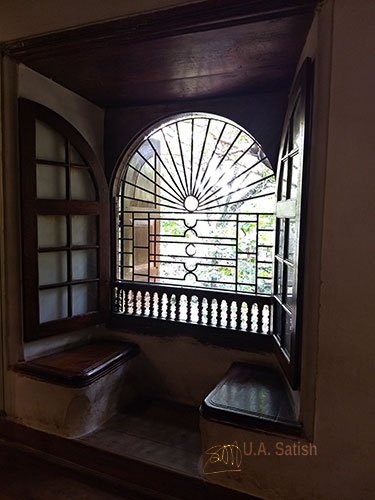 The Dutch extensively surveyed the coastal areas of Kerala, particularly of Cochin. The Dutch Archival Library in Netherlands has the maps. Some of the maps are among the exhibits at the museum.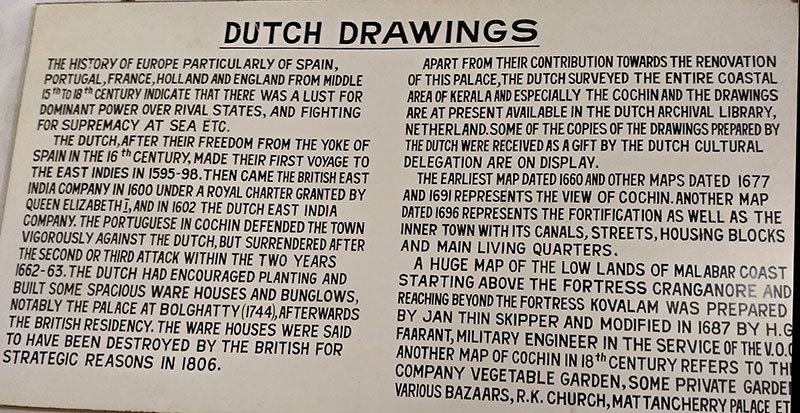 The big Coronation Hall has life-size paintings of Cochin Rajas from 1864 onwards. I have shown here images of Maharajas Kerala Varma and Rama Varma Shakthan Thampuran.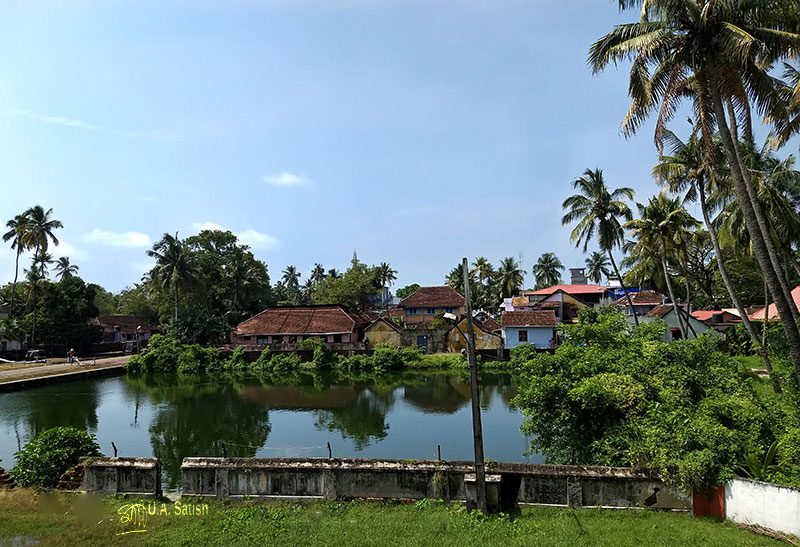 Also on show are a few palanquins which the Cochin rulers had used. The ceremonial palamquin has inlays of gems and ivory.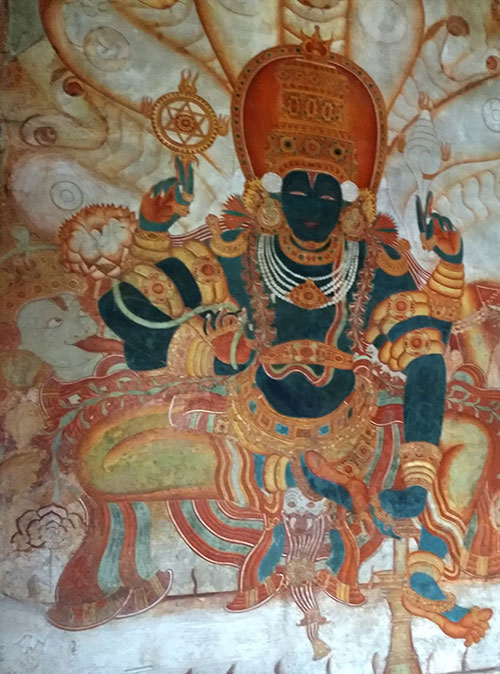 Read also: Cultural Melange of Fort Kochi.
Post your comments in the box below. Use the Contact Form to get in touch with me.