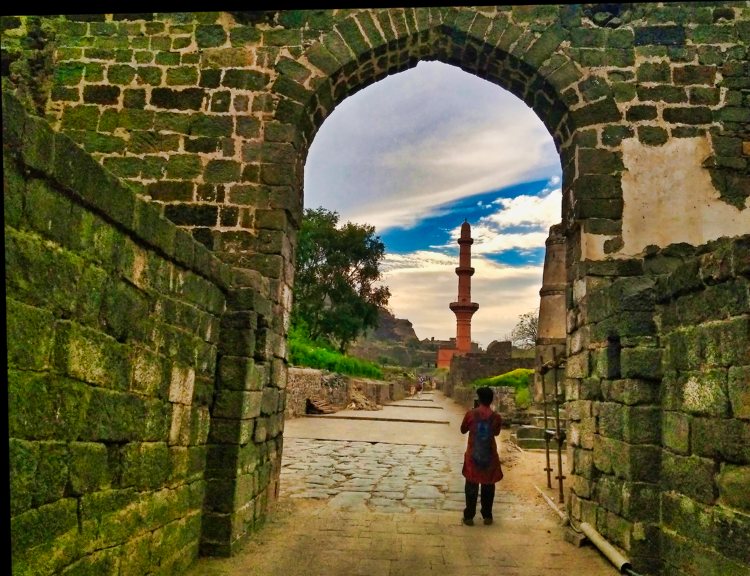 History of Daulatabad Fort
Raja Bhillamraj Yadav of the Yadava Kingdom founded the town of Daulatabad in the year 1187. At that time, it was known as Devgiri. Later Muhammad ibn Tughluq  captured the town of Devgiri along with the fort. He changed the name of Devgiri to Daulatabad. He in 1327 famously shifted his capital from Delhi to Daulatabad. Within two years Muhammad ibnTughluq abandoned Daulatabad and went back to Delhi. The spread of the Urdu language in the Deccan may be traced to the extensive influx of Muslims.
In the following years, the Bahamani rulers, Nizam Shahis of Ahmednagar, Marathas and the Mughals took control of Daulatabad Fort at various times.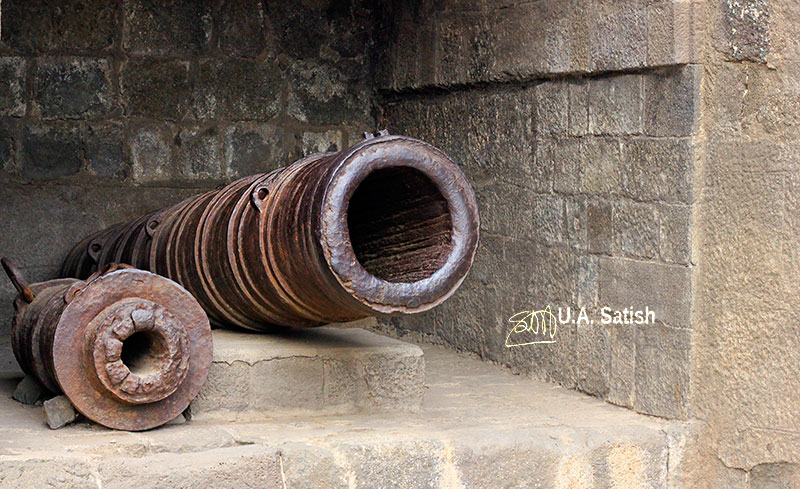 Cannons in Daulatabad Fort
Visitors can see a large variety of cannons in Daulatabad Fort. Cannons use gunpowder (saltpetre mixed with charcoal and sulphur) for firing. Most of the Indian cannons were made of bronze.The range stretched from 1 km to 3.5 km.
The cannons near the entrance gate of the fort represent many types of guns. You will find other cannons in the bastions and circular towers of the fort. 
Construction of the Fort
The only way to reach the top of the fort is to walk. You have to climb 750 steps and this can consume 1 to 3 hours. The sole route to the summit has a narrow bridge where just two persons can walk abreast.. There are a few dark passages along the way and a torch will come in useful.
The fort gates have spikes on them. This was to stop elephant attacks on the gates.
Monuments
Chand Minar is a 210 foot tower which resembles the Char Minar in Delhi. Ala-ud-din Bahmani built it in the 15th century to mark his capture of the fort. Beautiful Persian tiles originally covered it. Chand Minar is one of the finest specimens of Indo-Islamic architecture in India. It is partitioned into four storeys and 24 chambers. A small mosque sits at the base of the tower. The tower has certain indigenous Indian architectural features such as the brackets supporting its balconies. The tower's height makes it visible from all parts of Daulatabad Fort
Chini Mahal is the ruins of a once beautiful building. It is located on the lower side of the fort and this is where King of Golconda was imprisoned by Aurangzeb.
Getting There
Daulatabad Fort is 17 km from Aurangabad. The fort is open from 9:00 am to 6:00 pm on all days of the week. The entry fee is Rs. 10 per person for Indian nationals and Rs 100 per person for foreign nationals. Ellora Caves is 12.7 km (18 min) from the fort.
There are two stepwells within the fort. Bharat Mata Mandir is of recent origin.
If you liked the post, you could…
Join more than 5,000 fans of UASATISH by liking us on Facebook, or follow us on Twitter and Instagram.
Related posts: