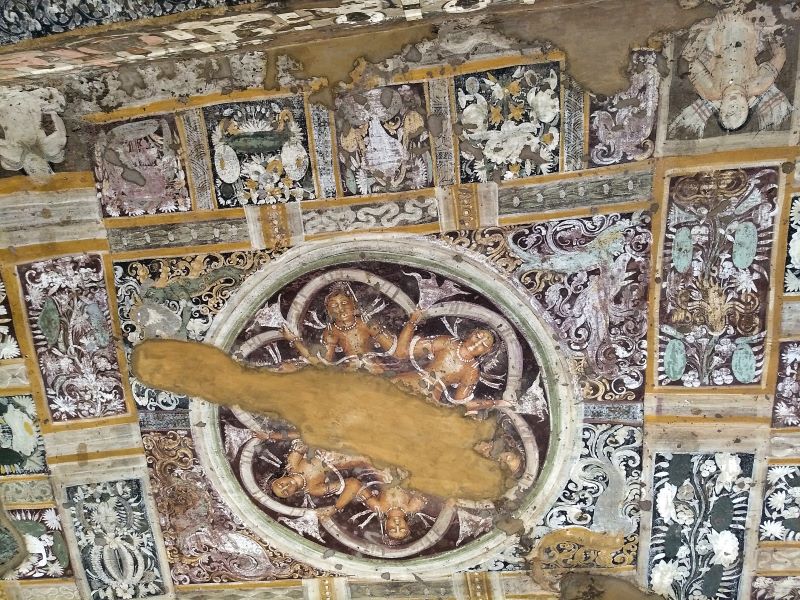 Ajanta Cave 17 is full of paintings depicting Jataka tales. The tales originated in India and narrate stories from Buddha's previous lives. The paintings are more than 1,500 years old and in a better condition than in other Ajanta caves.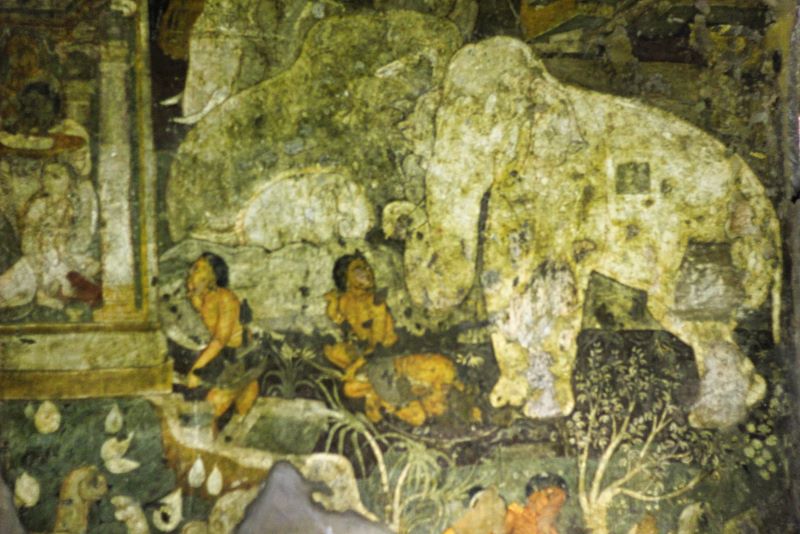 Architecture
Ajanta Cave 17 has a colonnaded portico with paintings on the wall and ceiling. The cave features a large central Vihara with pillars on the sides. There is a shrine at end of the hall. Large windows and doors let in light.
Small dormitory cells are cut into the walls. Extensive carvings and sculptures of gods and goddesses are integrated into the structure. The walls and ceiling are full of beautiful and well-preserved paintings depicting Jataka Tales.
Stories of Jataka
Jataka Tales originated in India and pertain to the previous births of Gautama Buddha. These are among the earliest Buddhist literature, dating to 4th century BC. The literature describes early incarnations of Buddha in human or animal form.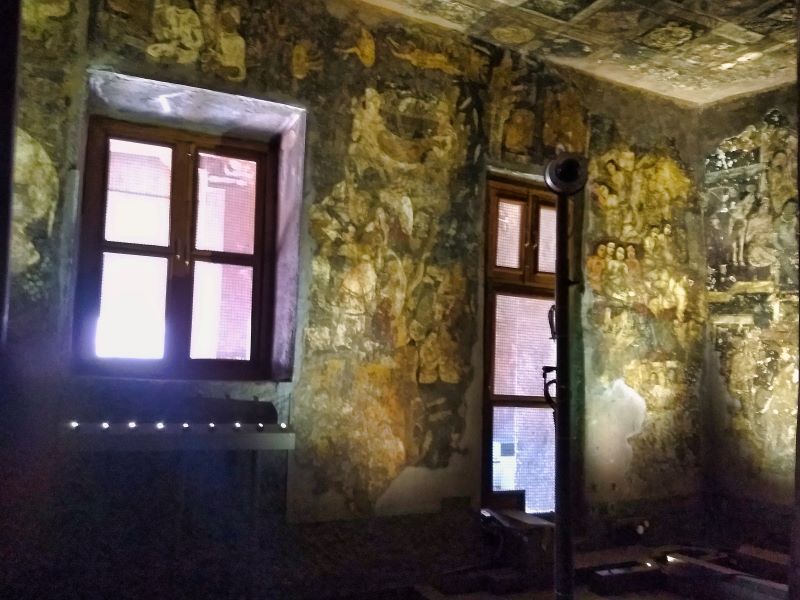 Jataka tales are the forerunners to the various celebrated biographies of Buddha. They have been translated into many languages from the original Sanskrit.
History of Ajanta Cave 17
An inscription on the wall of the courtyard records that a prince under Vakataka King Harisena (460-477 A.D.) excavated the cave. Although the caves in Ajanta are more than 2,200 years old, Harisena commissioned and developed most of them during his reign. The most beautiful caves were created during the seventeen years. Wealthy patrons abandoned construction activities after the death of Harisena on 31 December 477.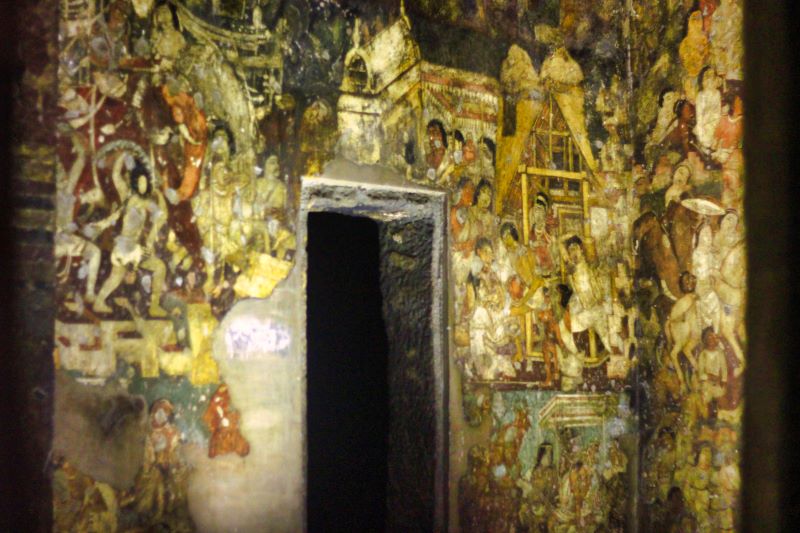 The caves later fell into disuse. A British army officer of Madras Regiment re-discovered the caves in 1819. Madras Regiment is the oldest infantry regiment of the Indian Army, formed in the 1750s. The caves became famous for its exceptional architecture as well as paintings over the next few decades.
Paintings in Ajanta Cave 17
The paintings in Ajanta Cave 17 by and large depict the Jataka tales. The cave has 30 major murals. The paintings illustrate Buddha in different forms and postures.
The frescoes portray many tales. They cover themes as diverse as a shipwreck, a princess applying makeup, lovers in scenes of dalliance and a wine drinking scene of an amorous couple.
Some paintings have fasinating three-dimensional effects. The same painting when viewed from a different angle appears dissimilar.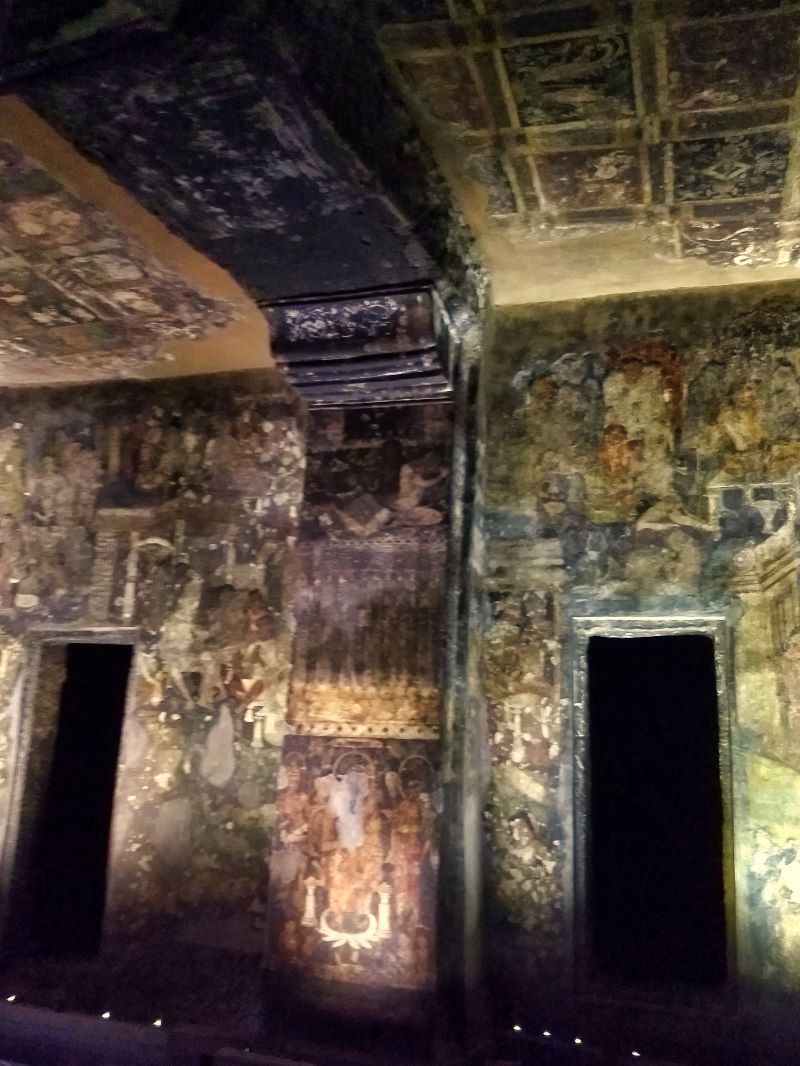 If you liked the post, you could…
Join more than 5,000 fans of UASATISH by liking us on Facebook, or follow us on Twitter and Instagram.
Related posts: