Church of Immaculate Conception overlooks the town square in Panjim. The colonial Portuguese style church has a history going back to 1541. It is one of the largest in Goa. Mass is conducted daily in English, Konkani and Portuguese.
Location of the Church
Church of Immaculate Conception is on top of a hill in Panjim. Zig-zag stairs go up to the top. You can see Panjim Municipal Garden from the church. River Mandovi flows nearby. There are a number of restaurants and shops in the locality.
History
The Portuguese first built a chapel at the site in 1541. It used to serve the religious needs of sailors from Lisbon. The balance of power slowly started to shift from Old Goa to Panjim. Inevitably, the present day church replaced the chapel in 1609. Addition of the  large bell  in the bell tower was in 1871.
Church Architecture
Exterior of the church is pristine white to symbolise the immaculate Virgin Mary. The front facade has three stories. A large church bell occupies the bell tower in the middle. There are two smaller bell towers on either side.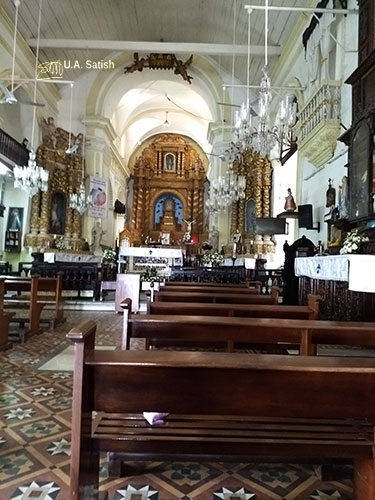 The interior of the church has a simple design.  Mother Mary occupies the main altar. The two altars on either side are assigned to Jesus's Crucifixion and Our Lady of the Rosary. There are marble statues of St. Paul and St. Peter on the sides.
If you have a question, please use the Contact Form to get in touch with me.