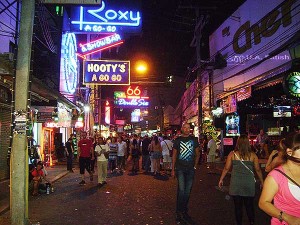 Walking Street is a famous and vibrant part of Pattaya, Thailand. It runs from the south end of Beach Road to the Bali Hai Pier, and there are entrance arches at either end. The street is traffic-free at night from 6:00 pm to 2 am, and car parking is at the Bali Hai end.  The street is also known for the large amount of glowing coloured neon signs which illuminate the street at night.
The area includes seafood restaurants, live music venues, beer bars,discos, sports bars, go-go bars, cabarets and night clubs. A variety of foods from seafood to western foods can be found amongst the selection of restaurants on Walking Street. It is illuminated at night by many coloured neon lights. The closing time of 2:00 am has been extended for many entertainment establishments.
Walking street does not only cater for the thrill seeker. Quieter and more family orientated bars, shops, shows and restaurants can be found. A number of top class tailors, jewellery and cloth shops are available for those wanting to take home souvenirs or treat newly found friends.
Facebook Comments