Mangalore is famous for its seafood. Kingfish, Lady fish, bangda (mackerel), Pomfret, prawns and crabs are all part of the fare. The fish is usually eaten with boiled rice (jada rice, rice that has been boiled in the husk). So when I recently chose to have seafood for dinner, I clicked a photo. The fish is Surmai (Kingfish), masala fried.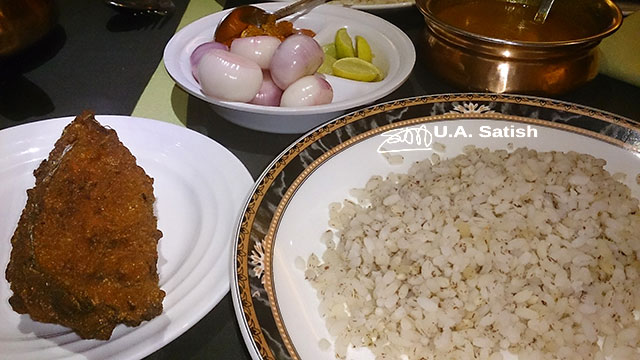 Location
Fountain Inn is a well-known restaurant in Mumbai. It is a two-minute walk from Flora Fountain in South Bombay. See my review of Fountain Inn on Tripadvisor.
Camera
I used my Sony Xperia ZR smartphone to shoot the photo. Shutter speed was 1/50 sec. at a focal length of 4.1 mm. Aperture value was f/2.4. Flash was fired.