Cathedral of the Holy Name is a Roman Catholic church in Colaba. It has been functioning as the Archbishop's seat and mother church of the Archdiocese of Bombay. The cathedral is on Wodehouse Road, opposite YMCA. Public worship started in January 1905. It attained the status of a cathedral in March 1964. In 1998, the church was declared a heritage building.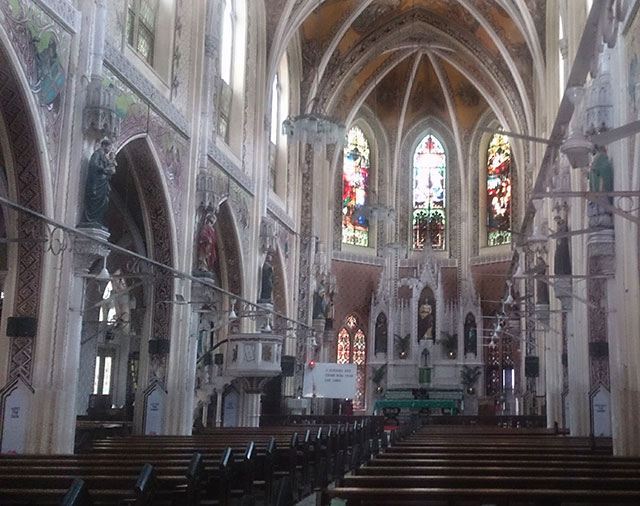 Interior of Cathedral of the Holy Name
On entering through the massive carved doors, the  marble main altar catches the eye. The central niche holds a life-size statue of Jesus Christ. The three stained glass windows above depict the Annuncation, the emblem of the Holy Name of Jesus, and the Nativity.  During World War II, church authorities deposited the windows in a safe place.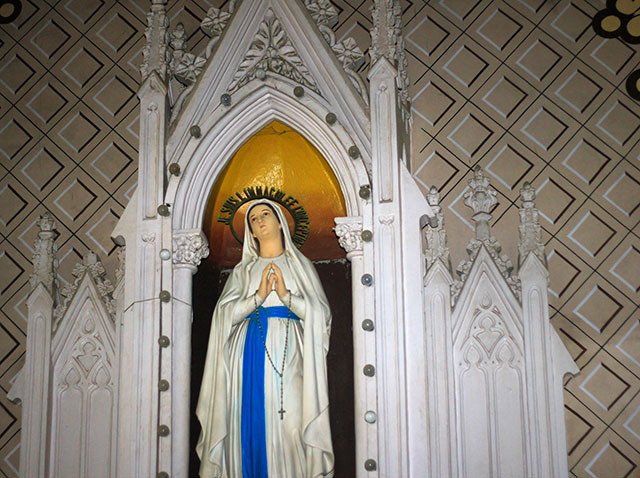 This beautiful sculpture of Virgin Mary is on one side of the main altar. Frescoes cover the ceiling and walls.  A. Moscheni of Bergamo and his two assistants completed the frescoes in just over a year.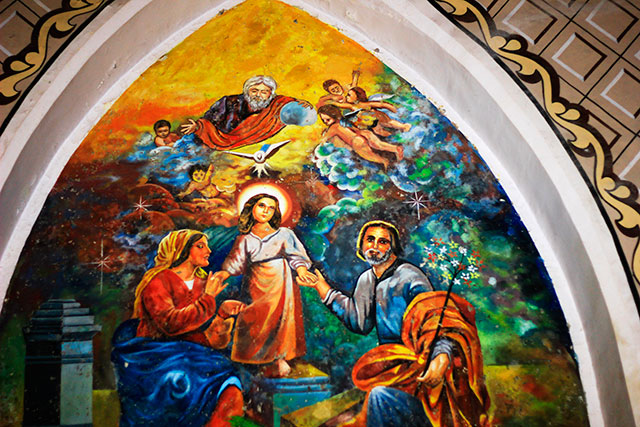 Archbishop's House, Cathedral House and Fort Convent surround the Cathedral of the Holy Name. The architect was Walter Chambers and the architectural style is Gothic.
Art of Fresco
Fresco is a technique of mural painting. The artist applies paint directly on freshly laid lime plaster. The paint permeates the plaster. Once the plaster settles, the painting merges with the wall. The word fresco is derived from the Italian word affresco meaning fresh.
The wet plaster absorbs the pigment after a few hours. The use of shades of ochre distemper creates the effect of gold and bronze. The paintings use natural pigments.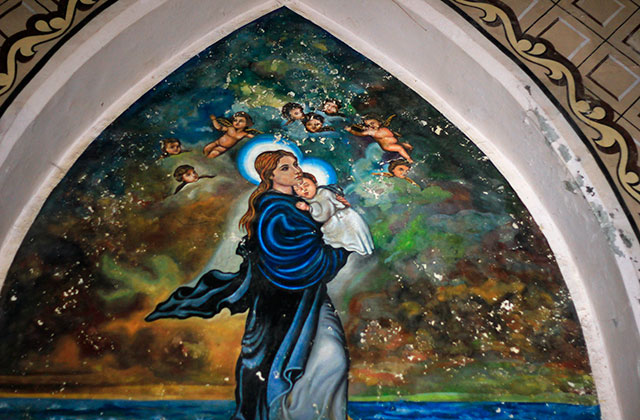 The frescoes and geometrical designs on the walls have retained their beauty is spite of the passage of time. But heavy monsoons have taken their toll on the roof and walls. Restoration work was undertaken in 2004.
The elaborate windows use Munich glass. Geometric designs surround them.
You will notice several gravestones on the walls and floor of the Cathedral. Archbishop Theodoro Dalhoff and Cardinal Valerian Gracias both have their final resting places here.
Exterior
The exterior has two towers which hold the belfries surmounted by octagonal spires. The main roof and spires are capped with Mangalore tiles. The spires are 130 feet tall above street level.
I hope you have enjoyed reading about my visit to the cathedral. Join me on Facebook, Instagram and Flickr.