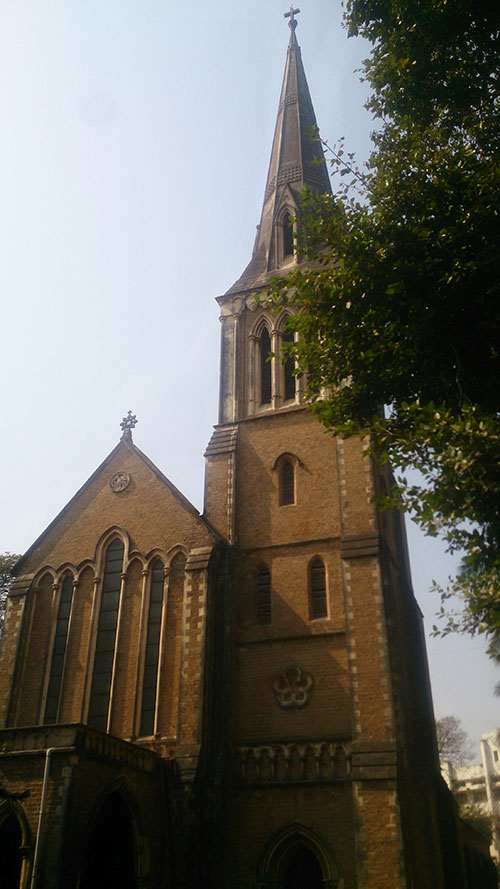 Afghan Church stands in Duxbury Lane, Colaba. The church was built in memory of the British troops who fell in the first Afghan War (1838-42). It is also known as The Church of St John the Evangelist. Work began in 1847 and the church was consecrated in 1858. The 60-metre tall bell tower exists from 1865.
Location of Afghan Church
The church is 3.8 km from Churchgate station. Taxi fare will be about Rs. 60. Alternatively, BEST bus no. 123 will take you to the church. Holy Communion Service begins at 8:30 am on all Sundays. It is a Prebysterian church.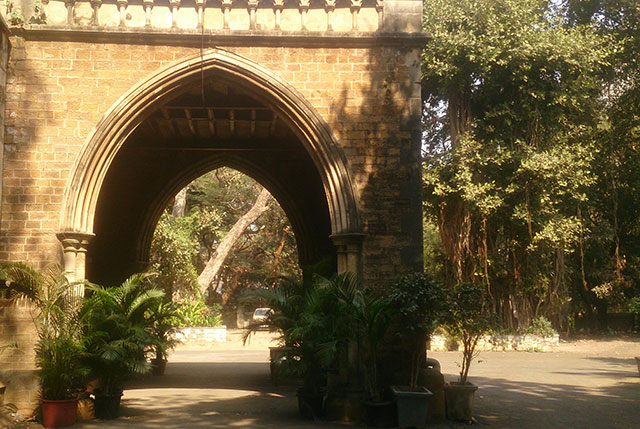 The monument looks grand although the grounds and gardens seemed rather forlorn.  I found the main doors shut. The caretaker lives in a cabin in the same compound. He came and opened the doors for me.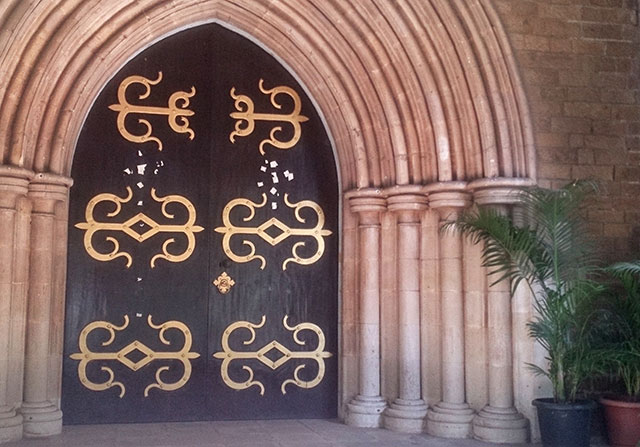 The main door was impressive and still functions well. But it obviously had seen better days.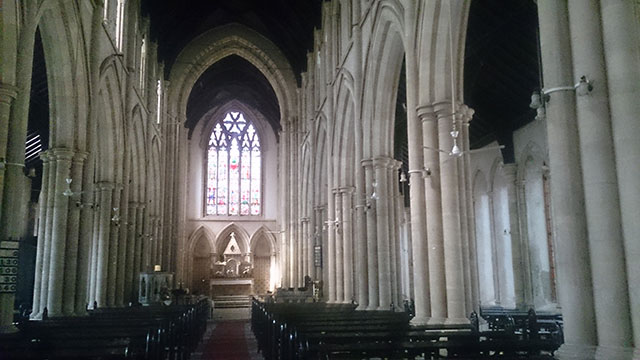 The Interior
Inside the church, you first notice the five large stained glass panels above the altar. These panels are in the chancel arch which is at a height of about 50 ft. Soaring Gothic arches support the high ceiling. The roof is varnished teak wood. The rows of wooden benches are from mid nineteenth century.
The walls on both sides hold memorials to the soldiers who fell in the First Afghan War. The architectural style of the church is a forerunner to the Gothic structures in South Bombay such as Mumbai CST and the High Court.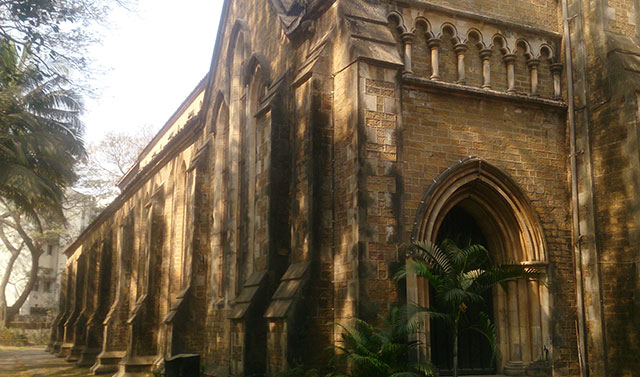 Architecture
The architects were Henry Conybeare and Henry Butterfield. They are responsible for the Gothic look of the Church. It perhaps is the first Gothic Church in India.
The architects have used Kurla stone in the walls and Porbunder stone in the arches and pillars. The floor tiles were imported from England.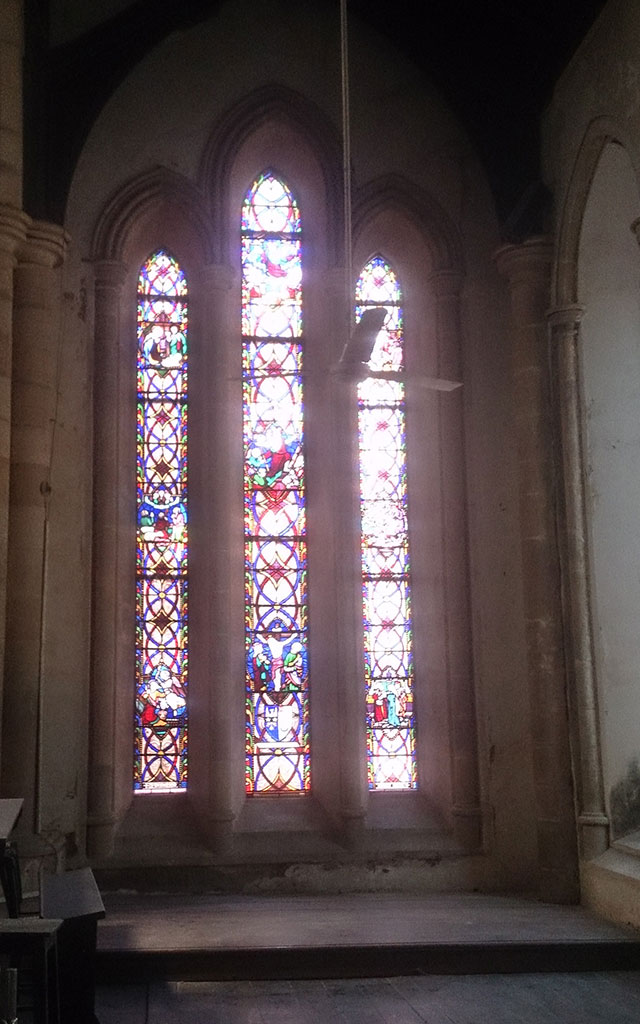 On my way out, I  observed three more stained glass panels just above the entrance to the church. Visitors will observe, above the entrance, memorials of officers who fell in the Second Afghan War (1878-80). 
Memorial to British Soldiers
The officers and privates of H.M. 45th Regiment erected the cross on the grounds.  The plaque says that the memorial commemorates the soldiers who died in Neemuch and Colaba during 1865-66.
You may have wondered why the British raised the monument in Bombay and not England. The explanation is that many of the soldiers who died in Afghanistan came from the East India Company's Bombay Army. The Prince of Wales and the Duchess of Cornwall attended a Remembrance Sunday Service at the church on 10 November 2013.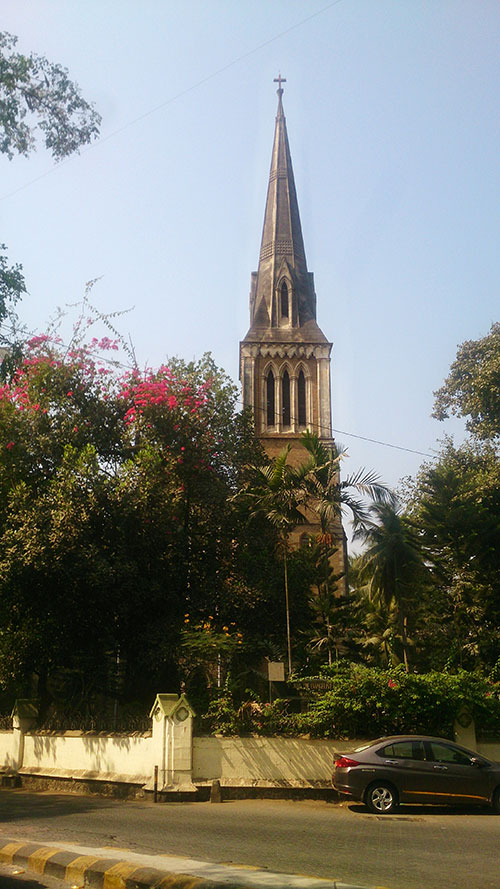 The tall spire served as a landmark for ships at the harbour. Sailors could view it from quite a distance.
I hope you have enjoyed reading about my experiences of Afghan Church. Join me on Facebook, Instagram and Flickr.