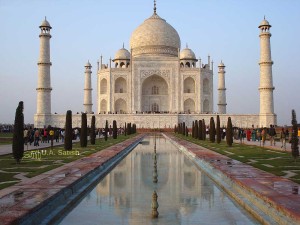 Taj Mahal is a mausoleum  built by Mughal emperor Shah Jehan in memory of his beloved begum, Mumtaz Mahal. It is one of the seven wonders of the world.
I shot this image of Taj Mahal when the sun was close to the horizon. The slanting rays of sun cast a touch of pink to left of the dome and minarets.
Many tourists visit Taj Mahal and crowds throng the area. The walkways are on both sides and I was able to avoid people showing up on the photo by positioning myself in the middle of the grounds.