Greetings on Diwali!
I was in Kerala last month and visited Soochippara Falls. It is 23.5 km from Kalpetta, a 46 min drive . The road passes through beautifully manicured tea gardens. The tea gardens line both sides of the road amid rolling hills. Nearest railway station and airport is Kozhikode.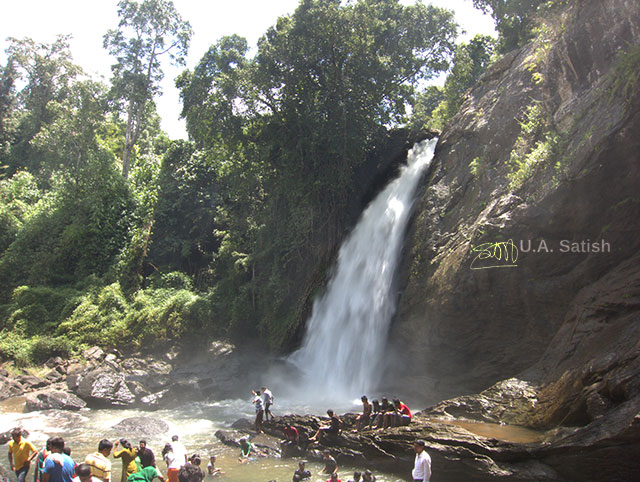 Entry to the falls is not allowed during monsoon season. There is an entry fee of Rs. 30 per person. Plastic items are not allowed inside. Must be prepared for leech bites. One has to trek about 2 km through the forest. The path has ups and downs. There are steep steps to climb too. The walk can be tiring. Incidentally, I did not see any medical facility in the area.
The waterfall sends down a heavy column of water.It is dangerous to stand under the falls because the flow of water is very powerful. However, the flow of water is bound to reduce during summer months,
It may take a couple of hours to reach the falls and return to the entry point. So visitors should plan to get to Soochippara before 3 pm as it gets dark very quickly there.
You can see my video on Soochippara Falls on YouTube.
Camera Info
I was carrying my Canon PowerShot S110 camera. I used it in RAW mode. Aperture was f/4.5 at 1/20 sec. ISO speed was 125. Lens was 5-26mm f/2.2-8.