Netherlands is a small country of 17 million people. It is famous for tulip gardens, wooden windmills, cheese, canals, millions of bicycles and fields below sea level. Here are my reflections on this remarkable country and people.
People and Language in Netherlands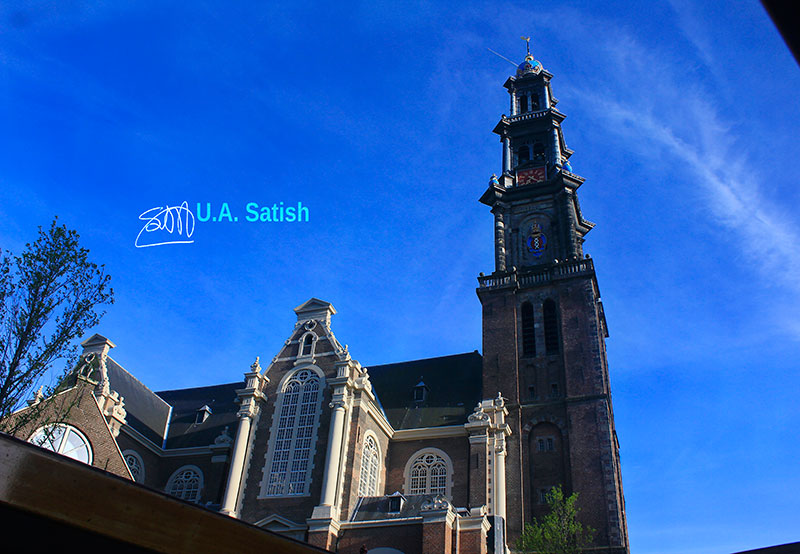 Netherlands is largely a secular country. About forty percent of  the population say that they have no religion. Thirty percent are catholic and 20% are Protestant.
Around one fourth of the land lies below sea level. The Dutch have devised an intricate system of canals to ensure that flood waters drain out. Amsterdam's Schiphol airport is three metres below sea level.
Majority of the population speak English. Dutch is the official language. But there is no need for visitors to learn Dutch. Tourists can get by with English, particularly in hotels, restaurants and airports.
The Dutch are avid cyclists. There are 35,000 km of excellent cycling tracks. The flat terrain makes cycling a popular sport.
Around 60% of the population engage in agriculture and horticulture. A vast majority of the exports of flower bulbs in the world come from Netherlands. These are mostly tulips.
Local Transport
The taxi fare from Amsterdam Schiphol airport to Amsterdam city centre will be upwards of 39 euros. You can also take a train which will cost less. Buy a smart card  for the use of public transport. The validity will be 1 to 7 days.  This gives you unlimited use of trams, buses and metro from 6 a.m. to 12:30 a.m.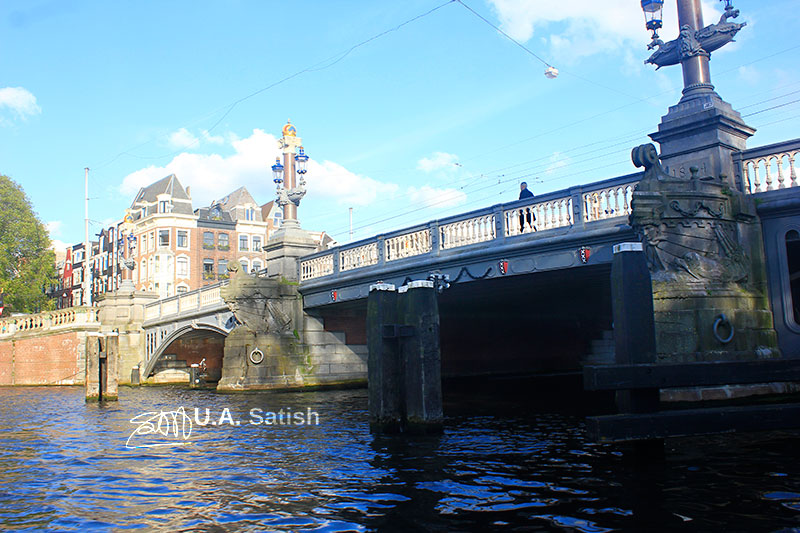 The cities of Amsterdam, Rotterdam, Utrecht and The Hague have trams. Another option is to hire bicycles at a minimum of 9.50 euros per day.
Inter-City Transport
Dutch Railways connects almost all cities and towns in the Netherlands. No seat reservation is possible or necessary. You can buy tickets online at Dutch Railways website www.ns.nl and print them at home. The website accepts Visa and Master Card.
You can buy tickets at the station using the yellow self-service machines. These have touch screens with English language buttons. You can pay with Master Card & Visa or coins. Dutch Railways have switched to using a smart card, OV-Chipkaart. The single use disposable OV-Chipkaart costs an extra €1. Remember to validate the ticket at one of the OV-Chipkaart validators before you enter the platform.
High-speed trains connect major cities of the Netherlands with rest of Europe. Thalys trains link Amsterdam Centraal and Paris Gare du Nord. Travel time is 3hrs 17min. The fare starts from €35 in Standard Class, if booked a few months in advance. I booked my tickets at www.thalys.com.
Eurostar runs direct trains from Lomdon St. Pancras to Amsterdam Centraal in 3hrs 41min. Fares start from €40 one-way in Standard class.
Food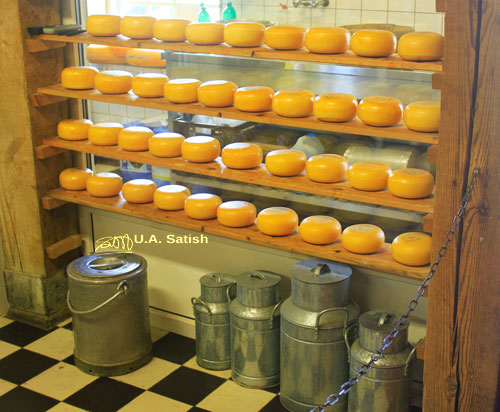 People from many nationalities live in Amsterdam. Pizzerias  can be found in most street corners. Turkish or Arab dishes like kebabs and shawarma are also popular.
The Dutch produce many types of cheese. I found smoked goat cheese very good. Herring from the North Sea is popular and sometimes eaten raw.
Holland is renowned around the world for Stroopwafel, horizontally sliced waffle made from baked batter. They have a checker board pattern and the slices are glued together with Stroop (a type of caramel syrup).
The Netherlands is the second largest exporter of beer, second only to Mexico.
Several Indian restaurants in Amsterdam are sought after by the locals and visitors alike.
Shopping
Dutch Cheese: It may be difficult to choose between Gouda, Edam or Boerenkaas cheese. If you go to a cheese shop, they will be able to help you. If your cheese is vacuum sealed, it will last for a few weeks without refrigeration.
Delft Pottery: Delft Pottery is beautiful and makes a superb gift. But it is fragile and must be handled with care.
Dutch Candy: Pick up a couple of bars of Tony's Chocolonely chocolate. Its unique flavours such as carrot-walnut, popcorn-confetti and cooking pear are well-known.  Consider also buying Dutch licorice (Drop).
Related
Keukenhof Tulip Gardens – World's Biggest Flower Garden
Post comments in the box below. If you have questions, please use the Contact Form to get in touch with me.