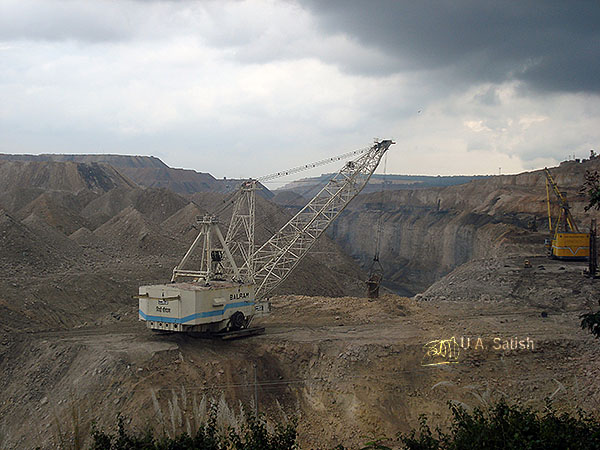 A 'walking drag line' is an excavator where the bucket is dragged by cables, rather than lifted by an arm. This permits the bucket to be much larger than those on shovels. Drag lines, because of their huge size, cannot move with wheels or bulldozer tracks. This one uses eccentric cams for walking. That's why they are called 'walking' drag lines.
Location
Singrauli is a coal mining town in Madhya Pradesh. Nearest airport is 235 km away in Varanasi, UP. Singrauli is the energy capital of India and has four thermal power stations. Five more are under construction.
I happened to see the excavator when I was travelling from Singrauli to Ambikapur in Chattisgarh. Dark clouds hung low in the sky and rains were imminent. But I could take the shot before rains came down.
Camera Info
I shot this one with my Sony DSC-W35 camera. I used a wide angle focal length of 8.2 mm. Aperture was f/3.2 and shutter speed 1/500 sec. ISE speed was 100.