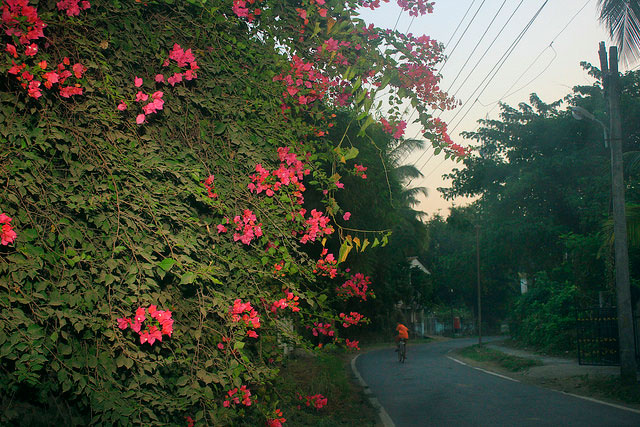 Flowers add a touch of colour to our daily lives and never fail to cheer us up. They make people happier and more helpful. I have put together here a collection of photos from my repertoire.
While I was riding my Honda Activa, I found by the roadside a bunch of Bougainvillea. They take up nearly half of the frame in the photo above.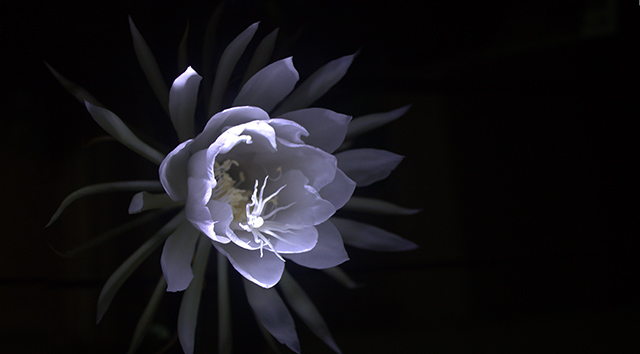 Queen of the Night or Nishagandhi blooms at night. It opens fully by midnight and withers by daybreak. The flowers are exquisite and worth staying up late at night to see in full grandeur.
Bird of Paradise is a gorgeous flower.  I saw this one when I had gone for a morning walk in Ooty, Queen of the Hills.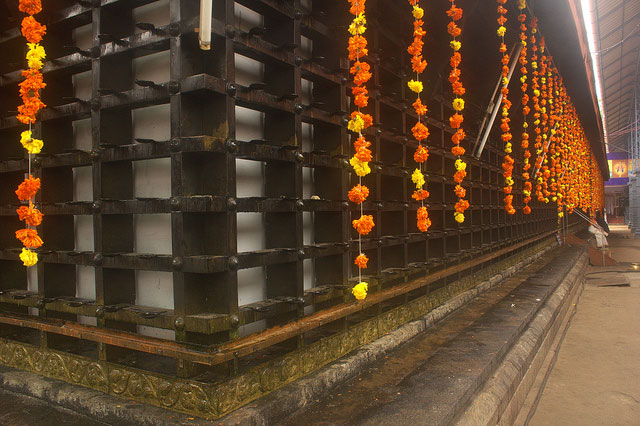 Recently I paid a visit to the Shiva Temple in Ernakulam. The Sreekovil, or sanctum sanctorum, was beautifully decorated all around the sides with flowers.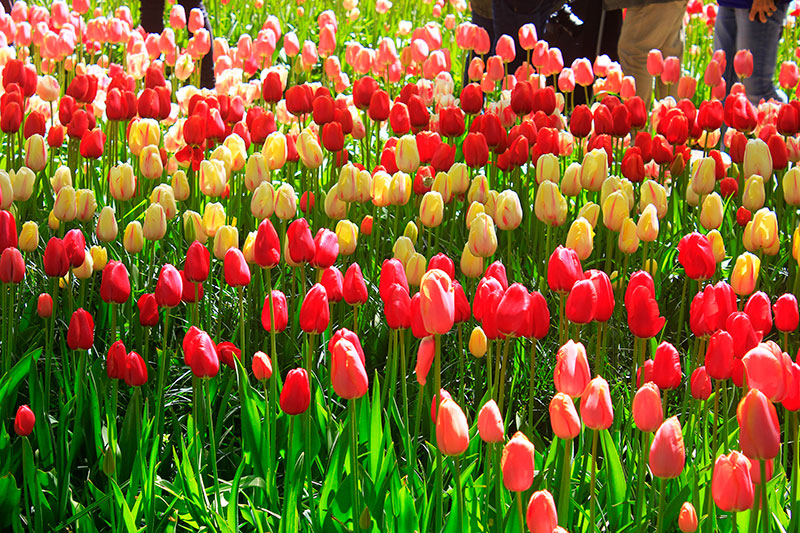 One of the highlights of my visit last year to Amsterdam was the Keukenhof Tulip Gardens in Lisse. The gardens are open in the spring (March to May) and draws visitors from all over the world. The gardens are beautifully designed and a delight to nature lovers.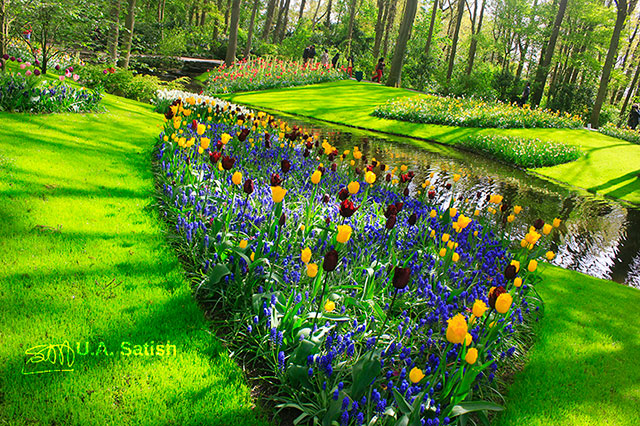 The tulips were in an exhilarating range of colours: white, pink, red, yellow, blue and even black. It takes a few hours to walk around the entire area.
There is a large market for flowers in India where they are mainly used in decorations and for religious purposes.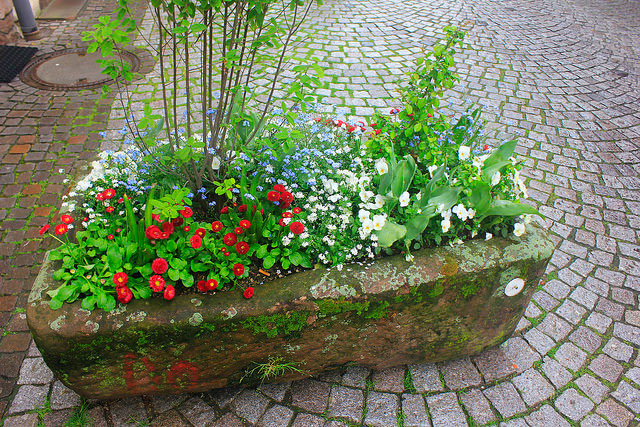 This collection of lovely flowers was seen in Gengenbach, Germany. The stone planter looked strong and attractive.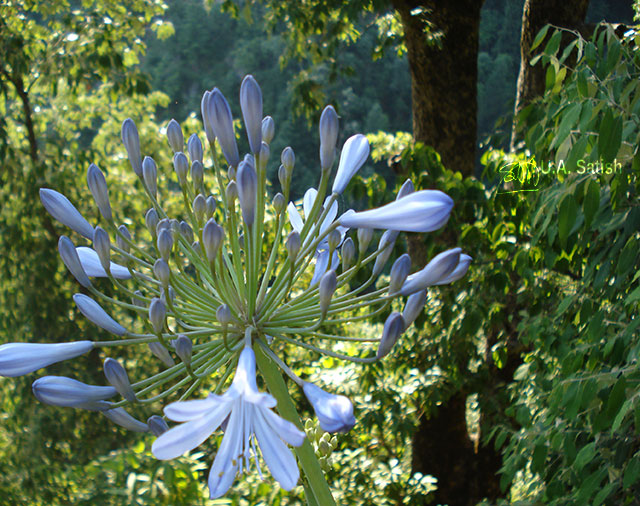 African Lily or Agapanthus is a pretty flower with strong stems and large heads. The blue Agapanthus was captured on camera in Dalhousie, Himachal Pradesh.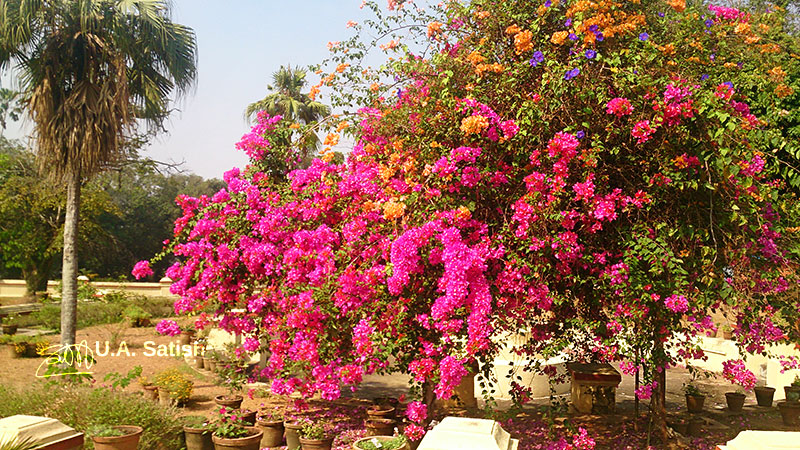 Hill Palace in Tripunithura,  Kerala has a large and well-maintained garden. The big cluster of Bougainvillea made a vivid picture.
The bright flowers in the photo above were found in Lucerne, Switzerland.  The flowers were eye-catching .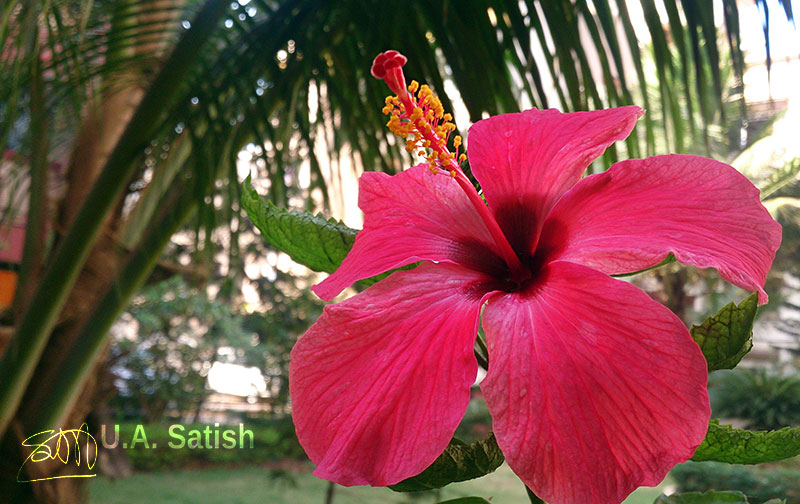 The Hibiscus had an attractive red colour . It was in the shade of a coconut tree. I used my mobile camera to capture the image.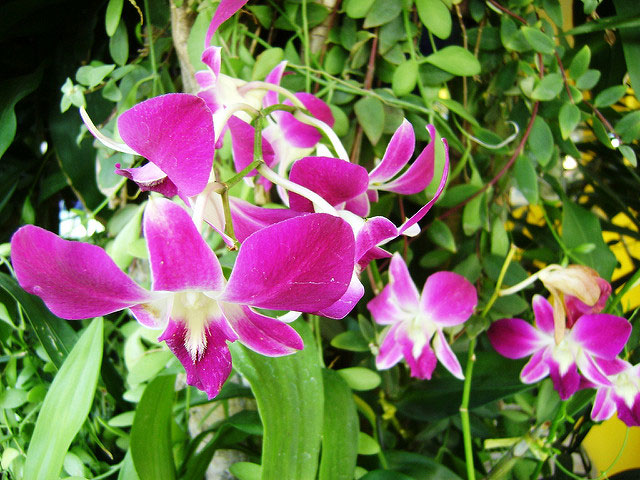 We had stopped at a tiger zoo near Bangkok. The orchids at the entrance caught my attention. The flowers were looking good. I used my point and shoot camera to take the shot.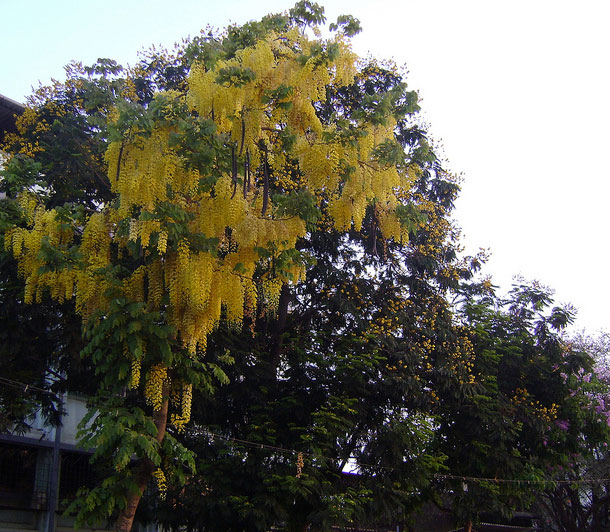 Konnappoo is the state flower of Kerala. It is also the national flower of Thailand. The flowers bloom in the months of March to May. The perfusion of flowers sometimes seem to smother the trees. Konnappoo is offered to Lord Krishna on the occasion of Vishu which falls on new year's day according to the the Malayalam calendar.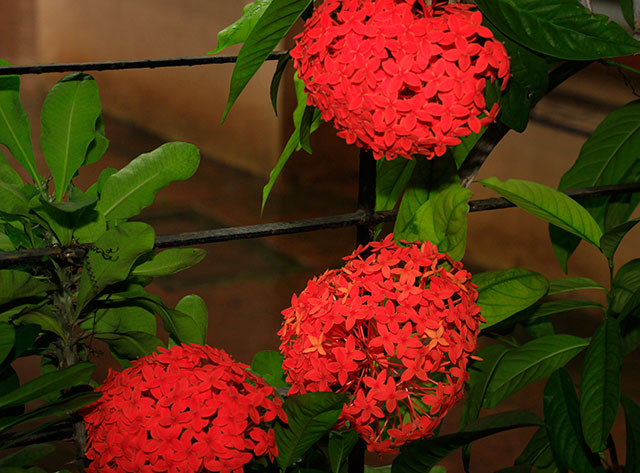 The flowers in the image above are called Ixora Coccinea (Chethipoo in Malayalam). They are seen commonly in west coast of India. The lovely flowers had bloomed on my window grill.
As Hans Christian Andersen had said, "Just living is not enough… one must have sunshine, freedom and a little flower."