Kannur International Airport is expected to be commissioned by end of the year. This will make travelling to Kannur faster and easier. Many persons from the region are working in Gulf countries. They now have to depend on the airports in Mangalore or Kozhikode. Kannur is also connected by trains. Almost all fast trains stop at Kannur railway station.

Where is Kannur? I am asked  this question sometimes. Kannur town is between Kasaragod and Kozhikode in Kerala. From both the towns, Kannur by road is about 90 km.
I have many photos that I clicked on my visits to Kannur. I have shown eleven of them here to bring out the beauty and character of Kannur. I dedicate this post to all my friends, readers and all those who are hesitant to go to Kannur because of recent events.
With a long coastline, Kannur has many beautiful beaches. This is a compelling reason to visit Kannur.
Probably the most popular is Payyambalam Beach which is in Kannur town. It is a long beach with white sands. Swimming is banned as it is considered risky. It is crowded on weekends.
I show below a list of well-liked beaches in Kannur:
Muzhappilangad Beach
Thottada Beach
Ezhara Beach
Baby Beach
Neerkkadavu Beach
Kannur has many restaurants which attract customers on account of the delicious Malabar food that they serve. Among the best-loved restaurants in Kannur are Odhens, Sahib's Grill Chicken and Raandhal.
Sree Muthappan Madappura is located on the bank of Valapatanam River, 18 km from Kannur. The main deity is Sree Muthappan who is considered a manifestation of Lord Shiva. Non-Brahmins perform the pooja rituals. Dogs are allowed to enter the temple and roam around freely. They are seen as Muthappan's companions. Offerings to the deity include toddy and dried fish.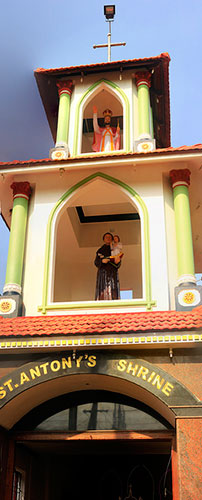 St. Antony's Shrine is on Onden Road, Kannur. It was reportedly built by a Hindu gentleman who dedicated it to St. Antony. The shrine is visited by numerous devotees from the locality.
The Thiyya community of Kannur built Sree Sundereshwara Temple. It was consecrated by Sri Narayana Guru in 1916. The temple follows the Brahminical way of worship though the poojaris are Thiyyas.
Kannur lighthouse is painted in red and white and is located right by the sea. The lighthouse is well-maintained. There is a small museum that displays  equipment used in lighthouses and also shows a documentary on lighthouses. It is the fourth museum of its kind in the country after Alappuzha, Chennai and Mahabalipuram.
The Sea View Park has a cliff walkway that runs by the sea. There are seats to sit and watch the sea and the spectacular sunsets. At one end is a children's park. There are stalls which sell snacks and ice cream. A small fee is levied for entry to the Sea View Park.
Kannur Cantonment has many heritage bungalows. The Cantonment was a military camp for Portuguese, Dutch and English troops. The Kannur Cantonment Board is one of the 62 cantonments in India and the only one in Kerala.
Arakkal kingdom was the only Muslim-ruled state in Kerala prior to the British era. They ruled Kannur (formerly known as Cannanore) and Lakshadweep Islands. The museum is 3.7 km from Kannur Railway Station. It faces the Arabian Sea. St. Angelo's fort is close by. A number of heritage objects from the royal family are exhibited at the museum.
You must have liked my photos of Kannur. Join me on Instagram, Flickr and Facebook.
Facebook Comments